It took almost a month of the 2014 hurricane season for the first storm to form, but once it did, Arthur strengthened quickly and set its sights on the North Carolina coast. Here is our event summary of Hurricane Arthur.
Arthur's Development
As we mentioned in our June climate summary, the system that eventually became Arthur began its life as a stalled frontal boundary off the coast of the Southeast U.S. After sitting nearly stationary for several days over the warm Gulf Stream waters, the system was designated Tropical Depression 1 on June 30th, then strengthened into Tropical Storm Arthur the next day.
Arthur wasn't without its share of growing pains, though. Dry air to the north and northwesterly wind shear initially slowed development, but environmental conditions gradually became more favorable. By the morning of July 3rd, Arthur reached hurricane strength. After weathering some additional dry air entrainment, it developed an impressive eye and reached category 2 strength by 9 pm with maximum sustained winds of 100 mph.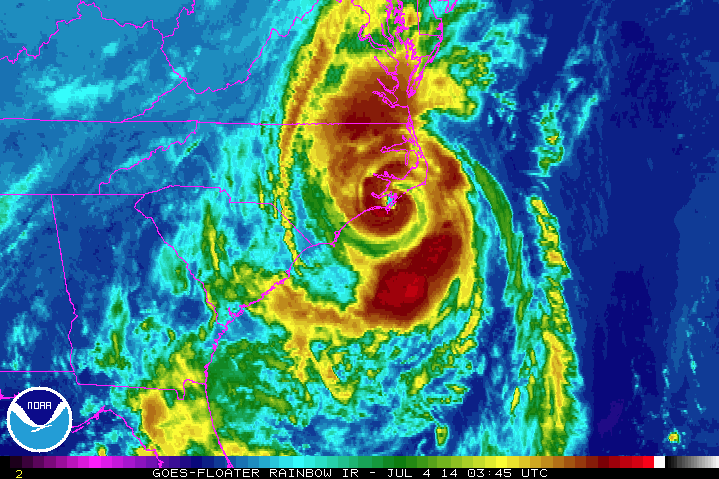 Landfall and Impacts
Around 11:15 pm on July 3rd, Arthur made landfall as a category-2 storm near Beaufort, NC, at nearly the same location as Hurricane Irene did in 2011. Arthur's track over the Pamlico Sound put the Outer Banks in the storm's right front quadrant. In that region to the right of the eye, the combination of the storm's forward motion and its counterclockwise circulation gives the strongest winds and storm surge.
That soundside surge caused flooding along the Outer Banks and overwash and damage to parts of NC Highway 12. Unlike Irene, Arthur did not open any new inlets along the barrier islands, so Highway 12 was re-opened to residents on July 5th. Elsewhere along the coast, Arthur's departure gave way to sunny skies and a beautiful Independence Day weekend — a remarkable weather turnaround in less than 24 hours.
Arthur dumped several inches of rain on eastern North Carolina as it moved up the coast. Weather stations near Wilmington and Southport reported more than 3 inches of rain, and our ECONet station in Kinston reported 4.3 inches during the storm. Arthur also brought some impressive wind gusts along the coast. An automated station at Cape Lookout reported a 101 mph gust, along with a pressure drop to 978.2 mb as the eye moved over.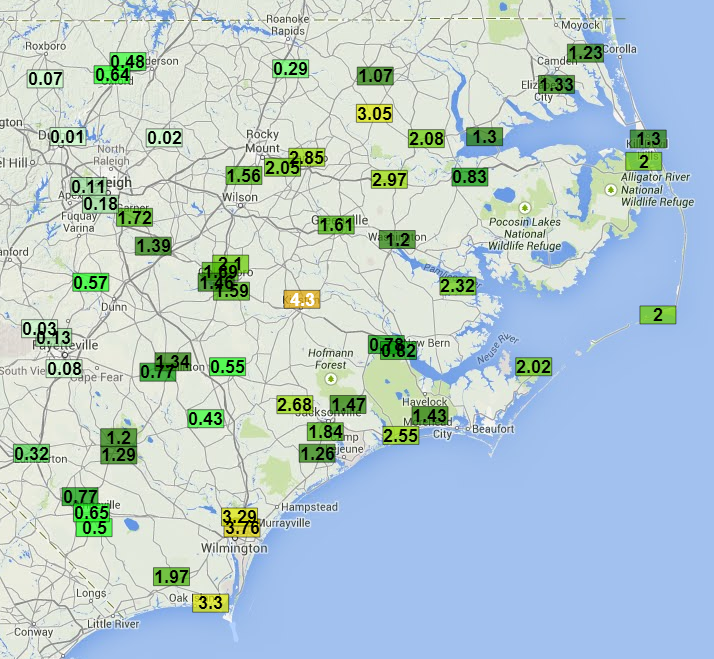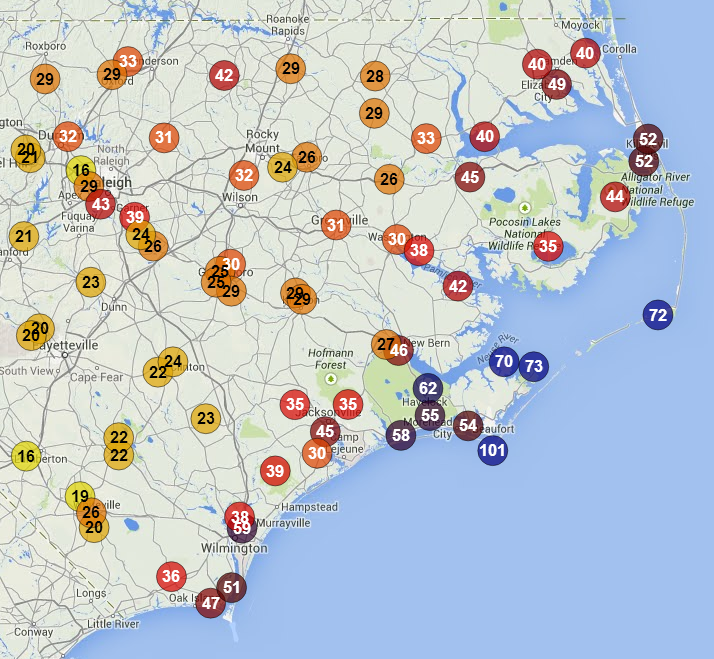 Arthur's Place in the History Books
Although this year's first tropical storm formed a little later than we're used to, a landfalling hurricane this early in the season is somewhat rare. Arthur became the earliest-known landfalling storm in North Carolina, coming onshore a week earlier than first hurricane of the 1901 season, which hit the northern Outer Banks as a category-1 storm on July 11th, and Hurricane Bertha in 1996, which hit the southern coast as a cat-2 on July 12th. Arthur was also about 45 minutes shy of being the first-known landfalling hurricane on July 4th.
The slow start to this hurricane season was not unexpected. As we discussed in our recent summer outlook, the building El Niño event in the Pacific and cooler-than-normal sea surface temperatures across the Atlantic meant most pre-season forecasts called for below-average tropical activity in the Atlantic this year. However, we cautioned — as did many of the forecasts — that an overall inactive season can still be an impactful one.
While Arthur caused no reported serious injuries or fatalities and the damage does not appear to be severe, it does serve as a good warning that even in seasons expected to be inactive in the tropics, strong landfalling storms can still happen.