December's temperatures were marked by a big cooldown just in time for Christmas. Rain throughout the month lifted the Mountains out of drought. And a new tool feature helps us put the past month in perspective.
Temperatures Tumble for the Holidays
After a warm start to December, our temperatures came crashing down during a Christmastime cold air outbreak, which skewed the monthly average temperature slightly below normal. The National Centers for Environmental Information (NCEI) notes a preliminary statewide average temperature of 41.6°F, or our 61st-coolest December out of the past 128 years.
The first week of the month saw our high temperatures climb nearly 10 degrees above normal, with mid-60s across the eastern Piedmont and a balmy 80-degree day in Wilmington on December 7 under the influence of offshore high pressure.
A series of frontal passages during the middle of the month helped temper our temperatures to near-normal levels and brought clouds and rain across the western two-thirds of the state.
But the most drastic temperature change came on December 23 as frigid air associated with an Arctic high pressure system spilled southward and infiltrated most of the continental United States.
On the following morning, clear skies and the cold air mass in place helped temperatures drop to levels not seen in several years. Mount Mitchell recorded a low temperature that morning of -21°F, which was tied for the 7th-coldest reading in the 90-year history of weather observations on the state's highest peak.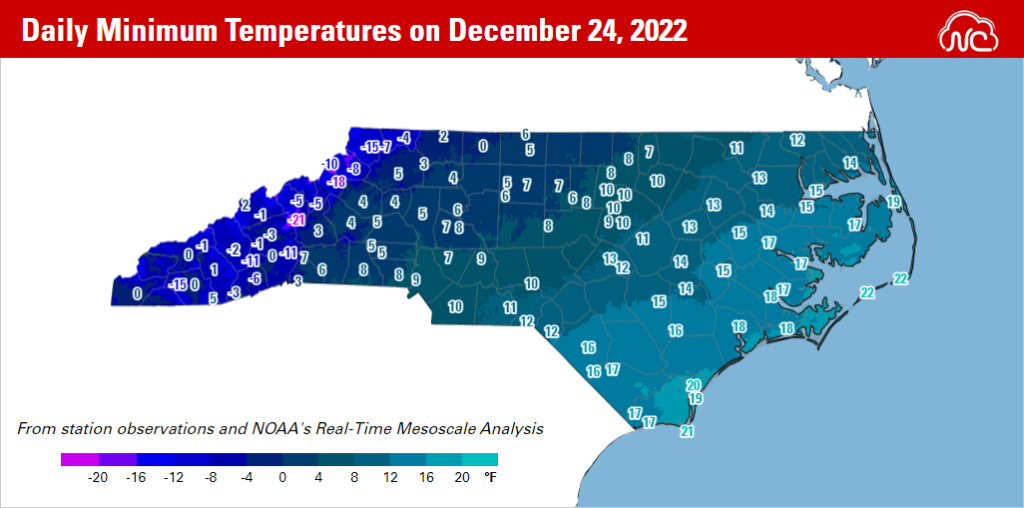 Elsewhere in the Mountains, our ECONet station on Wine Spring Mountain in Macon County bottomed out at -15°F, which was the coldest day there since observations began in 2002. At sites including Asheville (0°F), Boone (-8°F), and Flat Springs (-11°F), it was the coldest morning since an Arctic air mass arrived in early January 2014.
Most Piedmont sites dropped into the single digits on the morning of December 24, which is a rare event particularly without having any snow on the ground. Greensboro recorded a low of 5°F, Charlotte hit 9°F, and Raleigh reached 10°F and its coldest morning since another 10-degree reading following the January 2018 snowstorm.
Across the Coastal Plain, temperatures were generally in the teens, including 13°F in Rocky Mount, 15°F in Greenville, and 19°F in Manteo. In those areas, it was a chill reminiscent of December 1989, albeit without the blizzard that accompanied that year's Christmas cooldown.
Temperatures only rebounded slightly on Christmas Day, with high temperatures in the 10s and 20s in the Mountains, in the 30s across the Piedmont, and barely reaching the low 40s down east.
For places such as Brevard (a December 25 high of 22°F), Mount Airy (28°F), and Morganton (30°F), it was the coldest Christmas afternoon since 1983. It was also a big difference from the T-shirt weather last Christmas, when highs hit the 70s across the state.
That sort of warmth did reappear before the end of 2022, though. The return of high pressure ushered in above-normal temperatures just a week after the deep freeze. Parts of eastern North Carolina reached the low 70s on December 30 and 31 to end the year on a high note – or at least on a high temperature.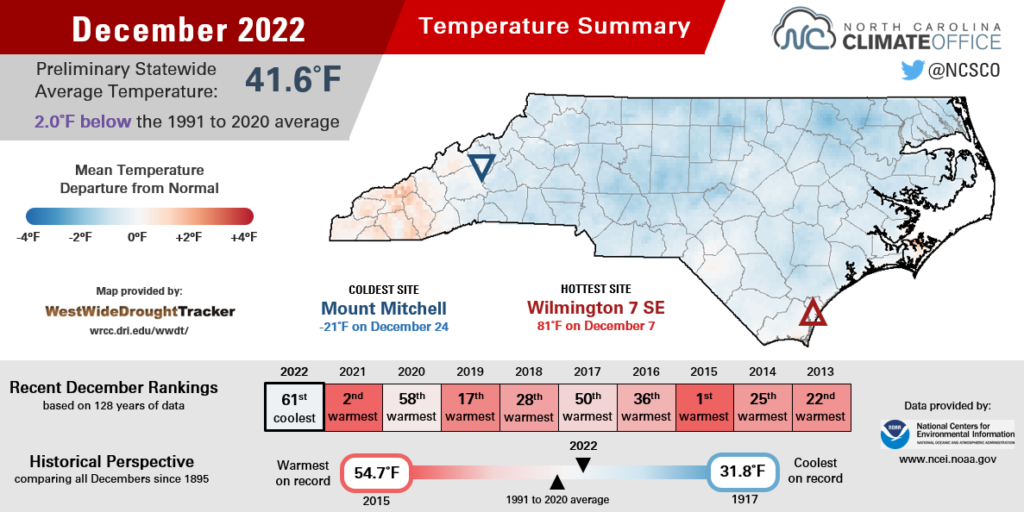 Mountains Out of Drought, Then Snowy for Some
December continued our late-fall pattern of wet weather in the west while eastern North Carolina remained dry. NCEI reports a preliminary statewide average precipitation of 3.10 inches and our 51st-driest December dating back to 1895.
In the Mountains, where pockets of Moderate (D1) and Severe Drought (D2) were in place at the start of the month, the first few weeks of December saw multiple heavy rain events that erased any drought or dryness in that part of the state.
Murphy picked up 2.24 inches on December 6 alone and finished the month with 6.23 inches, or its 14th-wettest December since 1967. That rain helped boost streamflow levels, which had declined during most of September and October but rebounded beginning with Hurricane Nicole in mid-November.
Another rain event on December 14-15 brought a widespread inch or more across the Mountains and Piedmont, including 2.20 inches at our ECONet station in Oxford. That site had 4.52 inches for the entire month, which was its 7th-wettest December in the past 23 years.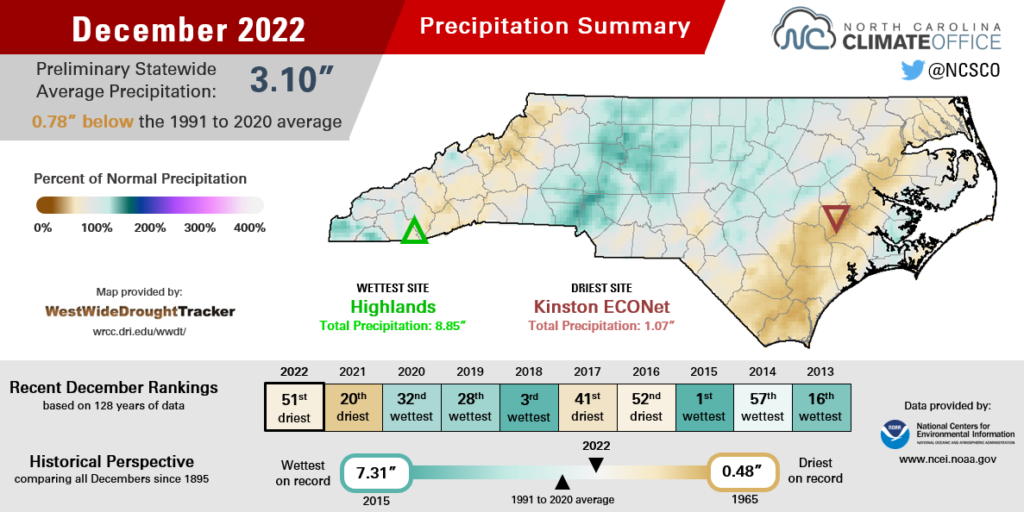 For eastern North Carolina, the wettest and most impactful precipitation event came on December 22 as a low pressure system developed just offshore.
That rain came as a welcome relief for coastal areas that started the month with a string of dry days. From December 1 to 14, Wilmington received only 0.08 inches of rain. They picked up 1.45 inches on December 22, although it still finished as tied for the 37th-driest December on record there, and Moderate Drought remains in place across much of the Coastal Plain.
When the Arctic front roared through the next day, it whipped up gusty winds statewide. Our Mount Mitchell ECONet station measured a hurricane-force gust of 76.5 mph at 11:32 am, and ten consecutive hours with wind chills less than -50°F, including a minimum value of -58.8°F just after midnight on December 24. That's the coldest wind chill on record for our Mount Mitchell station dating back to 2008.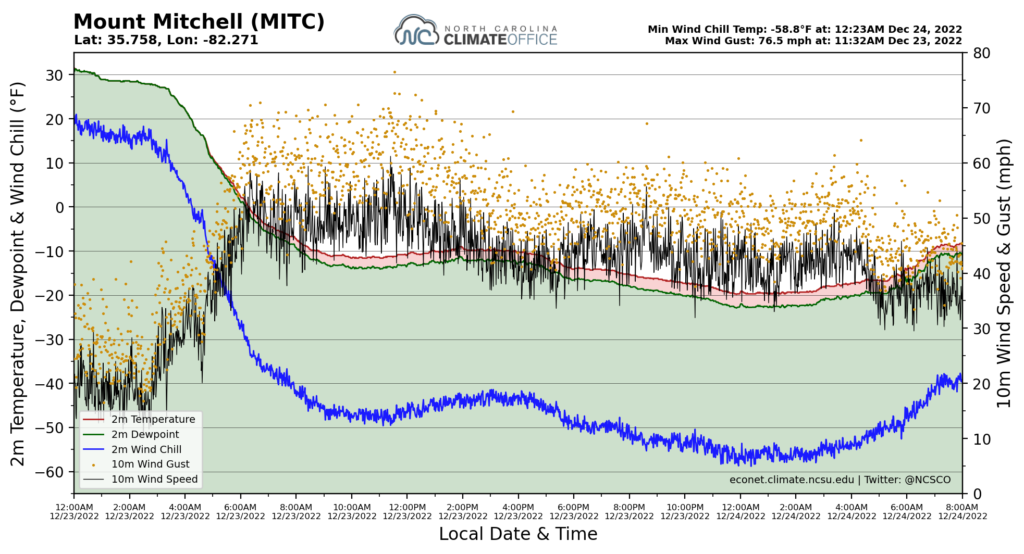 Grandfather Mountain had a peak wind chill of -55.6°F and Mount Jefferson had a wind chill of -45.6°F after the frontal passage. Our coastal sites in Clinton, Goldsboro, Kinston, and Plymouth all recorded wind gusts in excess of 50 mph.
Those strong westerly winds also produced a soundside overwash along the Outer Banks that closed parts of Highway 12. And when the cold air moved in behind the front, standing water on the road froze into black ice and other slushy, slick spots overnight.
That wasn't the only area with something frozen on the ground over the holidays. Temperatures were cold enough for precipitation to fall as snow at some high-elevation mountain sites, which gave a White Christmas for a lucky few.
Mount Mitchell had 4 inches of snow accumulation on December 23, while Beech Mountain had 3 inches and CoCoRaHS observers near Boone measured up to an inch on the ground.
For the rest of us, we'll have to see if January – climatologically our snowiest month, and when nearly all of our snow fell last year – brings similar wintry scenes as we begin 2023.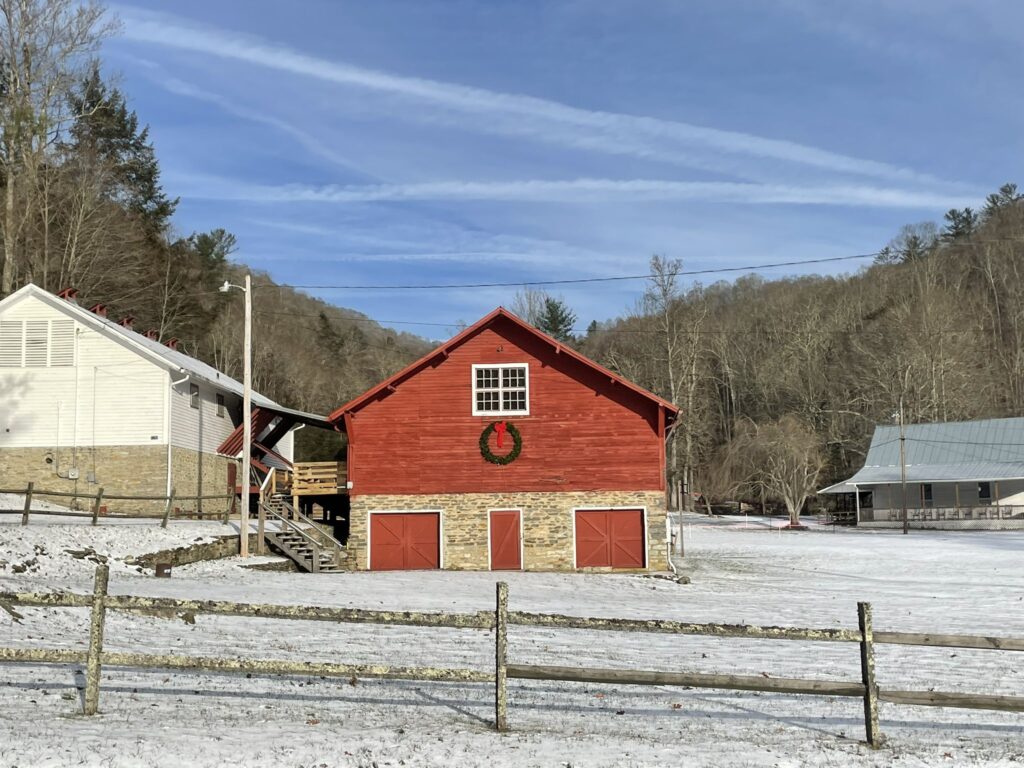 December, as Told by Thresholds
We recently rolled out a new feature in Station Scout, our tool for viewing weather stations across the state. On the Thresholds panel, you can view the historical occurrence of specific weather conditions, such as temperatures above or below a specific threshold value, and summary statistics including the average first and last day per year meeting that threshold.
This panel replaces our Climate Thresholds tool while preserving its visualizations and functionality, and expanding those to cover more station networks.
Using the Thresholds panel, we can put some of our December weather into a climatological context. As an example, let's first look at the occurrence of daily minimum temperatures less than 10°F in Charlotte: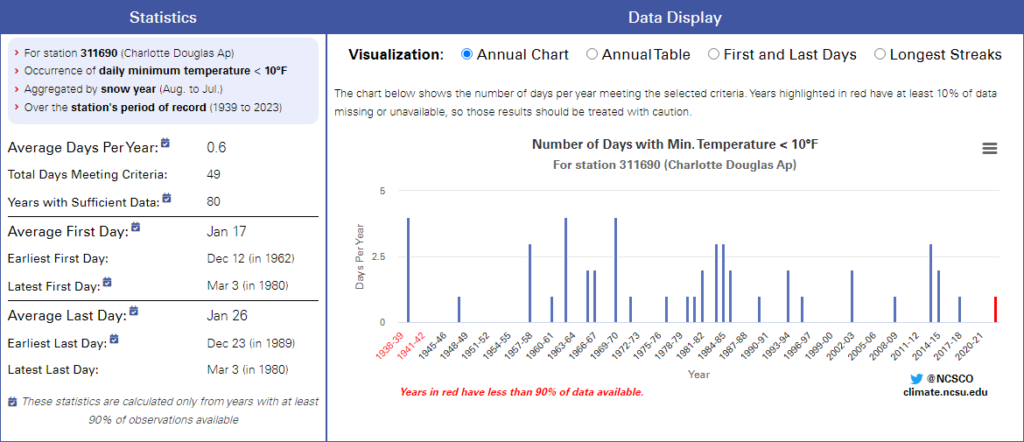 As the annual occurrence chart shows, single-digit lows were once a fairly common event, happening as many as 4 times per year in the 1960s. However, those cold mornings have become much rarer recently, with just 8 total occurrences in the past two decades, including on December 24, 2022.
On the other end of the temperature spectrum, we can see how common it is to have maximum temperatures reach at least 70°F in Wilmington at this time of year:

The Port City has averaged 6 December days that warm historically, but each of the past four years has exceeded that average, as seen on both the Annual Chart and the Annual Table (shown above) visualizations. WIlmington had 7 December days in the 70s or warmer in 2022, 18 such days in 2021, and a record 21 days that warm in December 2015.
Finally, for those high-elevation areas that picked up snow last month, we can see how the timing of this season's first snowfall compares to the historical average.
On Mount Mitchell, the average first day with measurable snow since 1980 is November 11. That made this year's first snow on December 23 more than a month later than normal. Our state's highest point can also expect to see snow as late as mid-April, with an average last snowfall date of April 17.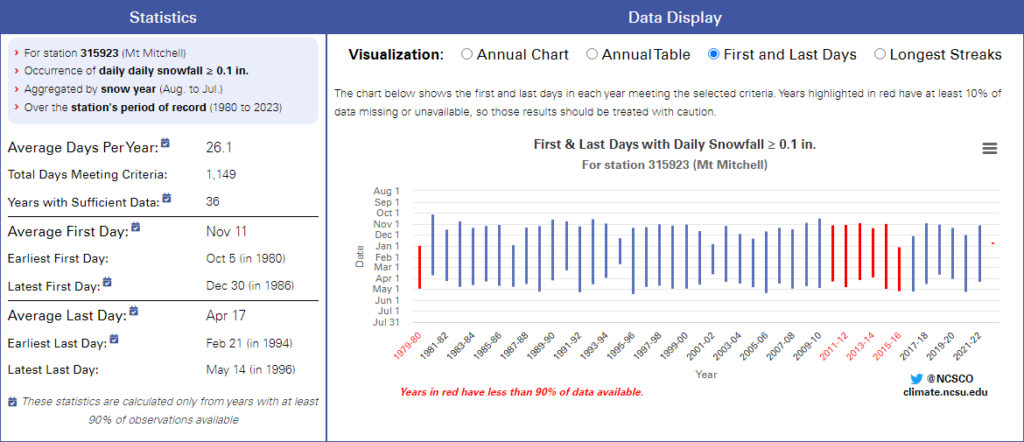 To view similar statistics for weather stations near you, visit our Station Scout tool, select a station using the map and search options, and click on the Thresholds tab to begin exploring.
And for more perspectives about the past year, join us virtually for our 2022 Weather Year-in-Review webinar on Tuesday, January 17 at 11 am EST. Registration is required using this form, and you'll receive a reminder and a link to join the webinar via Zoom.