A paranormal October saw temperatures levitate above the historical average while precipitation mysteriously vanished, summoning the specter of drought back to North Carolina.
Warm Weather Returns
A cool end to September proved to be only a brief preview of fall rather than a sign of the changing seasons, as October overwhelmingly featured above-normal temperatures across the state.
For the past month, the National Centers for Environmental Information (NCEI) reports a preliminary statewide average temperature of 64.8°F, or our 5th-warmest October since 1895.
Locally, it ranked as one of the top ten warmest Octobers at many weather stations, including the 4th-warmest in Asheville and Charlotte, and the 3rd-warmest in Raleigh. Based on average temperatures, this October was in line with October 2019, which was notable for hundred-degree heat early in the month.
While we never got that hot last month, the warm weather took its toll through sheer persistence. A series of high pressure systems parked over the Southeast US made for many sunny days with temperatures 5 to 10 degrees above normal.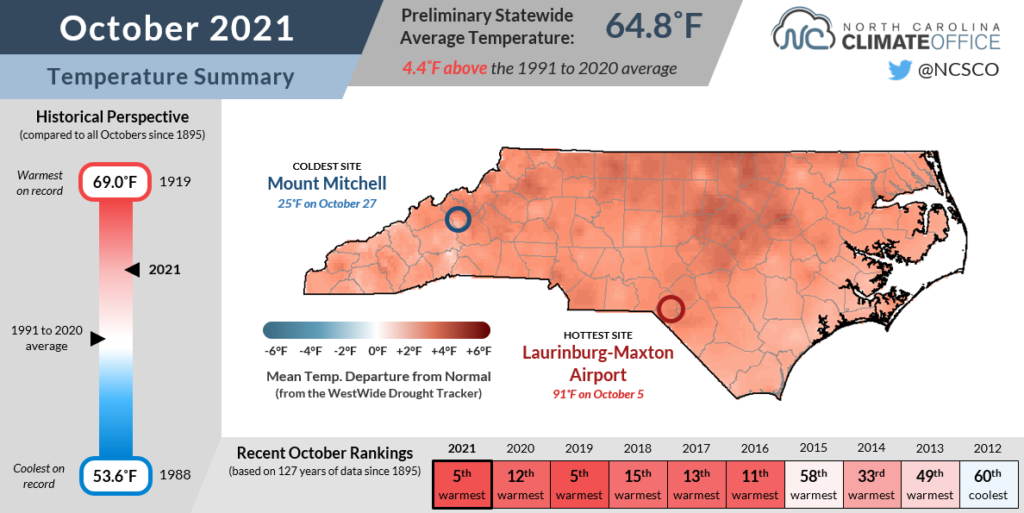 Charlotte recorded 15 days — nearly half of the month — with highs at or above 80°F, which was the most of any October since 2007 and tied for the 4th-most there since 1878.
Our low temperatures also reflect the unseasonable warmth. While the first fall freeze typically occurs before the end of October in the western half of the state, only high-elevation sites had gotten that cold through the end of the month.
Even Boone, which has an average first freeze date of October 14, never got any colder than 34°F last month. And mile-high Grandfather Mountain had more nights with lows in the 50s (13) than in the 20s or 30s (11).
Perhaps the only sign of cooler weather in the Mountains was the snow flurries on October 30. Mount Mitchell recorded a trace of snow that day and was closed for part of last week due to wintry weather and high winds. Snow was also observed on Beech Mountain.
Wet in the West, Drier Down East
Our warm days last month were mostly dry ones, especially across the eastern two-thirds of the state. According to NCEI, the preliminary statewide average precipitation of 2.88 inches ranks as our 55th-driest October out of the past 127 years.
The most significant rain event of the month was on October 5-8 as an upper-level low pressure system to our west brought in abundant Gulf moisture and fueled torrential rain in the Mountains.
A state of emergency was declared for McDowell County after more than 7 inches of rain triggered localized flooding and landslides. Our ECONet station on Frying Pan Mountain measured 10.79 inches during that event, less than two months after receiving 14 inches of rain in August during a wet week culminating in Tropical Storm Fred.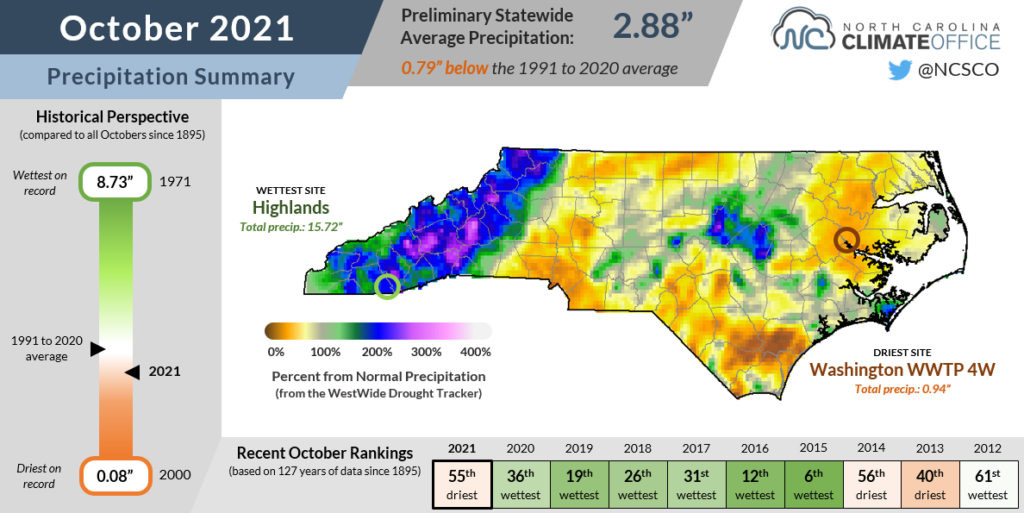 Thanks to that early-month rainfall, it was an overall wet month in the western part of the state. Highlands recorded 15.72 inches for the month, or its 3rd-wettest October out of the past 117 years.
Parts of Wake and Johnston counties also picked up heavy rain as a line of showers and storms moved through. On October 9, Raleigh received 4.96 inches, which was its greatest single-day October rainfall total since Hurricane Matthew dropped 6.45 inches on the capital city on October 8, 2016.
While it was a soaking start to the month in a few places, rainfall was scarce last month across most of the state. Less than two inches fell at sites like Charlotte, Lumberton, and New Bern, while Wilmington measured only a quarter of its normal October precipitation with just 1.14 inches.
As a result of that dry weather, Moderate Drought (D1) has returned to parts of eastern North Carolina, while Abnormally Dry (D0) conditions have expanded to cover more than half of the state on the latest US Drought Monitor map.

Descending into Drought
The re-emergence of drought is a drastic turn of events after the now-driest areas faced the opposite problem — too much water — just a few months ago.
Nowhere is that more apparent than Greenville, the epicenter for the current drought. After its wettest summer on record with 33.21 inches of rain between June and August, Greenville is now on pace for its 5th-driest fall, with only 2.91 inches of rain since September 1 and an 8-inch deficit building over the past two months.
That transition from wet to dry is particularly noticeable in groundwater data. The wet summer including rain from tropical storms Claudette and Elsa pushed the Simpson well in Pitt County to near record high levels, but since late August, it has been on a steady decline and ended October below normal.
The drought and dryness are having other impacts as well. While harvesting is mostly complete, much of the cotton crop — planted late in many areas due to wet weather early in the summer — remains in the fields and has seen its growth slow without adequate rain this fall.
Streamflows have fallen below normal along the Cape Fear and New rivers, and in the Charlotte area.
And Falls Lake missed out on the heavy rains that hit Raleigh early last month, so it remains about a foot and a half below its guide curve, with inflows decreasing to a trickle due to a lack of upstream rainfall.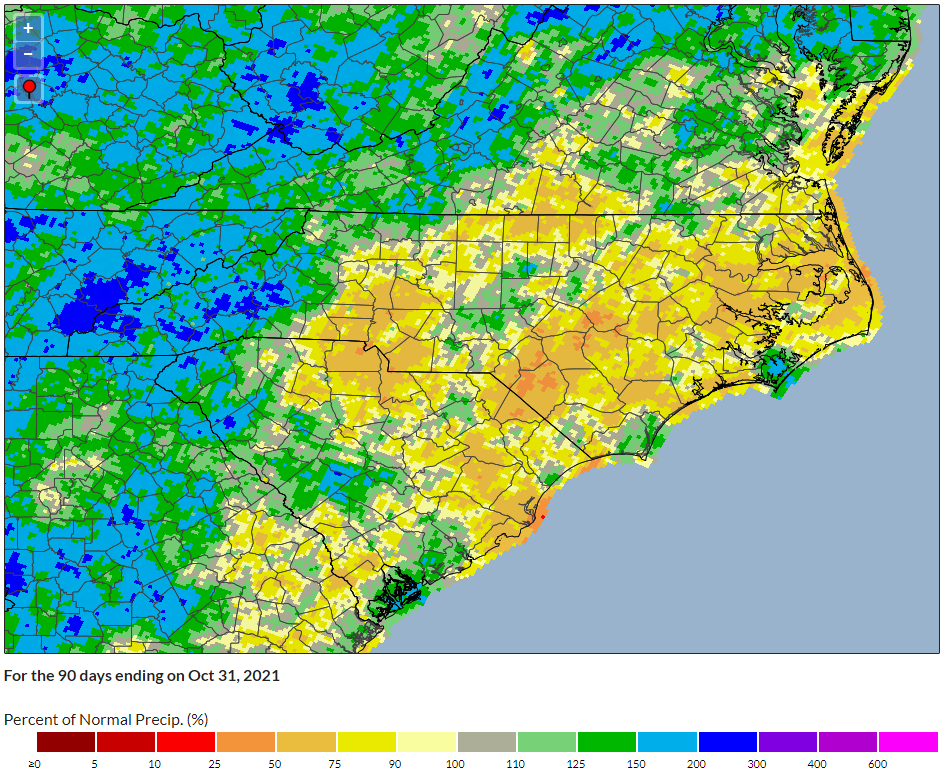 The start of November does bring a bit of relief. First, reservoir targets and minimum releases are declining toward lower wintertime levels, so water supplies like Falls Lake won't be as strained to hold onto water while also distributing it downstream.
This week's cooler temperatures will help reduce evaporative losses as well, although the forecast doesn't offer much hope for a widespread soaking rain event over the next 6 to 10 days.
As a result, drought may continue expanding in the next few weeks, likely beginning in the driest spots over the past 60 to 90 days. A few candidates for drought expansion include:
the northeastern corner of the state, including Elizabeth City, which has received only about half of its normal precipitation so far this fall;
the Sandhills, including Lumberton, which has seen soil moisture levels declining since September;
the western Piedmont, where precipitation deficits have been steadily growing since the spring. Charlotte is 4.9 inches below normal over the past six months.
In many dry areas, trees are dropping their leaves early before they change color. So along with the trick of a late-October return of drought, it's depriving us of a seasonal treat in our landscape.