A warm start to last month gave way to a more seasonable finish, while a mostly dry month saw needed rain across parts of the Piedmont. That pattern change has also spurred on changing leaves, beginning in the west.
Summery to Start, Fall-Like to Finish
Three weeks of warm weather followed by a sudden late-month cooldown averaged out to make it a slightly warmer-than-normal September. Data from the National Centers for Environmental Information (NCEI) shows a preliminary statewide average temperature of 71.0°F, or our 50th-warmest September out of the past 127 years.
The start of September represented a continuation of our August weather. High pressure parked off our coast elevated high temperatures into the low 90s, or about 5 degrees above normal for this time of the year.
Barring an unusual October heat wave, most sites across eastern North Carolina will finish this year with 50 to 60 days reaching 90°F or greater. The 56 days that warm in Wilmington ranks as tied for the 14th-most out of the past 147 years.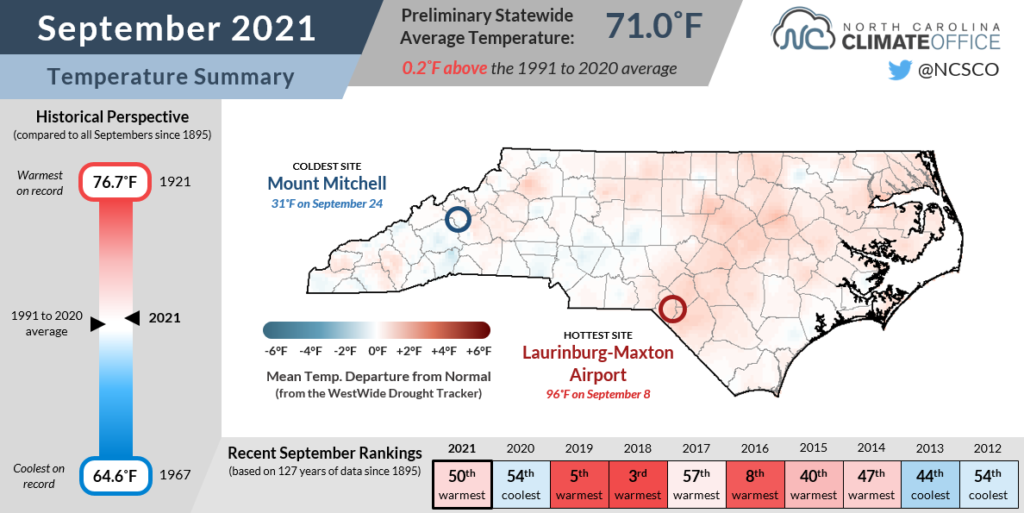 That summer warmth came to a timely end, though. Just in time for the first day of astronomical autumn, a cooler air mass rushed in from the north on September 20 and knocked our high temperatures into the upper 70s and low 80s over the next few days.
Perhaps even more shocking were our nighttime lows. Much of the Mountains and Piedmont fell into the 40s (or lower) on Saturday, September 25, including morning lows of 48°F in Charlotte and 45°F in Asheville.
In Raleigh, that day's 49°F low temperature was the first night in the 40s since May 16. Surprisingly, that was only one day later than the typical first fall occurrence of lows in the 40s, showing just how big of a tumble our temperatures took from the early-September sizzle.
The cooler weather was downright cold in the Mountains. Atop Mount Mitchell, the low temperature dropped to 31°F on September 25, or the first sub-freezing night there since May 14.
That's a good reminder that our first freeze event of the season is climatologically just around the corner. Many western stations have their first freeze in the first half of October, while the Piedmont can generally expect a freeze by Halloween.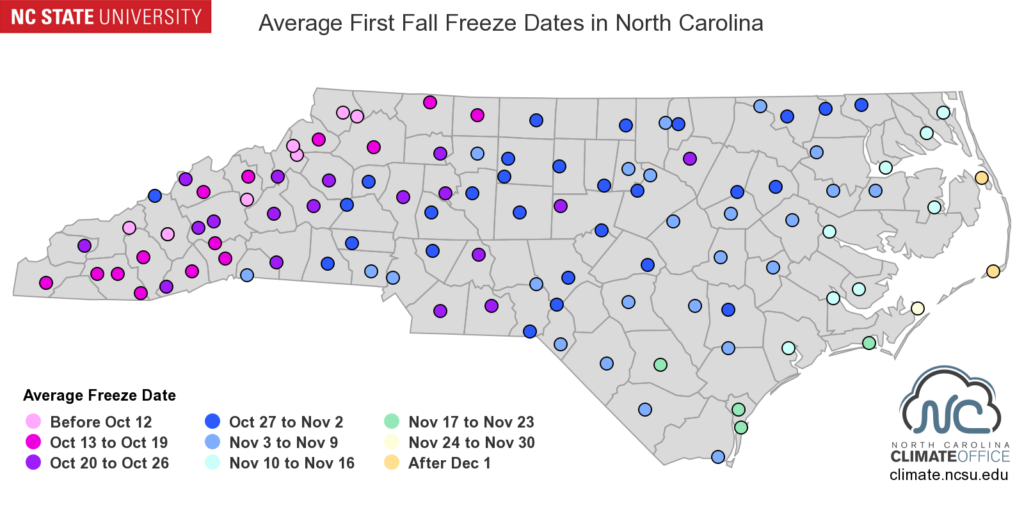 A Dry Month With Helpful Piedmont Showers
Whether under summer heat or crisp fall air, September was generally dry across North Carolina, and the rankings reflect that lack of rainfall. NCEI notes a preliminary statewide average precipitation of 2.99 inches, or our 39th-driest September since 1895.
The first half of the month was particularly dry in the western part of the state, with only 0.14 inches in Boone and 0.25 inches in Hickory over a 15-day period.
However, some rain finally arrived on September 21, as a cold front from the west and a stalled boundary to our south produced three days of steady precipitation. That rain fell largely when and where it was needed, as parts of the southern and eastern Piedmont had seen only a third to a half of their normal rainfall over the previous month.
Our ECONet station in Lilesville picked up 6.72 inches during that event, and 3 to 6 inches fell across the central and northern Piedmont, including 3.64 inches at our ECONet station at NC A&T State University in Greensboro. Those areas stand out as some of the few wet spots in September.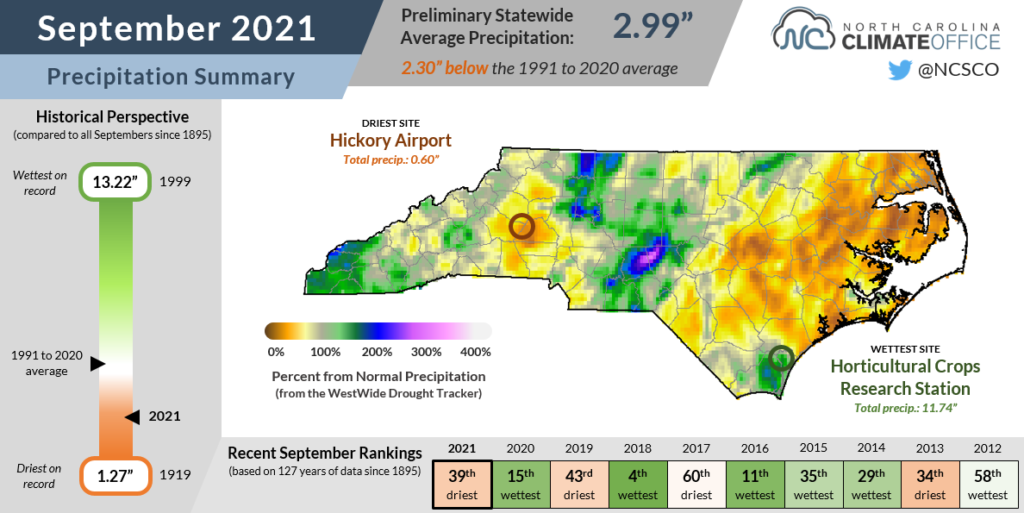 Entering October, spotty parts of the Piedmont and Sandhills remain classified as Abnormally Dry on the US Drought Monitor, mostly in areas with lingering seasonal-scale deficits.
Over the past three months, Lumberton is at a deficit of 2.7 inches while Raleigh is 3.7 inches below normal, with both sites at 75 to 80 percent of their normal rainfall over that period. Hickory never saw much rainfall recovery late last month, with only 0.60 inches total and its 7th-driest September on record.
Some signs of dryness have also emerged in parts of eastern North Carolina that are not currently classified on the US Drought Monitor. Greenville received just 1.31 inches of rain last month — its 10th-driest September on record.
Soil moisture levels have dropped throughout the Coastal Plain, and streamflows are below normal in the lower Neuse and Cape Fear river basins. While many crops are now being harvested, after a dry September, some such as peanuts and sweet potatoes could use one more good rain event this growing season.

Pattern Change Sets Fall Colors in Motion
With a prolonged summer stretching across the first three weeks of September, trees especially in western North Carolina were slow to start changing colors this season. However, the month finished with nearly ideal weather conditions, and the beautiful reds, yellows, and oranges of fall have started to emerge.
We've previously discussed the science behind fall color with Appalachian State biology professor Dr. Howard Neufeld, and as he pointed out, temperatures are the main weather trigger for leaves to begin changing.
Cooler temperatures, especially overnight, can help the green chlorophyll degrade, leaving behind the yellow (xanthophylls) and orange (carotene) pigments. For trees like maples, cooler weather causes metabolic processes to slow down, saps and sugars to build up in the leaves, and red pigments called anthocyanins to be produced, eventually outshining the default green color.
These red leaves also rely on photosynthesis, or the conversion of sunlight into energy by the cells, so sunny days tend to help this process along as well, and we've had plenty of those over the past few weeks.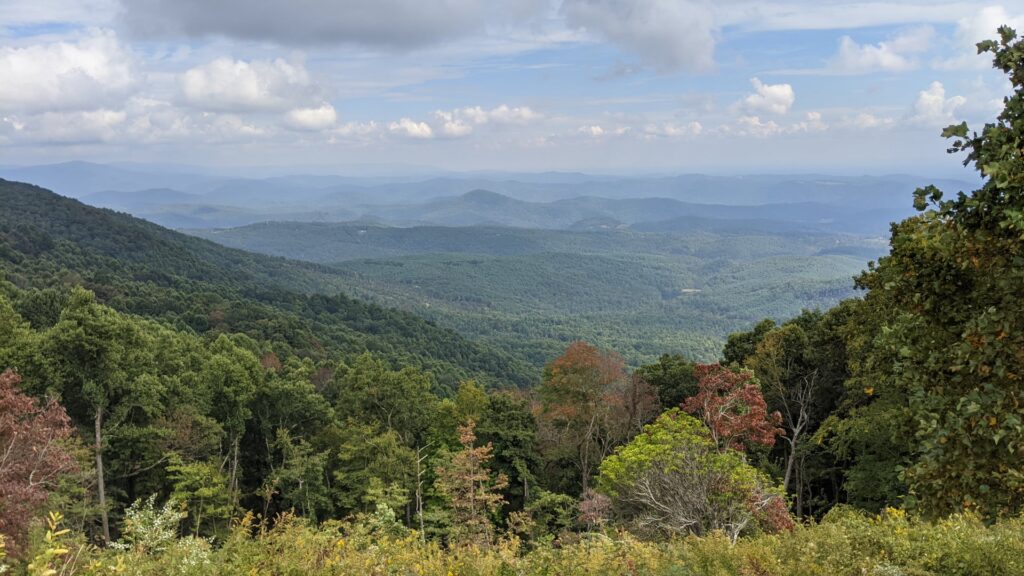 Our late-month rainfall was also timely, since trees in drier parts of the northern Piedmont had begun dropping their leaves early to ration the available moisture. While some areas remain a bit dry, most of the state should have ample moisture to ensure a season-long display of color.
And that show has already started in the Mountains. Via his Fall Color Report, Dr. Neufeld has relayed that high-elevation sites such as Grandfather Mountain have seen good color development and are likely approaching their most vivid point this weekend.
After that, the peak tends to descend about 1,000 feet every 7 to 10 days, so the Asheville area is set for peak color in late October, the Foothills in early November, and the rest of the Piedmont before Thanksgiving.
That may be a few days later than average thanks to our persistent warmth for much of September, but as fall-like weather has finally settled in, it's better late than never, including for the leaves this season.