October began with hundred-degree heat, but a mid-month pattern change brought some relief from the heat and widespread rainfall that led to drought improvement.
Record Heat Drives a Warm Month
Yes, the calendar may have said it was October, but early last month felt more like July as temperatures hit the 100-degree mark in parts of the state. That hot start to the month helped make it our 7th-warmest October since 1895, based on the preliminary average statewide temperature of 63.8°F.
Raleigh, Roanoke Rapids, and Shelby each hit 100°F on October 3 or 4, while Laurinburg and Lillington reached 101°F. At each site, it was the warmest temperature ever recorded in October, breaking records that had stood since 1954.
Of course, that month 65 years ago was notable for more than just the heat. By mid-month, Hurricane Hazel had set new records as our state's strongest landfalling hurricane. Thankfully, we avoided a direct hit from any such storms last month.
At many sites that hit the high 90s or low 100s early last month, it was their hottest temperature of the year, as well as the deepest in the calendar that they'd ever recorded their warmest day.
In fact, Shelby broke its own such record three times in 2019! The previous record was from 1939, when the warmest day didn't come until September 9. This year, it recorded a 100°F reading — the warmest of the year to that point — on September 13, then it matched that mark on both October 3 and 4.
While the worst of the heat this October was confined to a few days early in the month, it was still a fairly warm month overall. Even in the final week of the month, our mean temperatures were running 5 to 10 degrees above normal in most areas.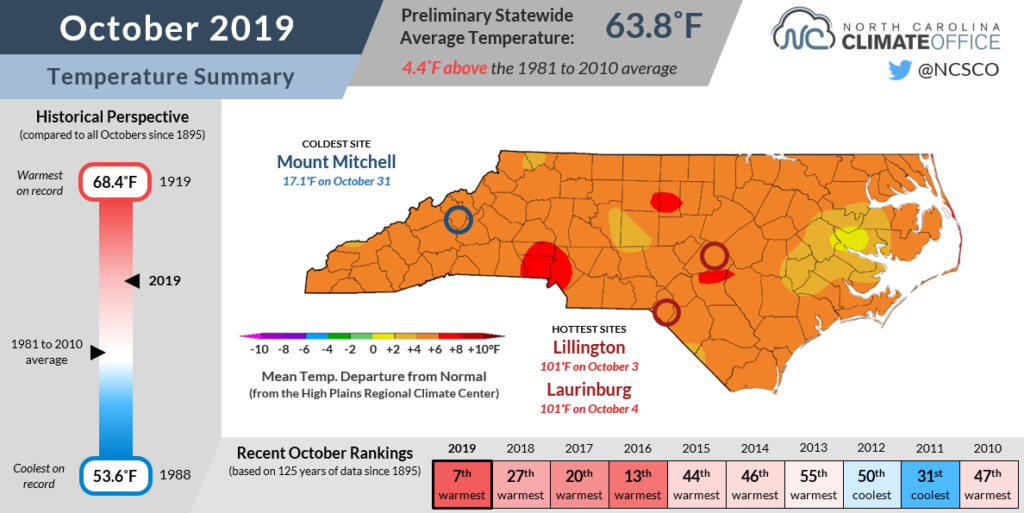 Overall, Wilmington recorded its 2nd-warmest October out of 146 years of observations dating back to 1871. The last October that warm in the Port City was a full century ago in 1919.
In Charlotte, it was the 4th-warmest October in 141 years, and in Raleigh, it was the 5th-warmest in 133 years.
Even though we never fully broke free from above-normal temperatures, we did see a notable pattern change that took us from summer heat to more fall-like conditions.
The persistent upper-level ridge over the eastern US finally broke down — or flattened out — by mid-month. That reduced our temperatures and humidity, and occasionally opened the door for cooler, drier air from the north and west to move in.
However, our predominant pattern late in the month saw jet stream troughing off to our west and weak ridging off the east coast, which meant that familiar warm, southwesterly flow haunted us all the way through Halloween.
Rainfall Returns
Our pattern shift did at least bring some needed rainfall to parts of the state, and it was a wet month on the whole. The preliminary statewide average precipitation of 5.50 inches ranked as our 15th-wettest October in the past 125 years.
A month after recording its 13th-driest September on record, Asheville rebounded with its 5th-wettest October. Sites in western North Carolina that reported next to no measurable precipitation in September — such as Charlotte, Salisbury, and Statesville — all received more than 6 inches in October.
Some mountain locations had more than 10 inches of rain during the month, including 14.40 inches at Highlands, 11.75 inches in Brevard, and 11.04 inches in Boone. Climatologically, October is the driest month of the year at those sites, so last month's rainfall represented two to three times their normal monthly amounts.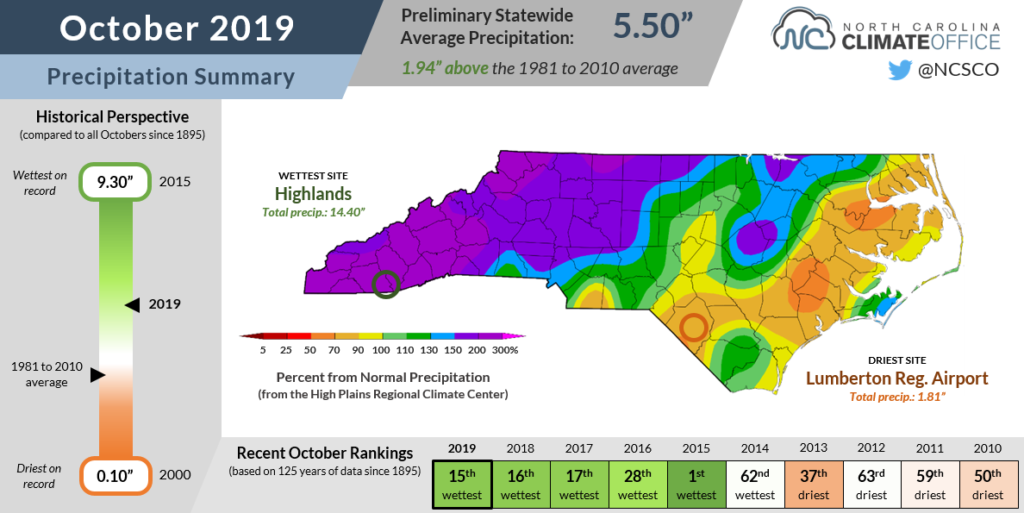 Some of that precipitation came from the remnants of tropical storms Nestor and Olga, which made landfall along the Gulf coast and moved across the southeast US. Storm systems carried along by the jet stream also brought us regular rainfall, along with a confirmed EF-0 tornado near Vanceboro on October 22.
Despite the storms, some sites in eastern North Carolina finished October with slightly below normal precipitation, but just barely. Greenville, Manteo, and New Bern each received around 2.5 inches of rain for the month, which was less than an inch below normal.
Even the driest spot in the state last month, Lumberton, had 1.81 inches, which was only 0.8 inches below its normal October rainfall.
That's a welcome change from September, when we were talking about deficits of two to four inches across more than half of the state.
Drought Relief, But Not Complete Recovery
After our dry September and the record heat in early October, the situation seemed dire. Another warm, dry month risked plunging us even deeper into the fast-emerging drought.
Moderate Drought (D1) first appeared on the map in North Carolina on September 24, but in just two weeks, it had spread to cover more than half of the state, while Severe Drought (D2) had popped up in the Mountains and western Piedmont.
Across the state, lakes and streams were running low, crops were dying in the fields, and the planting of small grains and fruits was delayed because soils were so dry.
While it may have come too late to save some of the corn, soybeans, and other crops that suffered through the hot, dry summer, our October rainfall did bring some immediate improvements to the statewide drought status.

As of last Tuesday, Severe Drought is gone after a four-week foray in western North Carolina. Moderate Drought remains in many of those areas, but may also be on its way out if our wet pattern continues.
Over the past three months, parts of the Piedmont are up to 5 inches below normal, but streamflows have improved to near- or above-normal levels in all but the Triangle and parts of the northern Coastal Plain.
Agricultural conditions have also improved. The recent mixture of rain events with a few dry days in between has given farmers a chance to harvest their crops that survived through the growing season, and the planting of winter crops has resumed.
Our flash drought arrived quickly and made itself felt in sectors across the state, but fortunately, it has also faded fast as well. We're not completely clear of drought conditions just yet, but a few more weeks of consistent rainfall could be our definitive drought buster.