While all eyes in North Carolina remain on Hurricane Florence and its potential impacts on the state later this week, another recently formed hurricane in the Atlantic — Helene — already has a historical connection to our state and one of its closest calls with tropical catastrophe.
Sixty years ago this month, Hurricane Helene churned across the Atlantic and south of the Bermuda high pressure system with North Carolina's southern coast in its sights.
While we've recently profiled storms like Bertha, Fran, and Bonnie that made landfall in the busy late 1990s, the mid-1950s were another crowded era for tropical systems in North Carolina. In 1954, the state was hit by Hurricane Hazel — our only landfalling Category-4 storm on record — which devastated the southern coast and toppled trees well inland.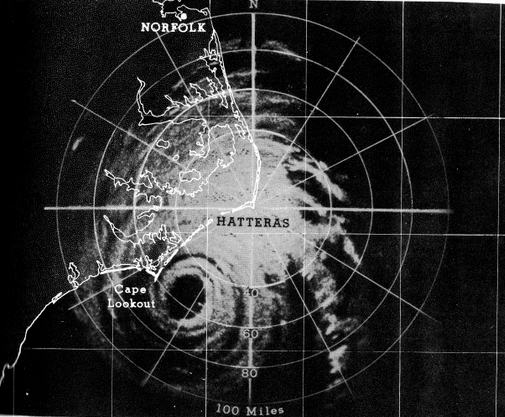 The following year, a trio of storms — Connie, Diane, and Ione — all impacted the North Carolina coastline. Those back-to-back-to-back hits combined with Ione's slow movement and heavy rainfall mean it remains one of the most damaging storms in that part of the state.
It's safe to say that by 1958, the state wasn't exactly prepared for another landfalling storm, let alone one packing the same punch as Hazel. But as it approached the coast, Helene only continued to gain strength.
In just 24 hours on September 26, Helene went from a minimal Category 1 to a roaring Category-4 hurricane. The following morning, with its eye just 80 miles from Charleston, it had maximum sustained winds of 150 mph and a minimum pressure of 933 millibars — even lower than the 937 millibars measured in Hazel.
Hurricane warnings were posted from Savannah through Cape Fear, and a direct hit somewhere in that zone seemed unavoidable. However, Helene did an about-face, curving away from the coastline with some help from an unlikely source.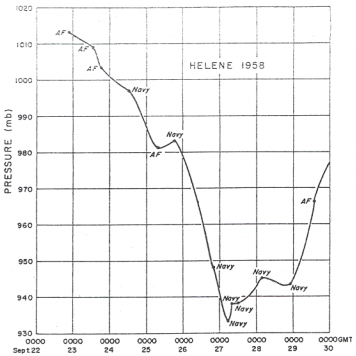 A strong high pressure system that sent temperatures soaring unseasonably into the 90s across the Southeast US was moving eastward, and it arrived just in time to steer Helene back out to sea. Indeed, a bout of summer-like heat in late September may have saved us from feeling the full brunt of Helene.
That doesn't mean it wasn't still a strong, damaging storm. Helene's eye passed less than 10 miles from Cape Fear, so our southern coast was lashed by hurricane-force winds. The Weather Bureau in Wilmington reported a peak gust of 135 mph, which remains one of the highest wind speeds ever observed in North Carolina. Unofficial gusts of 150 to 160 mph were reported from Cape Fear but never verified.
Although they didn't suffer the same head-on impact as in Hazel, the southern coast still absorbed a big hit from Helene's strong winds.
"The highway from Shallotte to Southport, a distance of 30 miles, was littered by fallen trees, limbs, and other debris," reported the Associated Press. "Most houses along the route were damaged, some almost completely demolished."
That area, though, was spared the same storm surge that Hazel brought, which peaked at 18 feet near Calabash. Instead, the counter-clockwise wind field around Helene pulled water away from the shoreline. Combined with the low tide when the storm passed by, it made for an incredible sight at the coast.
An observer on Wrightsville Beach counted just 2.5 to 3 waves per minute washing ashore. As the Weather Bureau noted in its recap of the 1958 hurricane season, that was "probably the lowest count ever recorded for the area and indicates a storm of exceptional intensity".
In its brief encounter with North Carolina, Helene caused an estimated $11 million in damage — about $95 million today, adjusted for inflation — and forced 5,000 residents into Red Cross disaster shelters. However, the storm did not cause any direct fatalities.
The Weather Bureau credited "extensive and detailed warnings, excellent detection and tracking by land-based and air-borne radar, and effective community action with respect to evacuation and other protective measures" — all improvements since Hazel — for preventing more widespread injuries.
But a bit of good luck seemed to be just as important. As their report also noted, "[t]he Carolina coast missed a potential disaster of the first magnitude by a very close margin".
While Helene was removed from the rotating list of named storms, it was not retired. In 1982, Helene reappeared on one of the lists that is reused every six years, and it has been used five times since then, including this year.
In the 60 years since 1958, we've had some near-misses from tropical systems, but perhaps no storm has come closer to becoming a household name in North Carolina than Helene.
---
Sources: