Above-normal temperatures were a mainstay during the past month, leading to one of North Carolina's warmest Julys on record.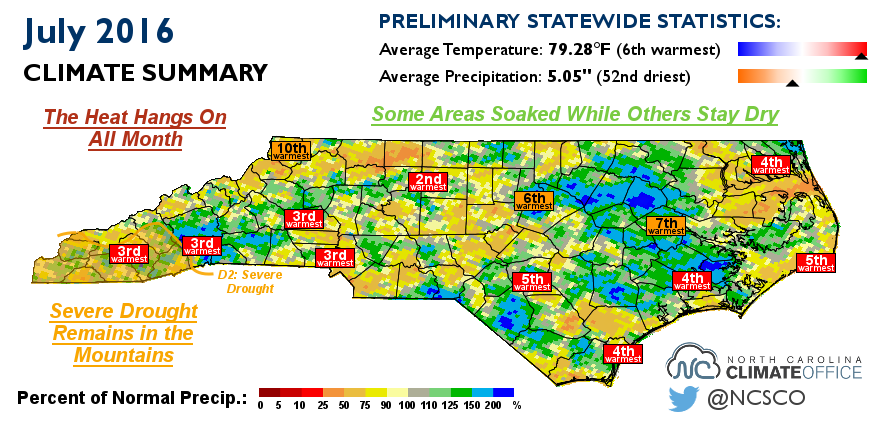 The Heat Hangs On All Month
The statewide average temperature of 79.28°F ranks as the 6th-warmest July since 1895. The heat was all-encompassing, as most weather stations recorded one of their top five warmest Julys on record, including the 2nd-warmest since 1903 in Greensboro and the 3rd-warmest since 1879 in Charlotte.
Just how persistent was the heat? Most of the state had at least 20 days with above-normal high temperatures, and several sites had more than that. Greensboro had 27 days with highs above their normal levels, Asheville and Hatteras each had 28 such days, and Charlotte had 30 out of 31 days with above-normal highs. Even during last December, which was memorably warm and wet thanks to the influence of El Niño, Charlotte had "only" 27 out of 31 days with highs above normal.
The steady heat combined with the classic Carolina humidity meant the heat index routinely soared into the triple digits. As the National Weather Service in Raleigh has noted, Raleigh's 31 total hours this summer with heat index values above 105°F is more than over the past three years combined. You can explore this data for other sites using our Heat Index Climatology tool.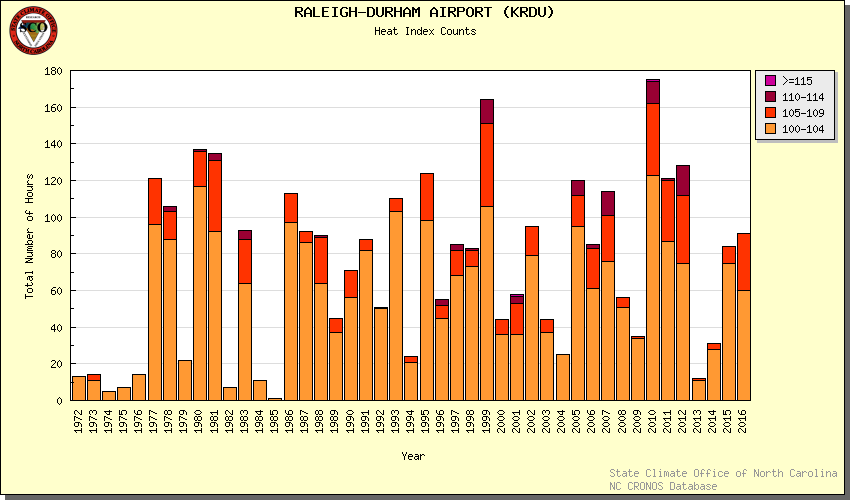 While the heat index values climbed above the century mark, the temperatures themselves largely stayed below that level. Just a handful of stations reported temperatures of 100°F or higher all month, with the Fayetteville Airport reaching 101°F three times. That scarcity of 100 degree days is somewhat unusual for such a warm July. Among the other warmest Julys on record, four of them — 1986, 1993, 2011, and 2012 — had five or more days reaching 100°F or higher in some parts of the state.
Some Areas Soaked While Others Stay Dry
Last month's statewide average precipitation of 5.05 inches ranks as the 52nd-driest July out of the past 122 years. However, unlike our warm temperatures, which were widespread, a single ranking doesn't adequately describe July's rainfall across the entire state.
Locations that saw heavy rains from thunderstorms reported above-normal precipitation. That includes parts of the Triangle and areas eastward that received more than 4 inches of rain on a single afternoon on July 16, which we documented in a blog post earlier in the month.
Aside from these wet spots, though, July was dry across much of the state. Hatteras received below-normal rainfall last month, with its total of 2.05 inches ranking as the 7th-driest July since 1957. Charlotte reported just 1.55 inches of rain all month, ranking as the 10th-driest July there since 1939. As a result of the recent hot, dry weather in and around Charlotte, the US Drought Monitor has introduced Abnormally Dry (D0) conditions into far western Mecklenburg County and other parts of the southern Piedmont.

Severe Drought Remains in the Mountains
Drought conditions are still in place across the southern Mountains, and July's warm weather saw them expand. Severe Drought (D2) now covers a seven-county area in far western North Carolina, while Moderate Drought (D1) conditions remain in the central Mountains, reaching northward into Avery and Watauga counties.
While the part of our state that is in a drought may be small, it connects with a much larger drought impacting the southern Appalachians and the interior Southeast. Just across the Georgia-South Carolina border are Extreme Drought (D3) conditions. North Carolina has been receiving just enough rainfall to keep these conditions at bay, but the recent hot temperatures combined with an increase in drought impacts, particularly to agriculture, means we can't ignore the possibility of seeing Extreme Drought in North Carolina's southern Mountains in the near future.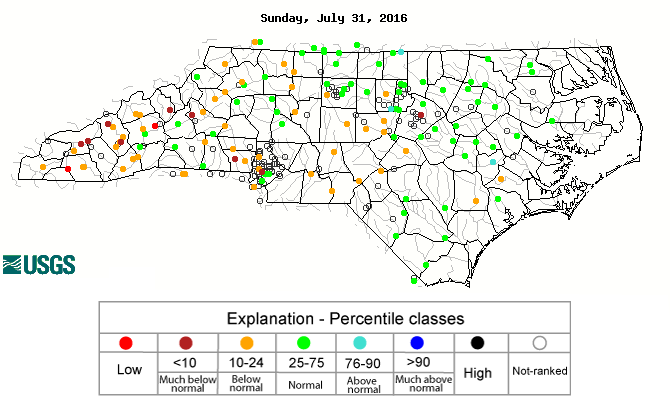 A recent USDA Crop Progress Report from Yancey County mentions some of those impacts from Moderate Drought conditions:
Drought conditions continue with high temperatures and little to no precipitation. A few scattered rain showers brought small amounts (0.1″ – 0.3″) of precipitation to some areas of the county but did little to alleviate the dry soil conditions. Corn is tasseling very short and pastures are drying up.
Although drought conditions have been confined to the Mountains this summer, the recent spate of hot weather has dropped streamflow levels below normal across parts of the Piedmont. This doesn't necessarily mean that drought is imminent for central North Carolina, but it is a reminder that conditions can change quickly over the course of a few weeks. During this time of the year, we largely depend on afternoon thunderstorms for our weekly dose of precipitation, so if we miss out one or two weeks' worth of rain with warm temperatures remaining in place, drought's slow walk could start to feel like a jog.