In North Carolina, June followed in the footsteps of May, which was warmer than normal and relatively quiet as far as severe weather goes.
Warmest Across Eastern NC
Overall, June was a warm month statewide — the 33rd-warmest June on record, based on the preliminary numbers. The heat was greatest in the eastern half of the state: Raleigh, New Bern, Lumberton, and Roanoke Rapids all finished the month with maximum and mean temperatures ranking among their top 10 warmest on record.
As of June 30th, the Wilmington airport has had 20 days this year with highs at or above 90 degrees. That's the fourth-most in that station's 79-year record, ranking behind only 1952 (26 days), 2011 (24 days), and 1998 (24 days). New Bern has had 22 90°+ days so far, and Lumberton has already had 30 days at or above 90°.
Further inland, temperatures in the 90s haven't been quite as common so far. Through the end of June, Charlotte only had 11 90°+ days in 2014 (tied for the 40th-most in that station's 73-year record), Greensboro had 8 days (tied for 65th out of 112 years), and Asheville had not yet hit the 90 degree mark. Their first 90 degree day, on average, comes on June 24th, so they're running slightly behind the typical pace this year.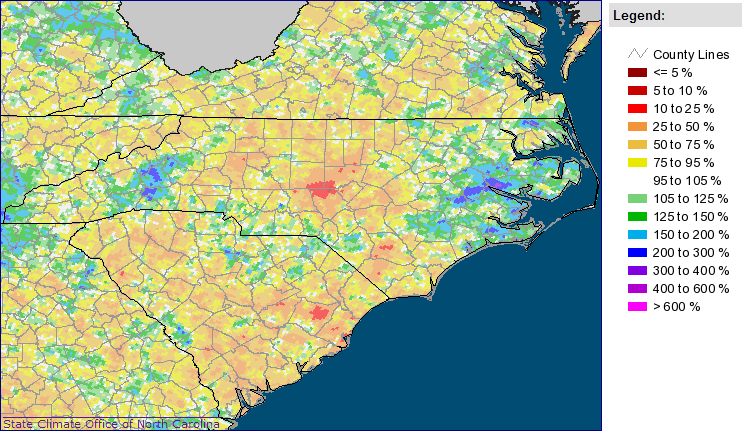 Dry in the Central Piedmont
The statewide average precipitation of 3.90 inches ranks as the 47th-driest June since 1895. The central Piedmont — from I-40 south through the Sandhills and east to I-95 — was the driest, with many areas seeing less than 2 inches of rain all month. It was also dry along the Virginia border, with Stokes and Rockingham counties seeing similarly low rainfall. That month-long dryness led the U.S. Drought Monitor to expand Abnormally Dry (D0) conditions across those areas.
As a reminder, you can help meteorologists see local rainfall variations by joining CoCoRaHS — the Community Collaborative Rain Hail and Snow Network. Head over to www.cocorahs.org for information about signing up as an observer, purchasing your official rain gauge, and making your daily reports.
Wet and Windy Along the Central Coast
Not all of the state was dry in June, though. Showers and storms brought locally heavy rain to parts of the coast. Washington reported 12.00 inches of rain for the month, Bayboro had 6.84 inches, and Newport had 6.57 inches — all above-normal amounts for June. Many of these storms also brought windy weather along the Outer Banks, as the National Weather Service noted several reports of 40+ mph wind gusts on the evening of June 19th. Although no tornadoes were reported in North Carolina in June, there were reports of waterspouts near Kill Devil Hills on June 20th and between Hatteras Island and Ocracoke on June 22nd.
Hail and Storm Damage on June 18-20
For the most part, June was a quiet month for severe weather, but one particularly active period from June 18th through 20th saw thunderstorms statewide. The eastern Mountains, Foothills, and Triad saw storms each day during this event, and the National Weather Service received dozens of hail and wind damage reports.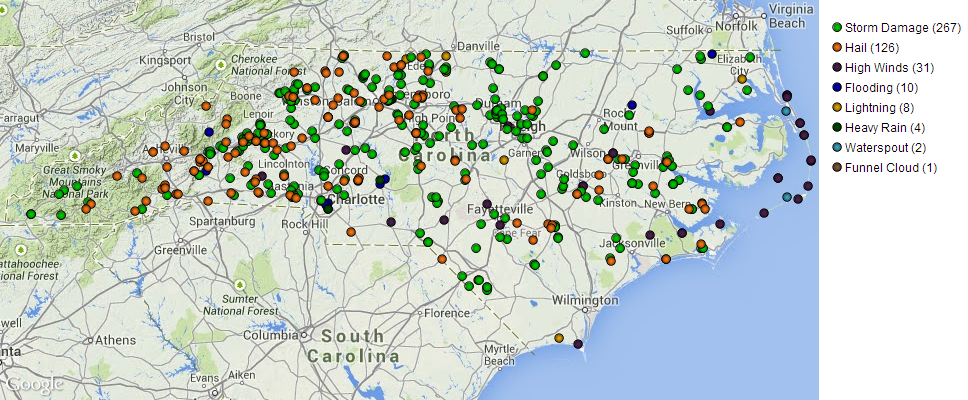 Tropical Storm Arthur Forms off the SE Coast
On June 27th, a fairly innocuous low pressure system moved over the Carolinas and slid off the coast. However, an upper-level ridge over the eastern U.S. meant the system didn't get swept out to sea, but instead sat nearly stationary over the warm waters of the Gulf Stream. Drawing heat from the warm sea surface, it began to strengthen and organize. The National Hurricane Center designated it as Tropical Depression 1 late on June 30th, then upgraded it to Tropical Storm Arthur the next day.
Climatologically speaking, it's not unusual to see storms developing from stalled frontal boundaries, especially early in the summer, when the Gulf Stream waters tend to be warmer than those in the eastern Atlantic. Most recently, Tropical Storm Alberto formed under similar conditions in May 2012. Interestingly, 2002's Tropical Storm Arthur also had a similar birth from a stationary front off the coast.
What is slightly unusual is how late this storm formed. This is the latest development of the first tropical depression of the season since 2004, when the system that became Hurricane Alex did not develop until July 31st.
As we discussed in our summer outlook, the warming of the eastern Pacific to near-El Niño status meant that most pre-season hurricane forecasts predicted below-normal Atlantic tropical activity this summer.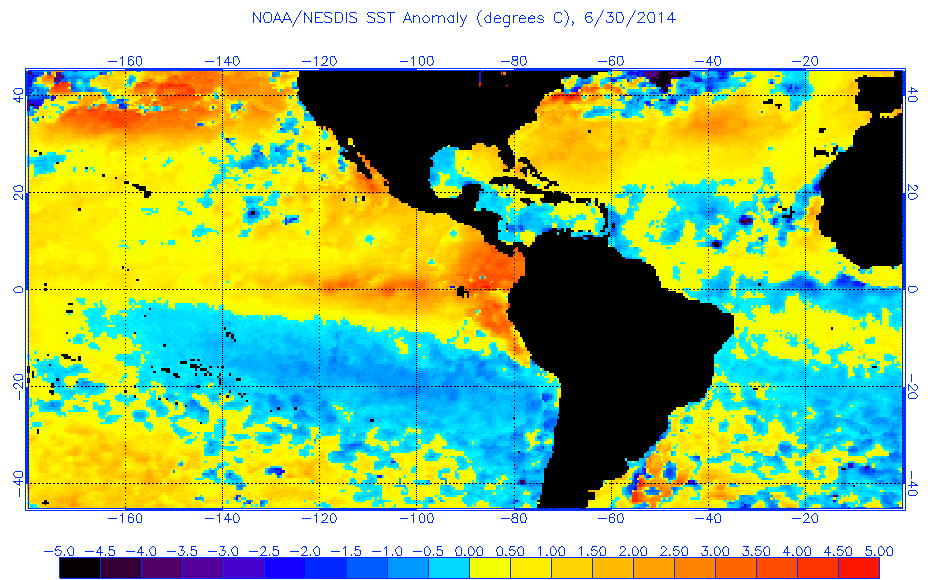 During June, Pacific sea surface temperatures continued to warm and the majority of climate models continued to predict the emergence of El Niño conditions by the end of the summer. Sea surface temperatures in the Atlantic Ocean have also been cooler than normal, which may further explain the relative lack of tropical activity so far this summer.
We will have more about the hurricane season throughout the summer here on the NC Climate Blog and on our Twitter feed, @NCSCO, so be sure to follow us for the latest updates!