Across the state, April saw wet weather including tornado-producing storms, increasing temperatures, and a yellow cloud covering the landscape thanks to a springtime pollen-pocalypse.
Rain and Storms Soak the State
April showers lived up to their name last month, as regular rainfall made it the 5th-wettest April on record since 1895 with a preliminary average statewide precipitation total of 6.00 inches.
While our warm-season rainfall pattern characterized by scattered showers and storms tends to soak some spots while missing others entirely, the frequency and coverage of last month's rains made it a wet month almost everywhere, with only a few locations reporting below-normal monthly precipitation.
A few places did receive well above-normal precipitation, and much of it came from a single event. As a potent line of storms moved into North Carolina on April 19, it produced heavy rainfall in the southern Mountains.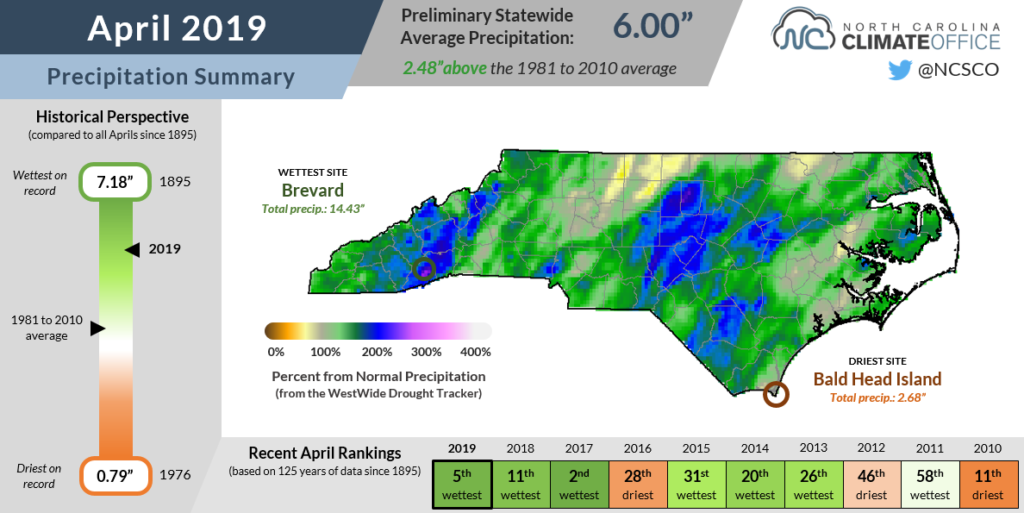 On that date, Asheville reported 3.45 inches of rain, making it the wettest April day on record there dating back to 1902. For the entire month, Asheville received 8.97 inches of precipitation, which ranks as its wettest ever April.
Just south of there, Brevard (14.43 inches) and Pisgah Forest (12.61 inches) also each had their wettest Aprils on record, driven partially by rain from that same line of storms on April 19.
Of course, as that line moved eastward, the main story became the severe weather it produced across the Piedmont and Coastal Plain. The National Weather Service has confirmed 12 total tornadoes in North Carolina during that event, which makes it one of our most active severe weather days.
The abundant rainfall helped wipe away the Abnormal Dryness in the southern Coastal Plain that had been present on the US Drought Monitor since the end of winter. Reports from that region tell of full ditches alongside roads, farm fields that are too wet to work in, and above-normal streamflow levels.

Spring's Surge and a Taste of Summer
After spring's reluctant arrival in a cooler-than-normal March, warm weather was on full display last month. The preliminary statewide average temperature of 59.7°F ranks as our 28th-warmest April out of the past 125 years.
Average mean temperatures were generally 2 to 4 degrees above normal, and up to 7 degrees above normal at Cape Hatteras, which recorded its 3rd-warmest April on record. Average maximum and minimum temperatures were also above-normal statewide.
Toward the end of the month, high temperatures hit the 90-degree mark at a handful of locations, which was an early occurrence for such summer-like warmth. Concord and New Bern, which each hit 90°F on April 24, typically don't feel that sort of heat for the first time until the first week of May.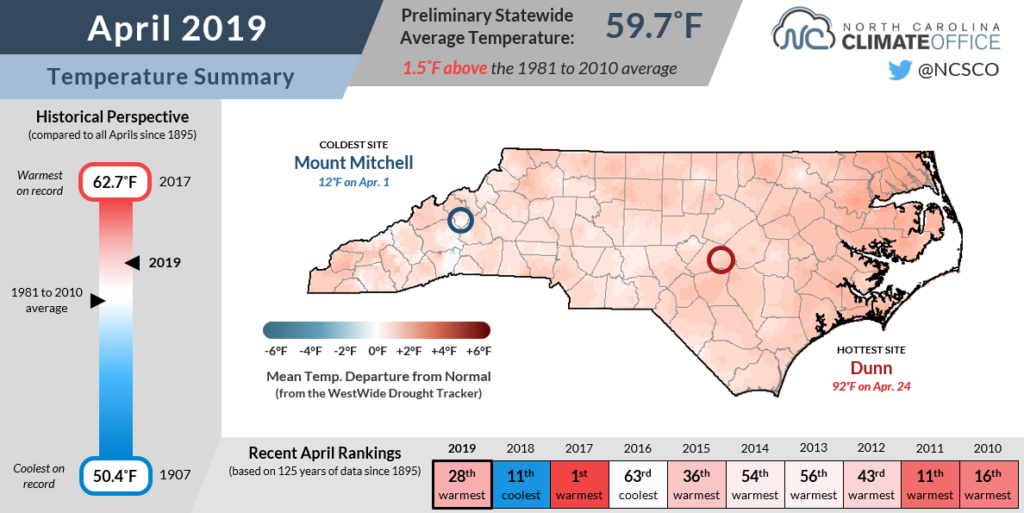 In Dunn — which was the warmest spot in the state last month with a high of 92°F on April 24 — the average first 90-degree day isn't until May 13, so the peak heat in April came about three weeks ahead of schedule.
We have a summer-like pattern to thank for that warm weather. The Bermuda high pressure system set up off our southeastern coast, funneling in warm, humid air from the Gulf of Mexico.
The current forecast favors more of the same for May, as above-normal temperatures are more likely than not for North Carolina according to the NWS Climate Prediction Center.
Pollen Counts Peak
Last month's warm weather was accompanied by an unwanted visitor for many. Climbing temperatures triggered the release of pollen en masse, sending the allergic among us into histamine hysteria.
The North Carolina Division of Air Quality has a pollen sampler on Reedy Creek Road in Raleigh, and the pollen counts it measured spiked over the past month. Within the course of one week between April 10 and 17, tree, grass, and weed pollens all reached their highest values so far this year.
Any sneezing, stuffy-nosed sufferers will likely tell you this year has been one of the worst for allergies, and the pollen concentration data agrees.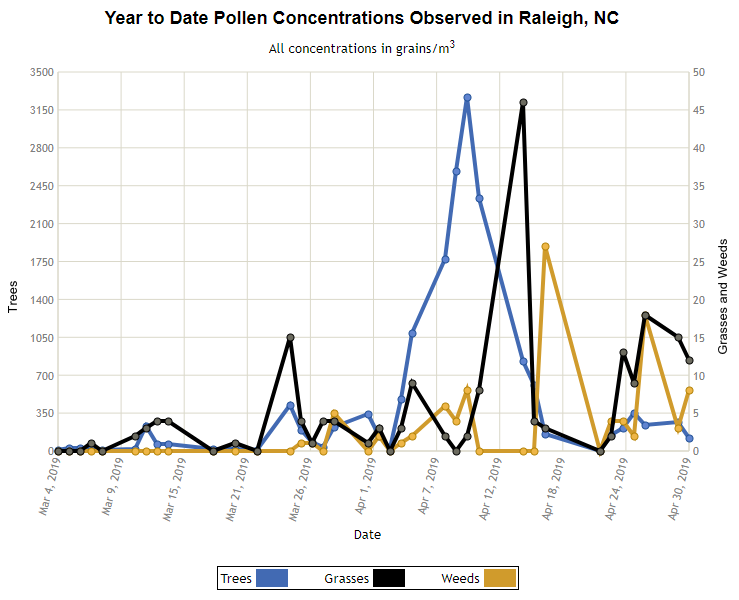 Based on historical reports from the Division of Air Quality, the tree pollen concentration of 3,268 grams per cubic meter on April 10 was the second-highest ever recorded dating back to 1999, and the highest since April 6, 2010.
This year's pollen overload was due in part to the rapid onset of warmer temperatures in early April, which allowed for a sudden surge rather than a sporadic release throughout the spring season.
Pollen-producing trees and plants were also aided by a wet winter, and once they received the environmental cues to release their spores, some windy April days helped those spread far and wide, including into the respiratory systems of unwelcoming humans.
The good news is that regular rainfall has helped wash away much of that airborne pollen, and tree and grass pollen levels typically decline as we head into May.
But that sight for sore eyes won't go away overnight, so until it finally does, gesundheit!