January's chill gave way to spring-like warmth in February, while dry conditions dominated across eastern North Carolina. We also look at the weather as told by the winds.
A Fling with Spring
If January saw the abrupt arrival of Old Man Winter, then in February, he had one foot back out the door. Warmer weather returned last month, and according to the National Centers for Environmental Information (NCEI), the preliminary statewide average temperature of 45.7°F ranked as our 24th-warmest February since 1895.
In the Coastal Plain, average temperatures were 2 to 4 degrees above normal. Hatteras recorded its 13th-warmest February in 123 years, and Plymouth tied for its 11th-warmest since 1945.
Driving those departures were a number of warm, un-winter-like afternoons. In Raleigh, where the normal February high temperature is 55.8°F, maximum temperatures climbed to 60 degrees or higher 16 times last month.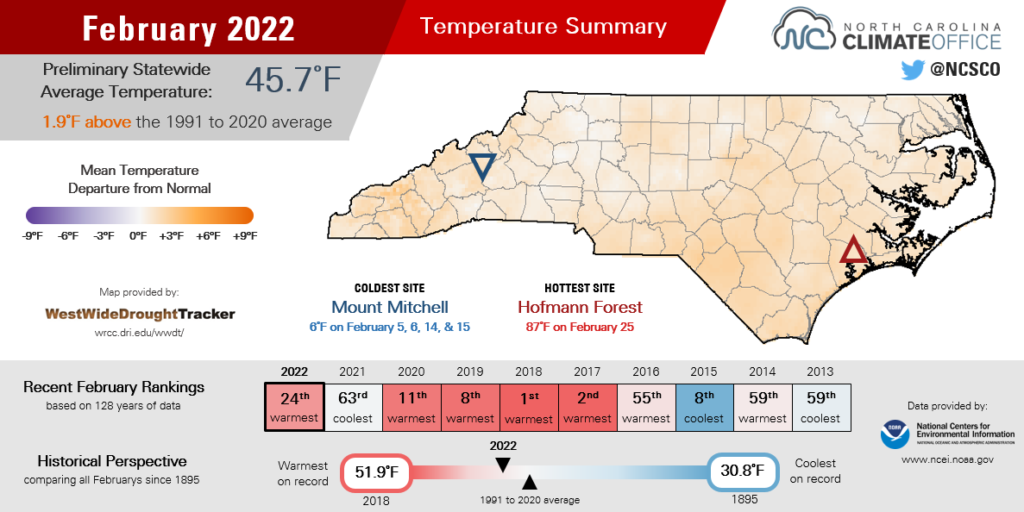 Wilmington topped 70 degrees on ten days and even hit the 80s twice. That put 2022 in similar company as other recent years with an early-arriving spring. Five of the past six Februarys in the Port City have had at least nine days reaching 70°F or greater.
Even the Mountains got in on the spring-like weather. On February 24, Asheville had a high of 73°F, making it the sixth straight February there with 70-degree temperatures observed. Those warm days had buds emerging and daffodils blooming unusually early in the year.
Of course, what goes up must come down, and that applied to temperatures last month as well. A series of potent cold fronts arriving from the west helped crater our temperatures overnight. Asheville twice had a 22-degree decline in its high temperatures from one day to the next: first on February 4 and 5 (from 59°F to 37°F), then again on February 12 and 13 (from 62°F to 40°F).
Temperatures were cold enough behind that mid-month front to support snow flurries in the Mountains. Perhaps that was just Old Man Winter knocking at the door, reminding us that he hadn't departed quite yet.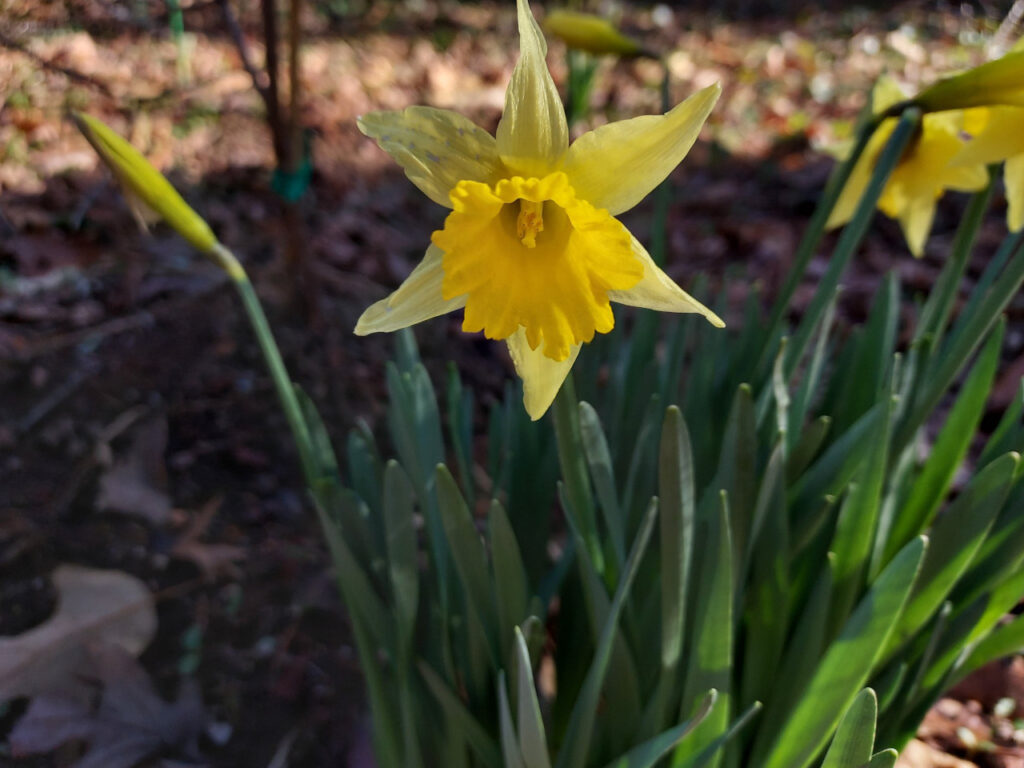 Drying Out Down East
After a wet and snowy January, drier conditions descended on much of the state last month. NCEI reports a preliminary statewide average precipitation of 2.47 inches and our 31st-driest February in the past 128 years.
The monthly precipitation map shows a distinct gradient from west to east, since those crossing cold fronts had their moisture squeezed out over the Mountains, then brought limited rain by the time they reached the coast.
After a dry start to the winter, Highlands in southern Macon County recorded 13.10 inches and its 8th-wettest February since 1893. With 5.13 inches, Hickory was almost 2 inches above its normal February precipitation.
It wasn't all liquid either, as parts of the western Piedmont and Foothills had light freezing rain on February 7, although ice accumulations and impacts were limited.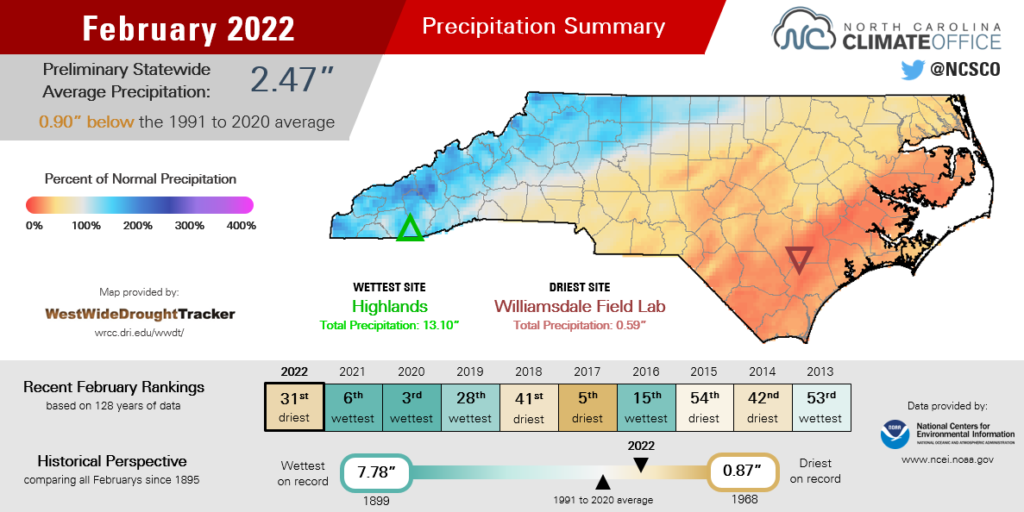 Farther east, precipitation in any form was tough to come by. New Bern totaled only an inch all month for its 2nd-driest February in the past 69 years. It was a similar story in Washington, with only 1.11 inches and its 2nd-driest February on record.
While lingering moisture from January's storms has prevented any rapid deterioration, Moderate Drought (D1) did expand across the southern Coastal Plain and Abnormally Dry (D0) conditions now cover parts of the northern and central coast after the dry February there.
The good news from February is that western North Carolina received needed relief, with multiple soaking rain events alleviating stubborn dryness that had been present since last fall. As a result, drought has disappeared in the western Piedmont and northern Foothills, and the southern and central Mountains have seen dryness fade thanks to the recent rain.

A Wind-ow to the World
The winds of change were at work as we transitioned from a wintry January to a spring-like February. Our recently revamped and relaunched Wind Rose Tool, developed in collaboration with the NC Division of Air Quality, offers a unique perspective about the winds and weather over the past month.
Wind patterns this time of year are quite variable across the state, depending on large-scale features such as weather systems that move through and the atmospheric flow that steers them, along with local characteristics such as terrain.
That's especially apparent in the Mountains. Our southern slopes such as Wine Spring Mountain tend to see more westerly or southwesterly winds in February compared to northerly locales like Laurel Springs, which have prevailing winds out of the northwest.
Last month, Wine Spring's winds generally matched that climatology, but at Laurel Springs, winds out of the south were much more common, reflecting our warmer weather pattern. In fact, the mean temperature of 38.1°F at our Laurel Springs ECONet station was nearly two degrees above its historical February average.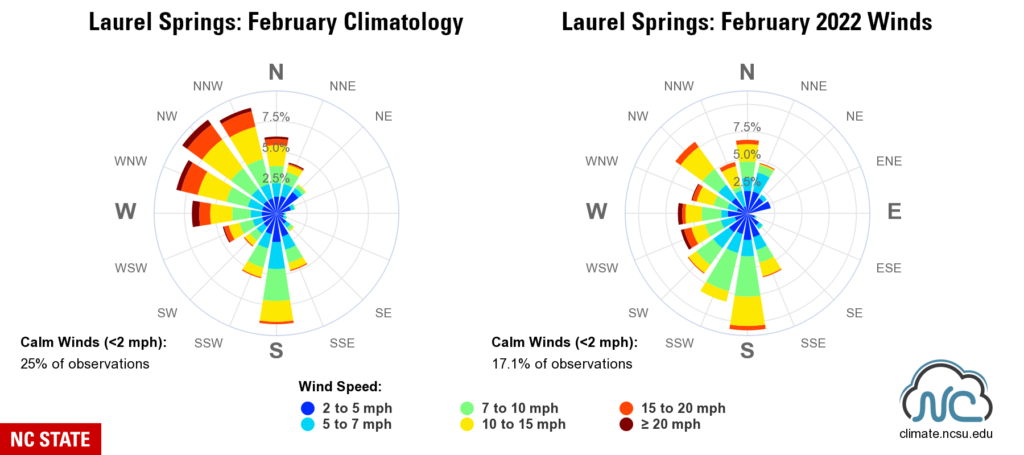 In the Piedmont, winds in February often originate from the southwest, fitting with the conveyor belt-like pattern in which weather systems cross the state. In Raleigh, the southwesterly and south-southwesterly components were even more common last month, and they were also the source of the strongest winds during a cold frontal passage on February 17-18.
During that event, wind gusts of more than 40 mph were measured across the Piedmont, and fire danger ramped up due to the windy weather and low humidity.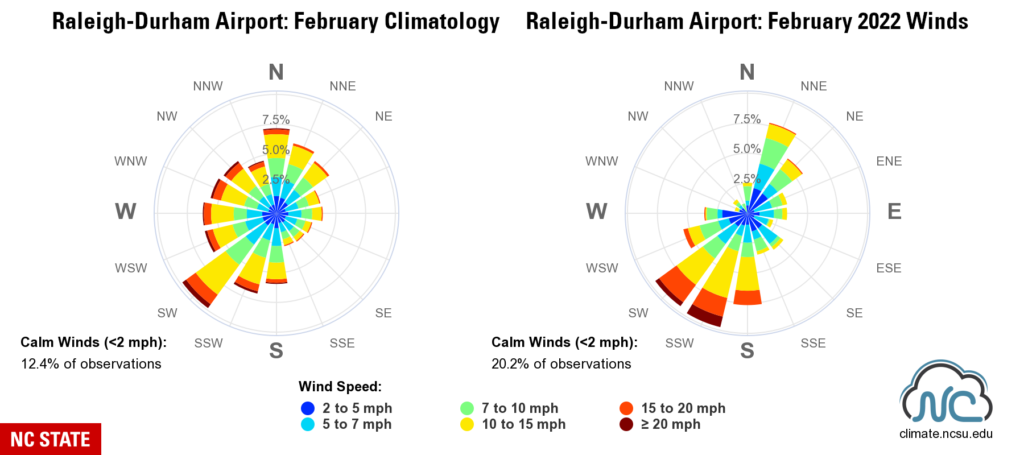 The coast has its own unique wintertime wind regimes. Elizabeth City sees spikes in February winds from the north, west, and south-southwest. Last month featured a similar frequency of northerly winds, but more from the south and fewer from the west than the climatology suggests.
That's because our frequent cold frontal passages helped confine winds mostly to the north or south with little time spent in between. For example, southerly winds ahead of a front on February 13 were replaced by stiff northerly winds of more than 25 mph behind it.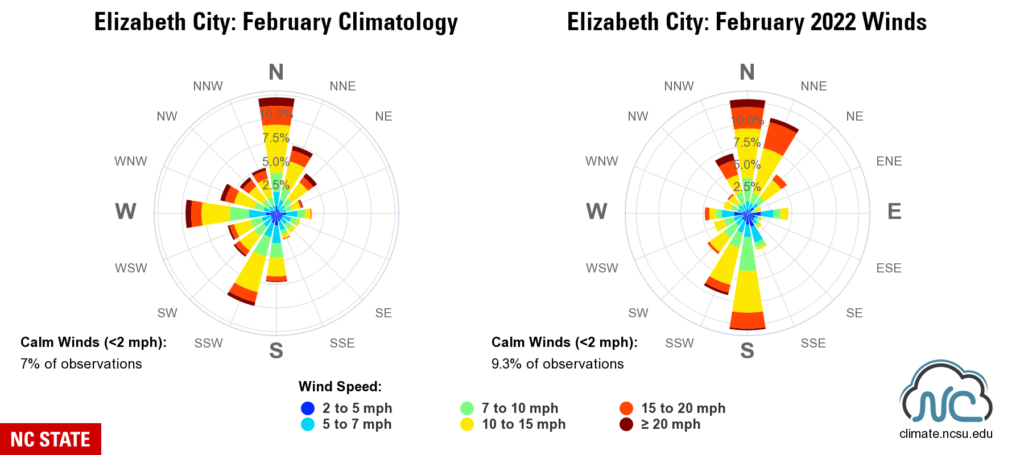 For more historical wind data and recent conditions in your area, make sure to explore our Wind Rose Tool. With powerful plots only a few clicks away, trust us when we say it's a breeze!