Monthly statistics for April 2013:
Statewide Average Precipitation: 4.89 inches (18th wettest since 1895)
Statewide Average Temperature: 57.7°F (59th coldest since 1895)
* Values generated from preliminary numbers
Normal Temperatures for Most of the State
Most stations across North Carolina observed mean temperatures that were relatively normal for this time of year, ranking April 2013 as the 59th coldest — or 61st warmest — since 1895 statewide. However, a few locations in the eastern part of the state ranked in the top 10 coldest on record in terms of average mean temperatures during April 2013. The most notable of these stations was in Laurinburg, which ranked the month as its 5th coldest. Given that Laurinburg has a much longer period of record compared to the other top 10 coldest locations in Elizabethtown, Bayboro, Ocracoke and Manteo, this "5th coldest" statistic is more meaningful.
While graphics depicting maximum and minimum temperature rankings are not pictured, there were a few notable statistics to mention. As previously noted, Laurinburg's mean temperatures ranked 5th coldest overall. This value was primarily driven by the minimum temperatures observed throughout the month for this location, which ranked as the 7th coldest in the station's 67-year record. Also notable was the 10th coldest ranking for Jefferson in terms of minimum temperature, given this station has 81 years of data.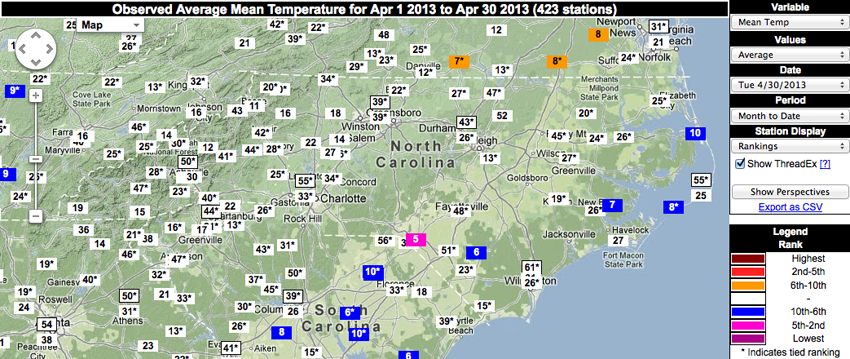 Wet in the West, Continuing Dryness in the East
While dry conditions persisted across most of the eastern half of the state — with the exception of the southeastern coast — parts of the mountains observed significant amounts of rainfall last month. 12 stations ranked April 2013 in the top 10 wettest on record. The most significant of these statistics was for a station in Cullowhee, which ranked the month as the wettest April on record in its 102-year observation history, with 7.64 inches of precipitation! Other locations that ranked the month as their 4th wettest April on record were in Fletcher, Asheville, Longwood and Morehead City. Of these stations, Asheville and Morehead City seemed the most significant, given their 111- and 60-year records, respectively.
Top-10 wettest Aprils on record were observed at stations in Waynesville, Murphy, Cleveland, Ocracoke, Banner Elk, Lincolnton and Wilmington. In particular, Waynesville observed its 6th wettest April in its 108-year history. Also notable: Banner Elk observed its 7th wettest April in its 94-year period of record, and Wilmington observed its 8th wettest April on record throughout the station's 81-year history.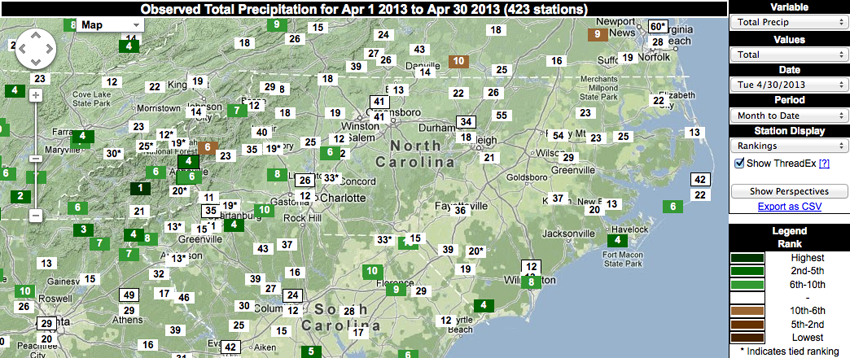 Sleet and Snow in April?!
While it may seem like somewhat of a distant memory now, April 2013 actually began with a winter storm on the 4th that brought snow, sleet and ice to the western and central parts of the state. However, other events that occurred mid-April involved much more spring-like weather, with reports of heavy rain and storm damage on the 12th, as well as reports of high winds, hail and storm damage on the 19th. In particular with the storms that moved through on the 19th, a tornado developed just across the North Carolina – Virginia border near Kerr Lake.

Impacts to Agriculture and Water Resources
Drier conditions throughout April helped give farmers the time needed to get their fields prepped for planting. As freeze concerns in the eastern part of the state generally disappeared, planting in these areas of the state got underway. Unfortunately, many fruit crops have been slower to emerge this year as compared to 2012, however last year's spring was much warmer by comparison to what we've seen so far in 2013.
Reservoirs across the state are in good shape. While a few wells still have groundwater levels down in the moderate drought category, overall drought impacts in the extreme southern Piedmont were reduced to abnormally dry. That being said, the region of abnormally dry conditions did expand further north and east throughout the month.