After a day-long trip up our coastline, Hurricane Dorian departed North Carolina with a brief landfall at Cape Hatteras and a trail of damage left behind from its winds, rain, storm surge, and even a few tornadoes.
Dorian became the state's first landfalling storm of the year and the fourth hurricane to affect the coast in the past six years. Both Arthur (2014) and Florence (2018) made landfall, and Matthew (2016) stayed just offshore but followed an overall similar track as Dorian.
Thankfully, Dorian didn't arrive in North Carolina packing the same Category-5 punch with which it struck the Bahamas. After sitting nearly stationary over the island nation for two days, Dorian lost strength over the cool water it churned up, and increasing wind shear and dry air intrusion from the south and west also weakened the storm.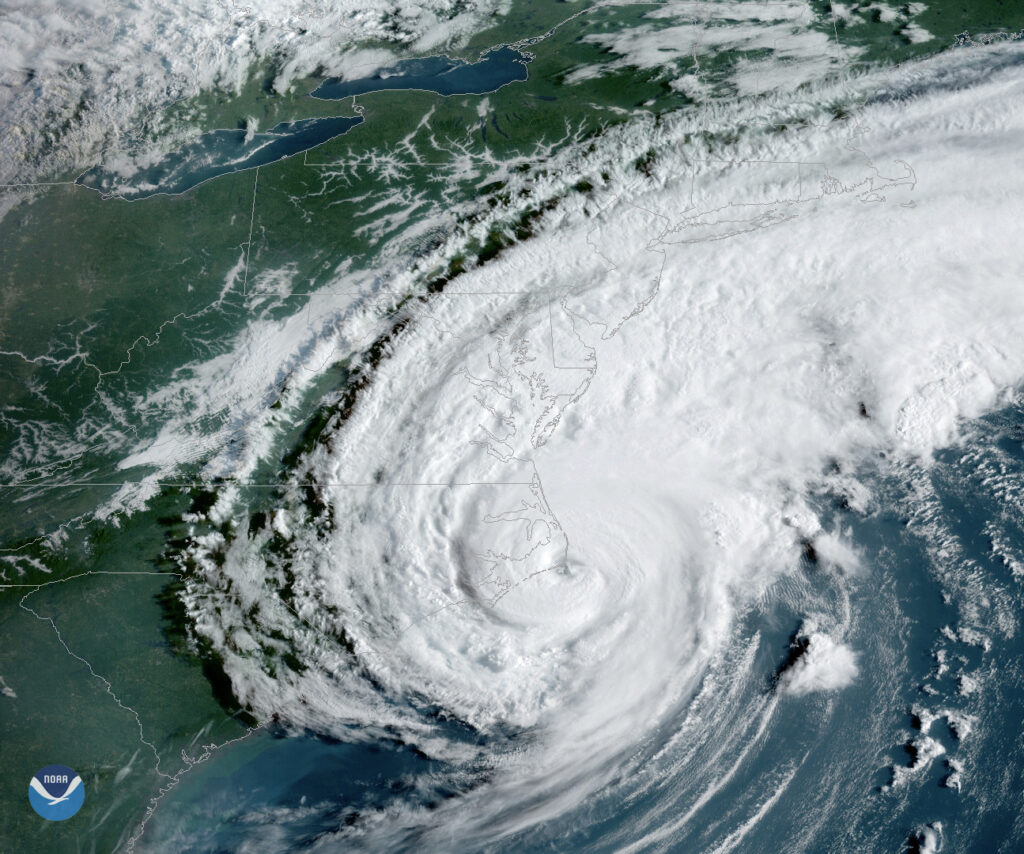 It reached our southern coast on Thursday afternoon at Category-2 strength, and after turning to the northeast, its eyewall grinded from Cape Fear to Cape Lookout to Cape Hatteras (as seen on radar imagery) where the eye finally made landfall around 8:35 am last Friday, according to the National Hurricane Center.
By then, it was a Category-1 hurricane with maximum sustained winds of 90 mph. A Coastal Marine Automated Network station at Cape Lookout recorded gusts as high as 94 mph, and an unofficial station at Cape Hatteras High School reported a gust of 101 mph.
Tropical storm-force wind gusts were measured as far inland as Rocky Mount and Fort Bragg. The high winds helped knock out power to more than 190,000 electrical customers in eastern North Carolina.
However, it wasn't wind but water that proved to be Dorian's main hazard. Nearly a foot of rain fell in northern New Hanover County, including 11.4 inches at our ECONet station in Castle Hayne and 12.2 inches from a CoCoRaHS observer on the eastern side of the city.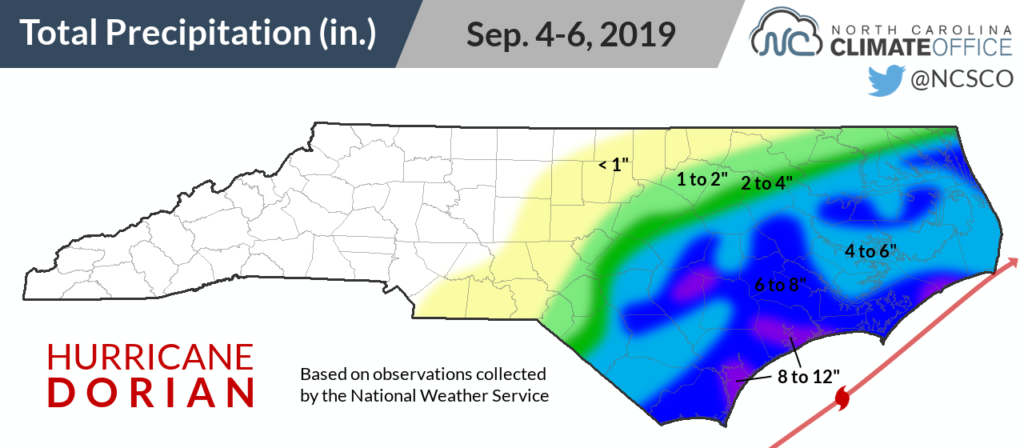 As a result, the lower Cape Fear River reached minor flood stage, although the levels at Chinquapin were ten feet below the maximum crest during Florence last year.
Along the Outer Banks, the counterclockwise wind flow around the eye meant a double hit: an ocean-side surge ahead of the storm, then a sound-side surge behind it. Water levels rose 5.3 feet on Hatteras Island and up to 7 feet on Ocracoke, with that rise occurring in less than two hours once the northwesterly winds on the back edge of the eye moved over the Pamlico Sound.
With the ferry service — the only scheduled transportation to isolated Ocracoke — not running through the duration of the storm, hundreds of residents were stranded on the island while the flood waters subsided.
The sound-side surge was reminiscent of a few other recent storms that had a similar angle of attack along the Outer Banks, including Arthur in 2014 and Hurricane Emily from 1993.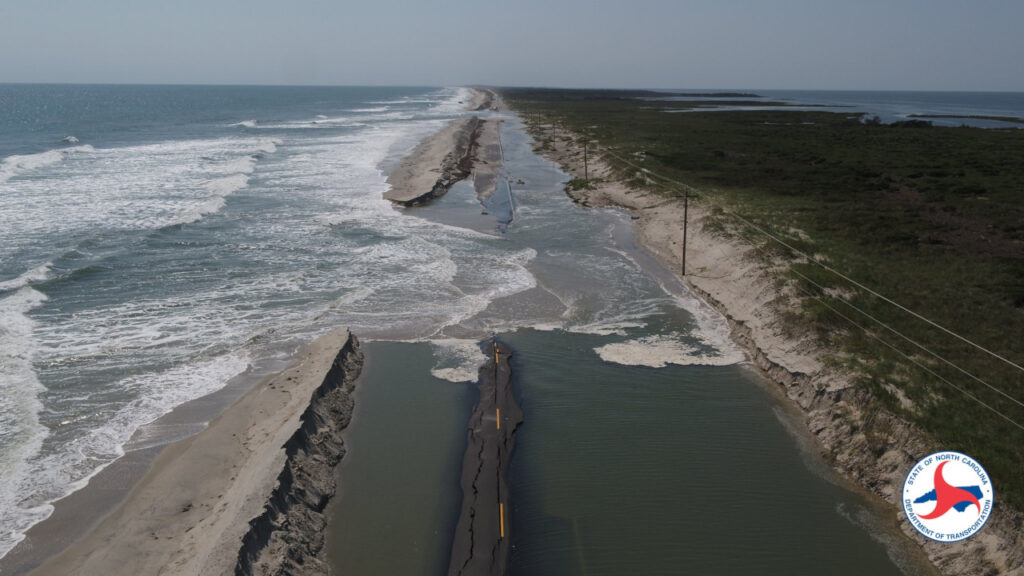 Two other coastal communities suffered a big hit from tornadoes spawned by Dorian. On Emerald Isle in Carteret County, a waterspout moved onshore around 9 am on Thursday, and at Carolina Shores in Brunswick County, a confirmed EF-2 tornado hit just before 11 am.
Damage surveys by the National Weather Service will continue this week, but at least 13 tornadoes have already been confirmed as of Monday morning. That includes four in Pender County, three in New Hanover County, and one each in Bladen and Columbus counties. The NWS in Raleigh also confirmed EF-0 tornadoes touched down in Johnston and Wayne counties, and an EF-1 hit Wilson County.
Tornadoes in tropical storms aren't too unusual, but some storms spawn more than others. Among our recent hurricanes, Arthur generated three tornadoes in North Carolina and Matthew had just one. However, Florence spawned 23 tornadoes over a four-day period last year.
Along with the hazards and damage, two deaths in North Carolina are currently attributed to Dorian. Last Monday, a Columbus County man died after falling from a ladder while preparing his home for the storm, and a Pamlico County man reportedly suffered a heart attack while pulling his boat out of the water.
If you suffered damage from the storm, the NC State Extension Service's Disaster Information Center has some useful guides and resources on its website. These include whether food from your garden is safe after flooding, cleanup tips for your lawn and landscape, and videos about flood recovery.
---
Sources: