We've already gotten our first taste of winter with last week's freezing temperatures, so with a whole season still to come, it's natural to wonder: is more of the same cold weather coming, or is a wintertime warm-up on the way?
In this post, we will review the atmospheric features that may shape our weather this winter and some jet stream setups we might expect, then share this winter's outlook.
Pattern Overview
One of the best indicators of likely wintertime weather is usually the El Niño/Southern Oscillation, or ENSO. The cyclical change in Pacific sea surface temperatures happens slowly enough — over the course of months or years — that it offers some advanced predictability, and ENSO's atmospheric impacts include changes to the subtropical jet stream that can affect our weather in the Southeast US.
But as we described in our previous post, when ENSO is in a neutral state like it is entering this winter, it has little impact and our weather is at the whims of other atmospheric patterns that change over the course of days or weeks instead of months.
One of those other patterns is the Madden-Julian Oscillation, or MJO, which describes the movement of thunderstorm activity around the tropics.
When it's over the central Pacific — categorized in Phase 8 on diagrams that track those pulses of convection — it can make the subtropical jet stream behave like it does in an El Niño event, sometimes bringing cool and wet weather to North Carolina like we've seen in early November this year.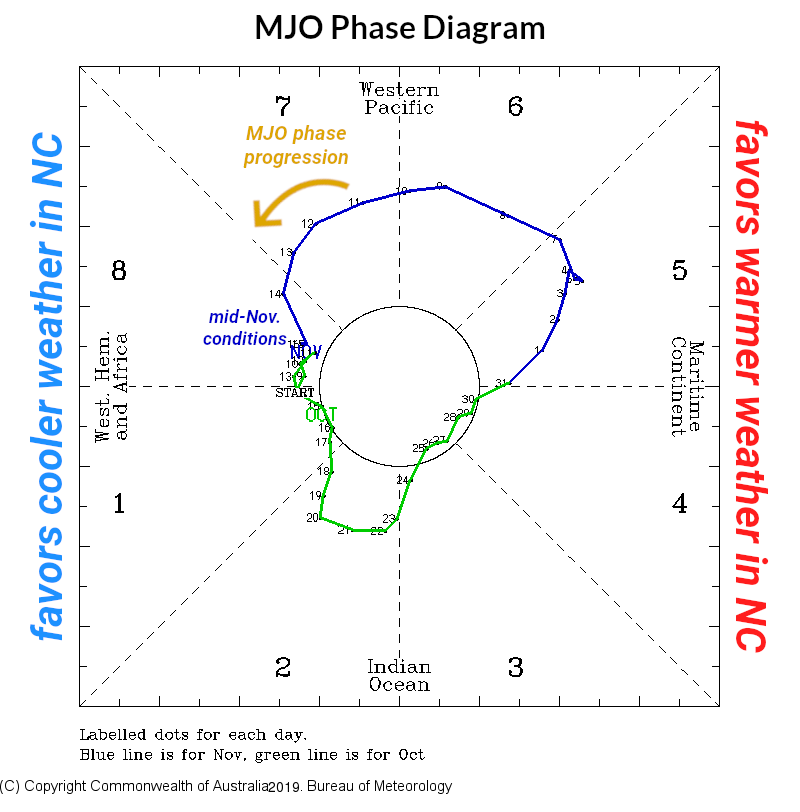 Each MJO phase tends to be short-lived, so it's tough to tell when it may cycle back to Phase 8 again and whether we'll even see cool, wet weather then.
For even colder temperatures, we usually depend on the strength and position of the polar jet stream. For much of November so far, we've had a weak polar jet stream (and a disjointed polar vortex), which has corresponded to some downright chilly weather.
However, this pattern also tends to change quickly, and current forecasts show the polar vortex re-consolidating later this month and pulling that cold air back to the north.
In short, there are no strong indications about how large-scale atmospheric patterns will look this winter, other than potentially being variable throughout the season.
Jet Stream Patterns
In our outlook, we usually discuss analog years with similar fall conditions to show us how our winter might play out. Since ENSO-neutral years can be so different, even from one month to the next, we'll instead show some example jet stream patterns for a few ways the atmospheric setup might look this winter.
Warm and Dry

With both the polar and subtropical jet streams to our north, this pattern puts us under a dreaded subtropical ridge. During the summer — and even early this October — this pattern ramped up our heat and humidity. When it happens in the winter, this pattern can bring us warm, spring-like weather.

Recent Winter Example: December 2016

mid-month highs in the 70s




temperatures in the 60s on Christmas Day




dry across the Piedmont and northern coast

Warm and Wet

The polar jet stream remains to our north, but the subtropical jet stream dives far enough south to bring in Gulf moisture, especially in western North Carolina. In late October, this pattern helped alleviate drought conditions in the Mountains, but temperatures remained above normal.

Recent Winter Example: December 2012

among our top ten warmest Decembers




an active weather pattern with several rain and high wind events

Cool and Dry

A weak, wavy polar jet stream dives south over the eastern US with Arctic air in tow. However, when it's this far south, the subtropical jet stream and storm track are also displaced to the south, limiting our rain (and snow) chances.

Recent Winter Example: January 2014

among the top ten coldest Januarys on record at many sites




below-normal precipitation in most areas




Three weak to moderate wintry events

Cool and Wet

In the Goldilocks scenario for snow lovers, we see storm systems tracking to our south and east that can feed moisture into a cool air mass across the state. This setup is most common in El Niño events, but can happen in any winter regardless of the ENSO phase.

Recent Winter Example: January 2018

began with a record streak of below-freezing temperatures




two winter storms with accumulating snowfall across the state

Stuck in the Middle

Sandwiched between the polar jet to our north and the subtropical jet to our south, our temperatures and precipitation usually end up near normal.

Recent Winter Example: January 2015

one cold morning early in the month, followed by variable temperatures

generally wet at the coast and dry farther inland

two minor freezing rain events
So which of these patterns will prevail this winter? If our fall is any indication, then maybe all of them! Since early October, we've seen substantial variability and almost all of these jet stream configurations at some point, so it's not unreasonable to expect more of the same this winter.
This Winter's Outlook
The National Weather Service's winter outlook shows slightly elevated chances — between 40 to 50% likelihood — of above-normal temperatures across much of the southern and western United States, with equal chances of above-, near-, or below-normal precipitation for North Carolina.
This lack of certainty reflects the challenges in this year's outlook, with few patterns giving us strong indications of how our weather may play out.
The Climate Prediction Center's forecast discussion notes that "since ENSO is unlikely to provide a major influence on the mid-latitude circulation pattern, long-term climate trends were weighted more heavily than normal during early and middle forecast leads."

These long-term trends refer to changes mainly in temperatures over time. Even compared to the 1981 to 2010 climate normals, wintertime temperatures in the nine years since then have generally been a degree or two above normal, on average, across much of the Southeast US.
Part of this trend may be that we've had fewer cold days in recent years, especially compared to the record cold in the 1980s like on January 21, 1985, or December 25, 1989. But climate change is also causing our temperatures — especially nighttime lows — to creep upward over time.
Again, these anomalies are small — you might not even notice the difference a degree or two makes on any given day — but lacking other strong guidance, these trends mean above-normal temperatures are a bit more likely this year as well.
Other factors considered by the Climate Prediction Center include dynamical model forecasts, which are also in agreement in showing above-normal temperatures across much of North America.
Their precipitation forecasts are more mixed. Some models show weakly dry conditions across the Southeast, while others have a wetter look for the Carolinas.
With all things considered, this winter will probably look like past ENSO-neutral years and even how the past two months have played out within the atmosphere: with lots of variability!

This means seeing some warm and cool periods, some wet and dry ones, and probably even some snow, although predicting when, where, and how much is impossible to tell at this point.

Overall, our wintertime average temperatures are more likely to be near- or above-normal than below normal, but we don't expect warm weather will rule the entire season. It certainly hasn't this fall!
We'll continue to track the winter and the atmospheric patterns at play as the season continues, so stay tuned to the Climate Blog for more information.