After a week of cold and dry weather, flakes finally flew across much of eastern North Carolina with the passage of a fast-moving but potent storm system off the coast.
As we discussed in our December climate summary, the recent cold pattern actually made it tougher to see snow because the Arctic high pressure system in place kept any moisture well off to our south and east.
However, a slight relaxing of the polar jet stream finally let such a system come close enough to North Carolina for parts of the state to see snow.
As a low pressure system moved off the coast of Florida yesterday morning, it began a rapid strengthening process. Warming air near the ocean's surface rose, which allowed clouds and precipitation — fed by the warm, moisture-rich waters of the Gulf Stream — to develop.
Only 24 hours after the storm started taking shape, it had become an intense Nor'easter, or "bomb cyclone", off the mid-Atlantic coast.
Incoming moisture still had to overcome dry air in place near the ground. Dew points across eastern North Carolina were in the single digits on Wednesday morning, but after precipitation fell for a few hours, it began to reach the ground.
Along the immediate coast, precipitation started as rain at Hatteras and freezing rain in Wilmington. Elsewhere, precipitation fell as all snow, and eventually made the transition in those easterly locales.
The greatest totals came in a band from Onslow County through Beaufort and Gates counties. A Jones County observer in Comfort reported 7 inches, and CoCoRaHS observers in Chowan County reported 6.5 inches in Edenton and 6.0 inches near Mill Crossroad with the final snow band still moving through this morning.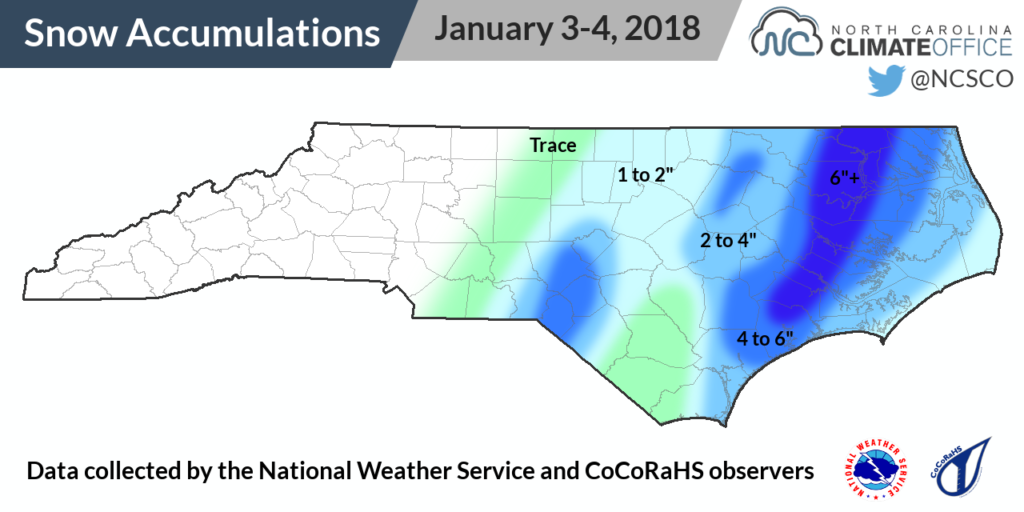 Southern Pines and Raeford also received a surprising six inches from the storm, which most forecasts suggested wouldn't bring much snow that far to the west. However, while snow fell in parts of the Sandhills, the southern Coastal Plain along the I-95 corridor received less than an inch due to the presence of dry air between snow bands.
An all-snow event across the Coastal Plain is relatively rare, but certainly not unheard of. In fact, in one of our close analogs to this winter — the 2000-01 winter — an early December storm brought up to a foot of snow to the same areas that received the highest totals from last night's storm.
This is also the sort of event that reinforces why we've shied away from making seasonal snowfall predictions. One high-producing snow band single-handedly exceeded the annual average snowfall at sites including Edenton, which averages 3.1 inches of snow per year, and Raeford, which averages 2.8 inches per year.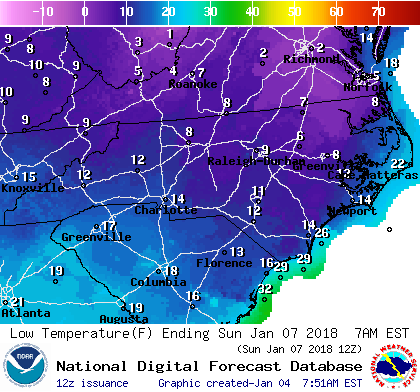 This weekend, a reinforcing shot of cold air is on the way, and parts of the Coastal Plain with snow still on the ground could be looking at some of their coldest temperatures in years.
Sunday morning's forecasted low in Edenton is 5°F. The last time temperatures dropped that low there was almost 22 years ago on February 5, 1996, and that station has only been that cold seven times since 1872. Rare air, indeed.