We don't often see snow on the ground before Christmas in North Carolina, but a potent weather system spurned the climatological and La Niña-skewed odds to bring our first taste of winter just a week into the season.
The precursor to the event was a weak cold front that moved through last Wednesday morning. The front brought some needed rainfall and dropped our temperatures into the 40s, but as it stalled off the coast, it set the stage for the main system still to come.
By Thursday night, a trough in the jet stream was diving down across the Southeast US while a high pressure system with Canadian origins settled in to our west, delivering a chilly shot of below-freezing temperatures as far south as Houston, New Orleans, and Pensacola.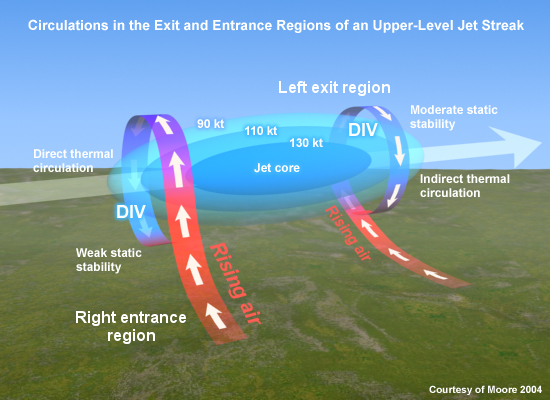 The position of the pocket of strongest jet stream winds — a feature called a jet streak — put the Gulf of Mexico in the so-called right entrance region. Like cars on a highway entrance ramp, air accelerated and ascended within this favorable region. This allowed multiple surface lows to develop along the stalled frontal boundary, akin to rush hour traffic along that storm track.
Each low was able to pull in enough moisture to collectively produce steady precipitation from Thursday night through Saturday. Snow fell from Galveston Bay to the Chesapeake Bay, including in rare locales such as Corpus Christi — which last saw snow on Christmas Day in 2004 — and parts of the Florida panhandle.
Snow Totals
In North Carolina, accumulations peaked in the southern Mountains. An observer near Cashiers in Jackson County reported 18 inches. In Henderson County, reports indicated that 15.2 inches fell in Fletcher while 13 inches was on the ground just west of Hendersonville.
Across the Piedmont, the greatest totals were in the north and west, including 8 inches in King in Stokes County and 7 inches near Ruffin in Rockingham County. Totals fell off quickly to the south and east, with Raleigh getting 0.6 inches of snow at the airport and Charlotte seeing only a trace of snow.
So why did this storm bring snow to Florida but not to parts of North Carolina? It was all about the timing and location of the cold air.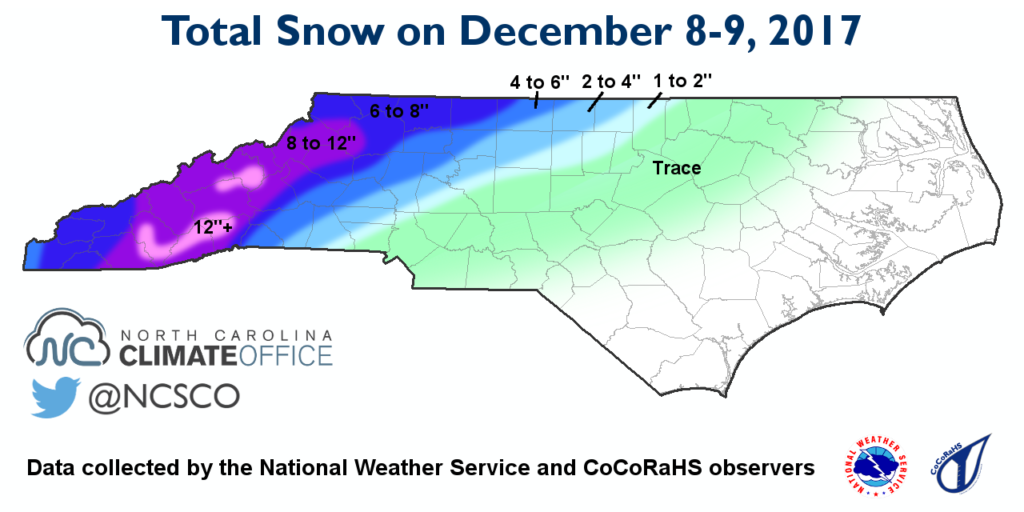 Unlike many of our winter storms, in which high pressure to our north ensures cold air is in place near the ground, this event setup saw high pressure well off to our west. The cold air associated with that high didn't cross the Appalachians until Saturday night after precipitation had finished falling.
As the atmospheric soundings from Friday in Greensboro show, our surface temperatures were in the 40s when precipitation started, and even after the air saturated and cooled to the wet bulb temperature, it sat precariously above freezing in many areas, yielding hours of light rain with a temperature of 33 degrees.
For those areas, it wasn't exactly the winter wonderland that our neighbors to the west enjoyed, but it was some needed drought relief for sure. All told, over the past week, most of the state saw at least an inch of precipitation, with more than 2 inches — falling as all rain — across the Coastal Plain.
A Storm in Perspective
For the spots that did see snow, it was a relatively rare early-season event. Light rain eventually changed to light snow in Greensboro with a total of 2.2 inches of snow reported, making it only the tenth time since 1903 that more than 2 inches of snow fell in a single event before December 15. The last such occurrence was during a snow and ice storm in December 2002.
And based on records dating back to 1946, Asheville's 9.8 inches of snow is the second-most for any event before the middle of December, trailing only the 16.3 inches that fell on December 3, 1971.
Along with being a climatologically early time for snow, this winter seemed less favorable for such events due to the La Niña pattern in place. Moisture-rich storm systems off our coast aren't common in La Niña winters since the typical storm track is to our north.
So does this event change our outlook for the rest of the winter? Not exactly. While our prediction of a warm December isn't likely to pan out, we never ruled out an event like this given a combination of favorable ingredients, including a relaxing of the ridge over the eastern US. We expect that ridge to eventually return, along with its warm, dry weather pattern.
If you're in a spot that saw snow, you might view this as the storm that defied the odds stacked against it. And if you missed out like many did, then just remember it's still early in the season, and as December has shown, it's certainly possible to break out of La Niña's grips this winter.