We're halfway through 2017, which means winter and spring are history and we're at roughly the midway point of the summer. As we look ahead to the rest of the year, here are five questions we're contemplating about North Carolina's weather.
1. When Will the Extreme Heat Hit?
This summer started with a cool June featuring near or slightly below normal temperatures.
So far, July has seen the onset of warmer weather, including the first 100 degree readings in the state this year. On July 15, Dunn in Harnett County and Laurinburg in Scotland County each reached 100°F.
That likely won't be the last occurrence of triple-digit temperatures this year. Climatologically speaking, our warmest day of the year occurs in mid to late July, and high heat in August also isn't unusual.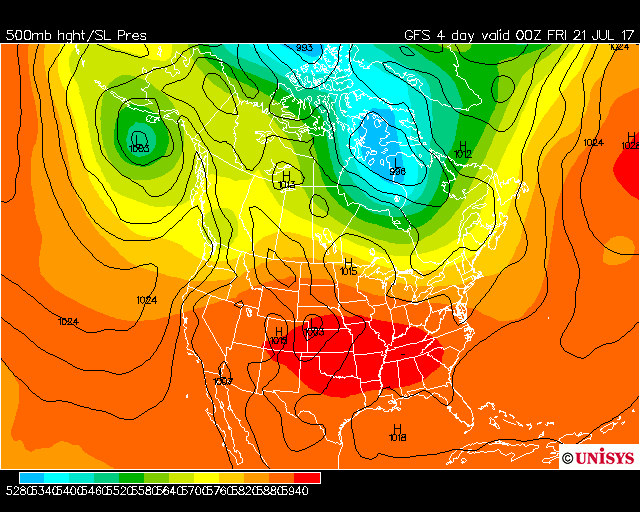 Current model forecasts are showing the heat returning later this week with a large-scale high pressure system building over the Southeast. That should help our high temperatures on Thursday, Friday, and Saturday hit the upper 90s, possibly reaching 100°F in some spots.
Fortunately, it does not appear that this extreme heat will stick around. The long-range GFS shows troughing to our north by the end of the month, and while we'll still likely see temperatures at or above 90 degrees, the chances of seeing a prolonged heat wave this month appear slim.
2. Will Rain Stay or Go Away?
While we began the year with a few dry winter months and drought in the Mountains, those dry conditions are a thing of the past. In fact, for the first half of the year, our statewide average precipitation of 27.80 inches ranks as the 21st-wettest start to a year on record.
Regular rainfall to end the spring and start the summer has put us on the wet end of the precipitation spectrum as of late. Over the past three months, the entire state has seen above-normal rainfall, with some areas more than 10 inches to the positive.
The precipitation outlook for the end of July seems favorable for ongoing afternoon showers and storms, as well as occasional frontal passages. Of course, the often spotty nature of summer precipitation means it may not be wet everywhere.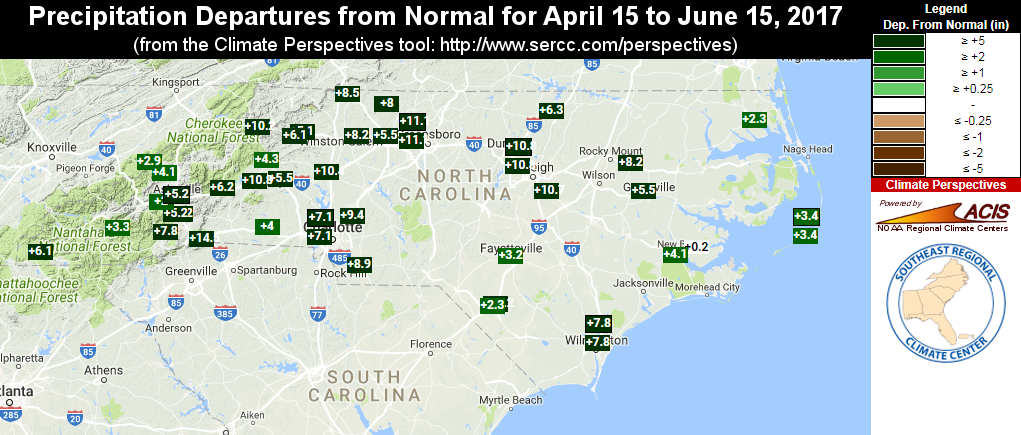 You may still see some effects of short-term dryness if you go several days between rain events at your location. This recent CoCoRaHS Condition Monitoring Report from Holly Springs in Wake County highlights some of these impacts:
Slightly over a quarter of an inch of rain in the past two weeks (0.27″) is not enough and signs of stress are beginning to appear. The grass in the lawn has not needed mowing. The ground under the birch trees is covered with yellow leaves that have fallen. Most of the flowers in the garden have stopped growing and new buds are slower to develop and open. The soil has dried out on the surface and even in the low lying places is quite firm. The stream is clear but the water level in the stream and pond has dropped about 6 inches from two weeks ago. … The outflow from the pond has been reduced to a bare trickle.

from July 9
3. Where Will 2017's Temperatures Rank?
Although it hasn't been a particularly hot summer, a warm winter and spring have put 2017 among North Carolina's warmest years on record to this point.
Through the first six months of the year, the statewide average temperature of 57.61°F ranks as the 4th-warmest first half of a year since 1895. The only warmer years to this point were in 2012, 1990, and 1949.
| Year | Jan.-Jun. Avg. Temp. | Jan.-Jun. Ranking | Final Yearly Ranking |
| --- | --- | --- | --- |
| 2012 | 57.76°F | 1st warmest | 6th warmest |
| 1990 | 57.73°F | 2nd warmest | 1st warmest |
| 1949 | 57.66°F | 3rd warmest | 5th warmest |
| 2017 | 57.61°F | 4th warmest | ? |
| 1953 | 57.45°F | 5th warmest | 15th warmest |
| 1991 | 57.33°F | 6th warmest | 8th warmest |
| 1933 | 57.32°F | 7th warmest | 2nd warmest |
| 1939 | 57.30°F | 8th warmest | 17th warmest |
| 1952 | 57.18°F | 9th warmest | 28th warmest |
| 1950 | 57.09°F | 10th warmest | 50th warmest |
Warmest January through June periods on record since 1895
Among those years, 1949 and 2012 had near-normal to cool falls, which dropped them down the rankings to the 5th and 6th-warmest years on record, respectively.
There was nothing particularly spectacular about that 1990; even that summer was less than half a degree above normal, on average, and only one month that year — February — ranked among the top five warmest on record. However, its persistent near- to above-normal temperatures and lack of any cool months vaulted it to the top spot as North Carolina's warmest year on record.
If we wrapped up this year with near-normal temperatures on average, 2017 would finish as the 11th-warmest year on record. It will take average temperatures slightly more than a half-degree above normal to challenge 1949 for a spot among the top-five warmest years.
The current fall outlook from the Climate Prediction Center suggests above-normal temperatures are likely, which may be enough to help this year hang onto its position among our elite warm years.
4. Are We Entering El Niño or No?
Before last winter even ended, La Niña was on its way out. With the waters of the central Pacific warming up so early in the spring, a transition to El Niño conditions seemed likely this year.
However, sea surface temperature anomalies across that region haven't changed much since then, and we remain in a warm neutral pattern at the moment.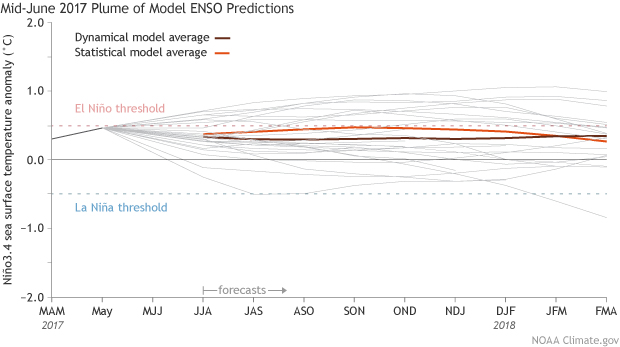 As the latest post from NOAA's ENSO Blog notes, we have yet to see an atmospheric response — namely, increased cloud cover due to developing low pressure — to those above-normal sea surface temperatures over the central Pacific.
A few long-range models do put us into weak El Niño conditions by the fall, but the majority of models keep things in warm neutral conditions as they are now. Without much strong influence from ENSO, it's likely that we'll remain in a more variable weather pattern.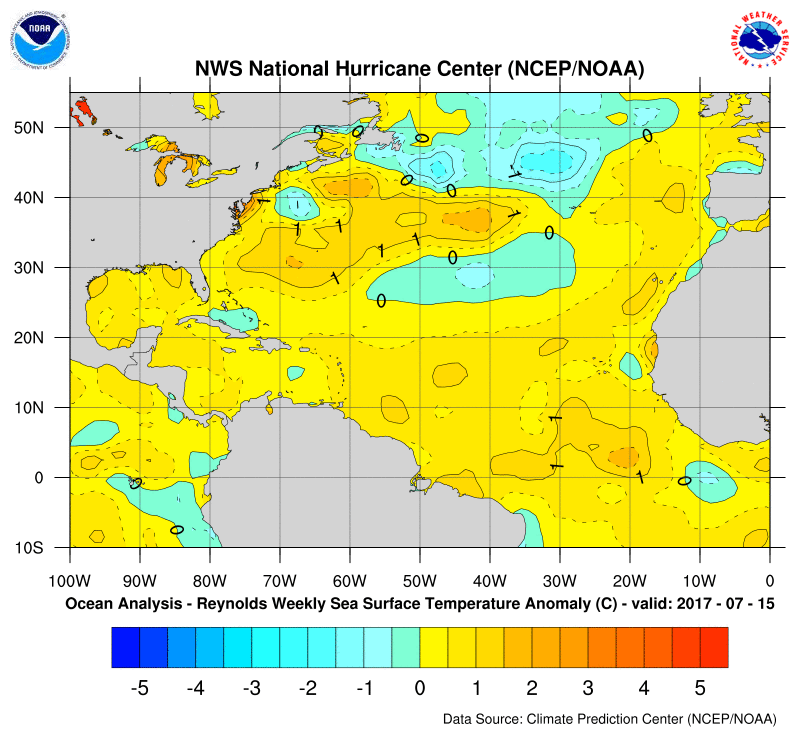 5. Will the Tropics Storm to Life?
The changes — or lack thereof — in the ENSO conditions since the spring have led to an update in the hurricane season outlook.
The Tropical Meteorology Project at Colorado State University released an updated forecast earlier this month. In it, they have upped the expected number of storms since their April and June outlooks.
They now predict 15 total named storms in the Atlantic this year, including the three that formed prior to July 1, along with 8 hurricanes and 3 major hurricanes. Those numbers are all above the long-term averages.
The reasons for the updated forecast are an increasingly unlikely El Niño, which tends to strengthen storm-shearing trade winds over the Atlantic, and warming Atlantic sea surface temperatures over the past few months.
While the Atlantic is quiet at the moment, the typical peak of hurricane season is less than two months away, so expect tropical activity to ramp up in the coming weeks.