Seasonal temperatures, but not extreme heat, arrived in June, while we saw big contrasts in precipitation across the state.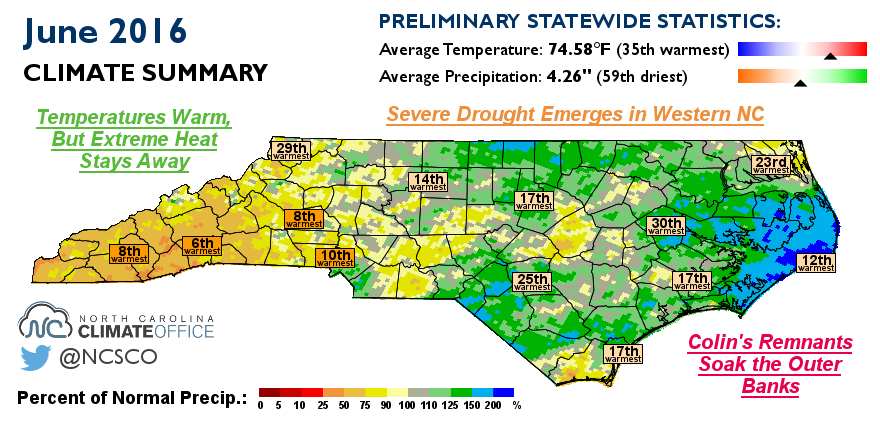 Temperatures Warm, But Extreme Heat Stays Away
June's statewide average temperature of 74.58°F was nearly 10 degrees warmer than May's average of 64.70°F — a sign that the summer season is now in full swing. That value ranked as our 35th-warmest June since 1895.
Driven by ongoing dry weather, several stations in western North Carolina recorded one of their top-ten driest Junes on record. Notably, Asheville had its 6th-warmest June in the past 124 years with mean temperatures about 3 degrees above normal.
While June was our warmest month of the year so far and we did see a spate of days with temperatures exceeding 90°F, we didn't see the same extreme heat that plagued us one year ago.
The northern half of the state, including Greensboro, Raleigh, and Greenville, have yet to hit 95°F this year. For Raleigh, it's only the second time since 2004 that we've completed the first half of the year without getting that warm.
Even though we avoided the extreme heat in June, that's no guarantee that things will stay away for the rest of the summer. Since 1981, 28% of years that started with two or fewer 95°F+ days in Raleigh ended with a dozen or more such days. Given the Climate Prediction Center's outlook for above-normal temperatures (below) likely in July across the country, this might be one of those years where we can't dodge the dog days all summer long.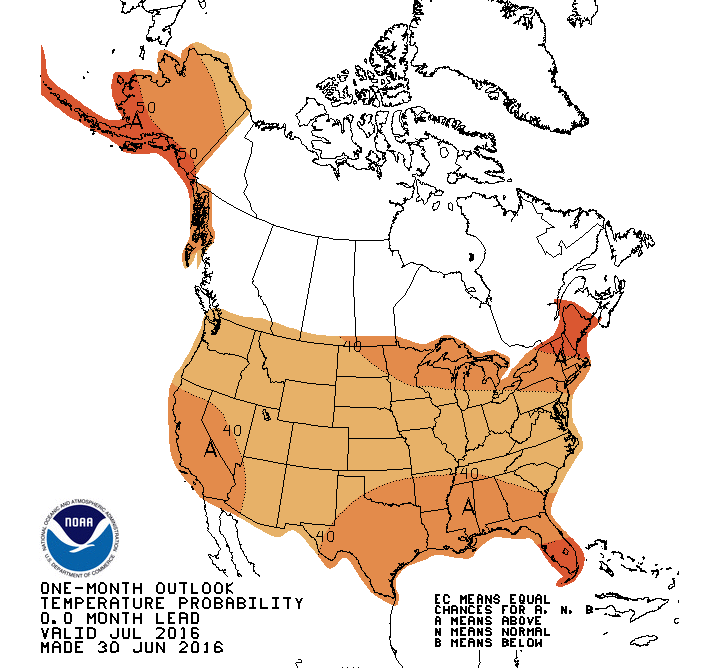 Severe Drought Emerges in Western NC
June's statewide average precipitation of 4.26 inches — ranking as the 59th-driest (or 64th-wettest) June on record — paints a picture of near-normal precipitation across the state. However, it was actually a month of sharp contrasts, with wet weather along the coast balanced by dry conditions in the west.
The southern Mountains have experienced the worst of the dry weather in recent months. Cullowhee reported 1.6 inches of precipitation last month — just one-third of its normal June total. Over the past three months, Highlands in Macon County has a rainfall deficit of nearly 9 inches.
That ongoing dryness, as well as recent streamflow values below the 25th percentile, have led the US Drought Monitor to introduce Severe Drought (D2) classification across most of Macon, Jackson, Haywood, and Transylvania counties.

In addition, Abnormally Dry (D0) conditions have been expanded into the Foothills and western Piedmont, which was also dry last month. Hickory received just 1.28 inches of rain, making it the 5th-driest June on record there, and Wilkesboro had its 4th-driest June with 1.58 inches of precipitation.
According to the latest USDA Crops Report, that region has begun to see agricultural impacts from the dry weather, particularly to corn and pastures. Elsewhere, it's not heat but cool weather that is on the minds of growers, as the full extent of damage to the peach crop — up to 100% loss, in some places — from April's freeze events has recently become apparent.
Colin's Remnants Soak the Outer Banks
While western North Carolina deals with dry weather, it's a completely different story along the coast. Heavy rainfall has been the norm over the past two months along the central part of the Outer Banks, where a combination of tropical systems and regular thunderstorm activity has brought plenty of precipitation.
Last month, Hatteras received 10.51 inches of rain, ranking as the 3rd-wettest June over the past 124 years. Ocracoke reported 9.28 inches of rain and Morehead City had 8.61 inches — all totals more than 4 inches above the normal June rainfall.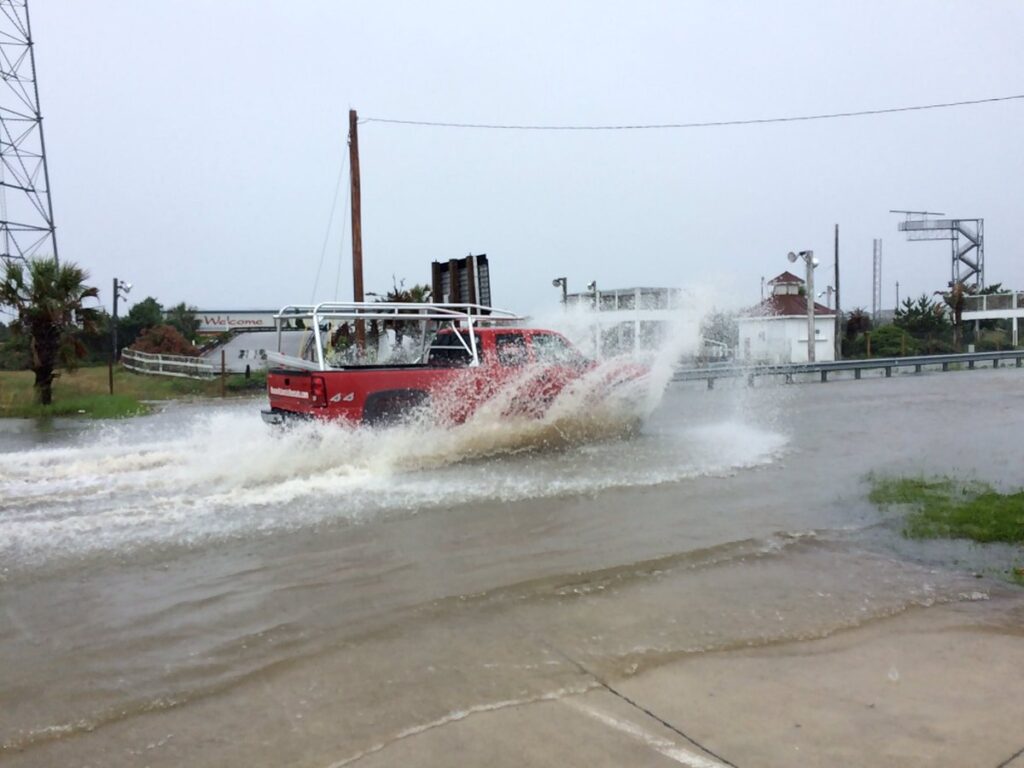 After the remnants of Tropical Storm Bonnie moved through in late May, another remnant tropical system affected the Outer Banks in early June. Tropical Storm Colin made landfall along the Gulf coast of Florida on June 7, then moved over the Atlantic and produced soaking rainfall along North Carolina's coast.
As the National Weather Service in Morehead City notes in its event recap, observed precipitation totals reached as high as 5.44 inches at Havelock, with more than three inches of rain across Craven, Onslow, and Carteret counties. Farther north, the additional rainfall along the Outer Banks produced flooding on Highway 12 in Dare County.
After Colin, another tropical storm — Danielle — formed over the Yucatan Peninsula, becoming the earliest fourth named storm on record in the Atlantic. Since then, the tropics have quieted down, but we still appear on track for an active season.
In case you missed it, our recent Summer and Tropical Outlook post looked at predictions for the hurricane season and North Carolina's summer. With one month of summer in the books, those predictions seem to be on point so far.