Last week's EF1 tornado in Carteret County serves as a reminder that although the winter months are climatologically our least active for severe weather, damaging storms and tornadoes can still happen this time of the year. Forty-five years ago in Fayetteville, a rare February tornado proved to be a strong and deadly one.
Winter Tornado Climatology
Between 1950 and 2014, North Carolina had just 45 confirmed tornadoes in February. That's the third least active month, behind December (14 tornadoes) and January (27 tornadoes). By comparison, as our Severe Storm Reports Tool shows, we've had 141 tornadoes in March, which is the beginning of our typical severe weather season.
However, wintertime tornadoes aren't necessarily weaker than those in other months. About 80% of historical tornadoes in December, January, and February are EF0s or EF1s. Compare that with the summer months, when about 90% of all tornadoes are in those lowest two categories on the Enhanced Fujita scale.
Although tornado outbreaks are quite rare in the winter, the large south-to-north temperature differences can provide a portion of the ingredients needed for severe weather outbreaks: namely, a feed of warm, moist air from the south and a strong cold front ahead of a cool air mass to our west.
An Outbreak Begins
Similar environmental conditions with a wintry twist set the stage for a tornado outbreak across the Southeast US on February 21 and 22, 1971. A strong upper-level low dove out of the north Pacific, and with cold air in place across the Midwest, the Texas panhandle saw blizzard conditions with several feet of snow.
Meanwhile, warm, moist air from the Gulf of Mexico pushed northward over Louisiana and Mississippi. Along the boundary between the warm and cold air masses, a strong cold front formed, providing the lift necessary for severe thunderstorms to develop.
Beginning on the morning of February 21, a swarm of 14 tornadoes swept across the Gulf coast from east Texas through Louisiana, Arkansas, Mississippi, and Tennessee. They combined to cause 121 fatalities, including 58 deaths in Mississippi from an F4 tornado and 47 in Louisiana from an F5 — the only known F5 tornado to form in February.
Overnight, surface temperatures cooled off, making conditions less favorable for severe weather. But as the weather warmed up the next afternoon and more Gulf moisture spilled in from the south, areas along the path of the cold front from the Carolinas to Ohio and Indiana were in prime position to see strong thunderstorms and isolated tornadoes.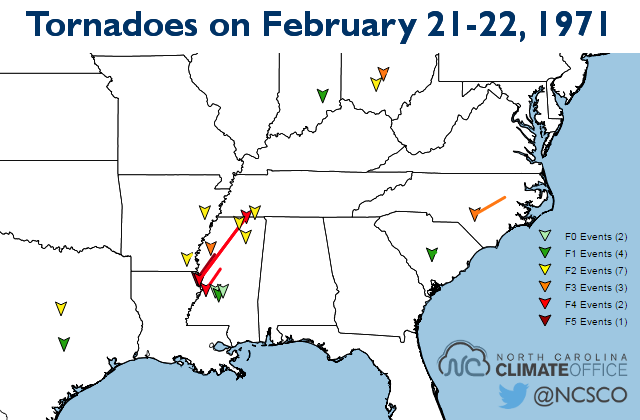 Carolina Tornadoes
Just after 4 pm on February 22, an F1 tornado touched down southeast of Columbia, South Carolina. Along its nearly 12-mile path, the tornado tore the roofs off of a factory and two homes, but no injuries were reported.
As the warm front moved northward, a tornado developed on the northwest side of Fayetteville around 5:30 pm. Newspaper reports suggest it first touched down north of Bragg Boulevard near Margaret Willis Elementary School before hitting the Veterans Administration Hospital — where damages exceeded $500,000 — and eventually crossing the Cape Fear River on its way out of Fayetteville.
The same storm continued through Sampson, Greene, Edgecombe, and Pitt counties, likely producing a series of weaker tornadoes along a nearly 85-mile path over a three-and-a-half hour period.
The worst damage came in Fayetteville, where the tornado peaked at F3 intensity with winds exceeding 158 mph. Reports suggest that 68 homes in Fayetteville were destroyed and more than 400 homes in Cumberland County were damaged, with costs estimated at $4.5 million in 1971 dollars.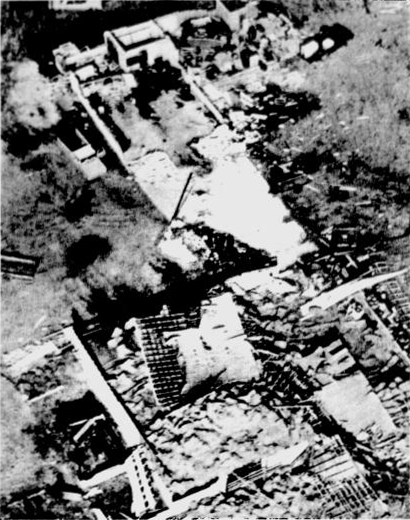 The tornado also caused a loss of life. According to the Fayetteville Observer, "a mother and her daughter were killed when their Eaton Street home crumpled like a matchbox." More than 60 other people were injured by the tornado.
The intensity and death toll of the Fayetteville F3 tornado in 1971 was the worst of any wintertime tornado in North Carolina since 1884. That year, the so-called Enigma outbreak on February 19 and 20 saw dozens of tornadoes and hundreds of fatalities across the Southeast.
In that event, nine tornadoes were reported in North Carolina, including one at F4 strength in Anson, Richmond, Moore, and Harnett counties that killed 23 people, making it the deadliest known tornado in North Carolina's history. It's another bit of proof that February tornadoes may be rare, but they can be as damaging as any springtime twister in North Carolina.