After a warm December, the winter reversed course in January with cooler-than-normal conditions prevailing.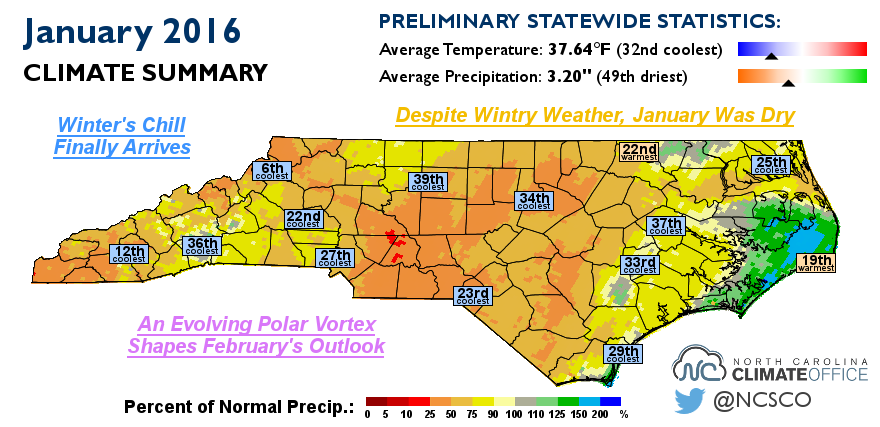 Winter's Chill Finally Arrives
The new year brought a much cooler weather pattern for North Carolina. January finished with a statewide average temperature of 37.64°F, ranking as the 32nd-coolest January out of the past 123 years.
The temperatures differences from December to January were drastic. In December, most sites in the eastern half of the state had 10 or more days with highs above 70°F. In January, Wilmington hit 71°F on the final day of the month, and that was the warmest weather in the state all month.
The shift to a cooler pattern was driven largely by the changing polar vortex — the upper-atmospheric circulation usually centered around the North Pole that is often the gatekeeper for Arctic air masses.
In December, a strong vortex kept cold air bound near the North Pole, and our weather was exceedingly warm. In January, a weaker polar vortex allowed some of that cold air to move southward, which led to our cooler stretches.
Despite Wintry Weather, January Was Dry
After three straight months with record-setting rainfall, January was a bit drier. The statewide average precipitation of 3.20 inches ranks as the 49th-driest January since 1895.
The slightly below-normal precipitation was a welcome respite for saturated soils and flowing streams. Streamflow values across the state remain at or above normal levels, which helps illustrate just how wet our fall was.
The second half of the month included two wintry events. On January 17th, an offshore system provided a dusting of snow in the Mountains and Piedmont. On the 22nd and 23rd, a mixed precipitation event saw everything from heavy snow in the Mountains to ice across the eastern Piedmont to almost 3 inches of rain along the immediate coast.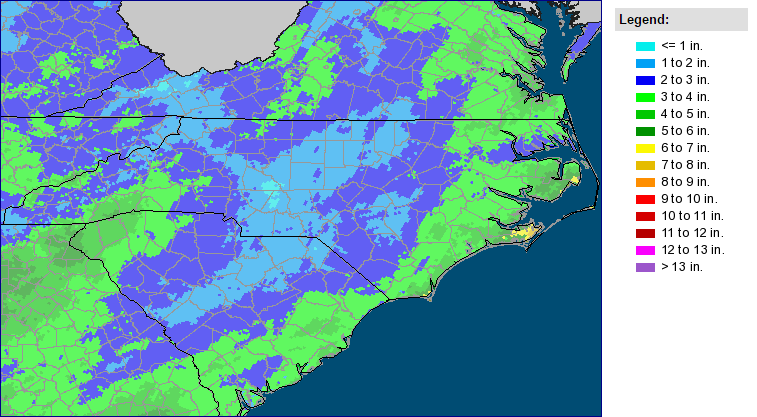 January's drier-than-normal conditions may come as a surprise since El Niño winters are known for being wet in North Carolina. However, the change to a cooler pattern also meant drier weather. Cold air surging in from the north and west shielded us from the firehose of warm air and tropical moisture to our south that we saw from October through December.
Looking back at past El Niño winters, many wet months were not particularly wintry, and vice versa. The 1997-98 winter included the wettest January and 4th-wettest February on record, but little snow in either month. Meanwhile, January 1988 had just near-normal precipitation but more than 5 inches of snow statewide. It's a good example of the wintertime balancing act in North Carolina, where too much cold air often limits our moisture availability and moisture is often accompanied by warm air.
An Evolving Polar Vortex Shapes February's Outlook
So far this winter, we've had one month with a strong polar vortex and warm weather, followed by one month with a weak polar vortex and cool weather. Which way will it go in February?
Currently, the polar vortex is relatively strong as assessed by the strongly positive Arctic Oscillation. That explains the warm weather we're seeing this week, since the cold air is bottled up well to our north. However, model forecasts show a weakening polar vortex by mid-February, which would favor more cold air spilling southward and another stretch of favorable conditions for wintry weather.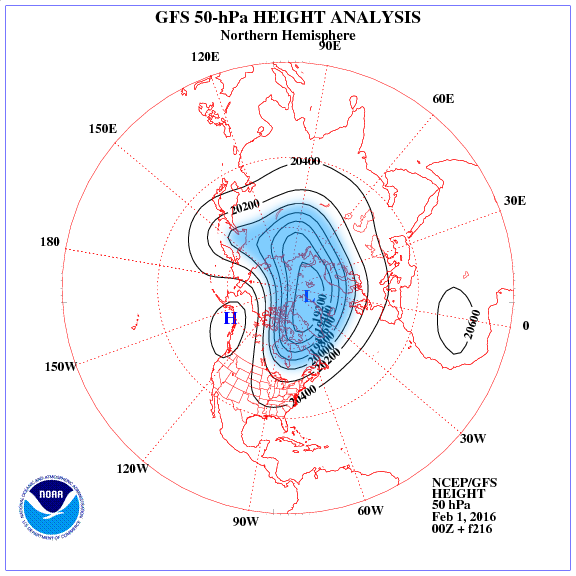 This ever-evolving upper-level pattern is likely to make February our most variable month of the winter so far, with a warm start and potentially a mid-month cooldown.
For the month as a whole, the North American Multi-Model Ensemble, which aggregates several climate model forecasts, suggests below-normal temperatures and above-normal precipitation are likely for much of North Carolina.
Tomorrow morning, we will get another outlook for the rest of winter as groundhogs across the state and the country emerge to look for their shadows. You can view past forecasts from Raleigh's own Sir Walter Wally on our Groundhog Day page, and we will share his forecast for 2016 on our Twitter account, @NCSCO.