Wintertime cold frontal passages can usher in frigid Arctic air, and when warm air is in place ahead of the fronts, they can set the stage for other extremes: rapid temperature drops and large statewide differences.
Greatest 24-Hour Temperature Change
Temperature decreases of 30 degrees or more during these frontal passages are not uncommon. In fact, we had such an event earlier this month when a cold front moved through on January 10th, dropping temperatures from the 50s and 60s to the 20s and 30s in just 12 hours.
However, the greatest 24-hour temperature change on record in North Carolina was more than double that big of a drop, turning parts of the mountains from fall-like to frozen overnight.
This record temperature drop was preceded by rising temperatures. On January 8, 1978, a warm front moved up the east coast from the south, bringing warm, moist air with it. In Greensboro, after showers cleared out ahead of the front, temperatures jumped 11 degrees — from 48°F to 59°F — in just an hour from 4 to 5 pm.
In the mountains, showers lingered throughout the day and temperatures peaked in the mid-50s. However, beginning around 9 pm, a cold front approached from the west, ushering in Arctic air behind it. Between 9 and 10 pm, Asheville's temperature fell 16 degrees, from 54°F to 38°F. Temperatures continued to drop overnight, reaching 9°F by 9 am — a 45°F change in just 12 hours!
Blowing Rock in Watauga County saw an even greater 24-hour change of 63 degrees as temperatures fell from 55°F to -8°F. It's likely that this change occurred over an even smaller time period, but the daily records only report the high and low temperatures between 6 pm on the 8th and 6 pm on the 9th. In addition, the rain switched to snow as the cold front pushed through, and Blowing Rock reported 4 inches of snow on the ground.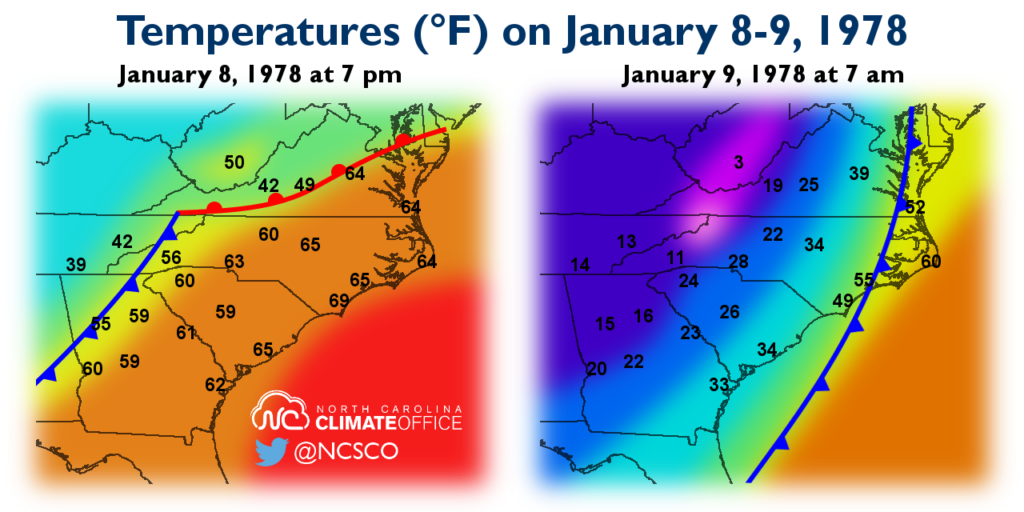 Several other mountain sites reported 24-hour changes exceeding 50 degrees. Cataloochee in Haywood County dropped from 54°F to 0°F, and Banner Elk in Avery County decreased from 49°F to -4°F.
The cold air in place set the stage for more wintry weather three days later, when a storm off the coast fed moisture into the cold air mass. Blowing Rock received 6.5 inches of snow while other parts of the state endured a major ice storm.
Greatest Statewide Temperature Difference
As part of last year's NC Extremes series, we covered "the Coldest Day" — January 21, 1985 — when many locations recorded their all-time lowest temperatures, including the statewide record low of -34°F at Mount Mitchell.
While that day is remembered mainly for the record lows, as the cold air moved in the previous day, it set another record for the greatest temperature difference across the state.
As in the 1978 event, a cold front preceded an Arctic air mass moving through on January 20, 1985. That morning, temperatures across the Piedmont fell from near 40°F into the teens, and the Mountains dropped to near 0°F.
While the front was still progressing across the state, Cape Hatteras hit a balmy 61°F at 10 am with a stiff, 28 mph southwesterly wind — a product of the extremely strong pressure gradient surrounding the front. At the same time just south of Asheville, Fletcher was at -0.4°F, giving a statewide temperature difference of 61.4 degrees.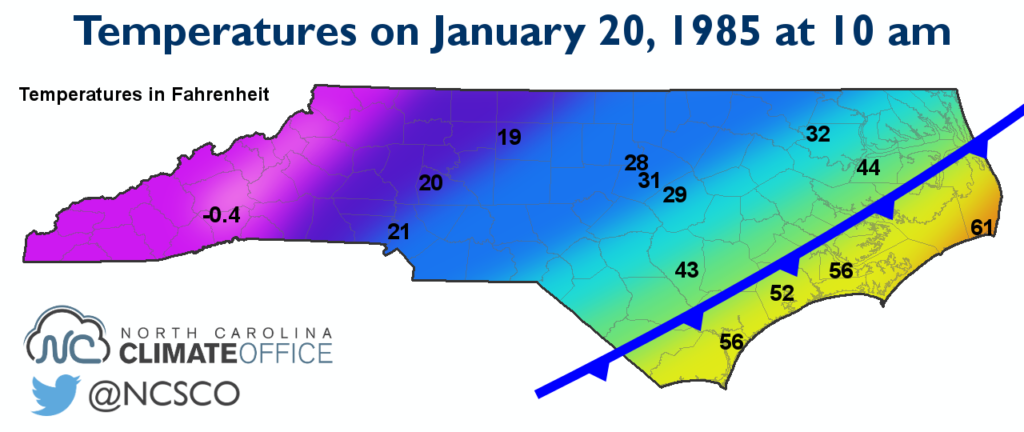 The actual difference was almost certainly even greater than this. Hourly data from higher-elevation mountain sites is unavailable on that date, but based on daily records, we know that nearby Mount Mitchell's temperatures decreased from a high of 9°F to a low of -18°F on the 20th, so the temperature at 10 am was likely at least a few degrees cooler than at Fletcher.
Once the cold front passed Hatteras, its temperature dropped 55 degrees to a low of 6°F the following morning. And that was one of the warmest spots in the state that day; much of the Piedmont and Coastal Plain dropped into the negative single digits. That record chill all began with a frontal passage that briefly draped the state in two seasons.