September began with a final taste of summer and ended with soaking rains and the first signs of fall.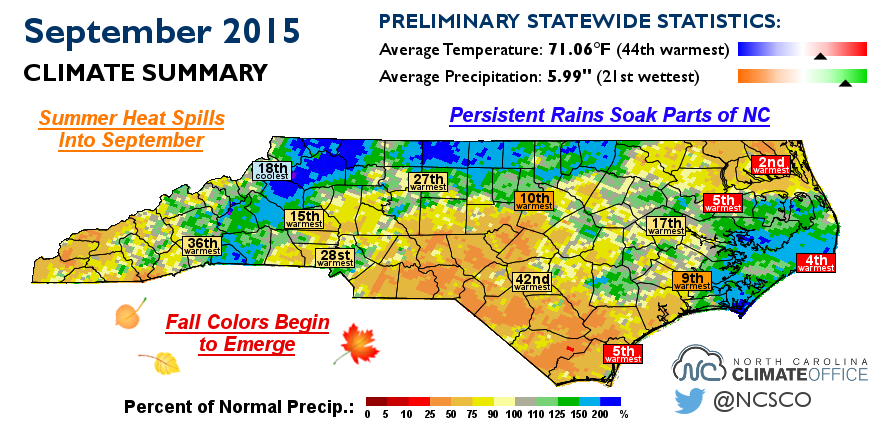 Summer Heat Spills Into Early September
Although September was the start of meteorological fall, it sure didn't feel like it early in the month. Temperatures topped 90°F throughout the first 10 days of September to extend our summer-like weather a bit longer. Those warm temperatures helped make it the 44th-warmest September on record in the past 121 years based on an average statewide temperature of 71.06°F.
The coast was particularly warm last month. Hatteras had its 4th-warmest September since 1957, and Wilmington and Plymouth each recorded their 5th-warmest September on record. Most coastal locations had mean temperatures 2 to 3 degrees above normal.
By the end of the month, temperatures cooled off into the 60s and 70s as we entered a wetter pattern. But even in the final week of September, nighttime cloud cover helped keep our low temperatures up, which also contributed to our warmer-than-normal average temperatures.
That late-month moisture could also be seen — and felt — by the soaring dew points. On the afternoon of September 29th, Raleigh hit a dew point of 79°F. Although that was shy of the all-time record of 82°F, set in August 2007, it was the highest September dew point on record at the Raleigh-Durham Airport.
Persistent Rains Soak Parts of NC
Following a warm, dry summer in which drought conditions developed across North Carolina, September saw some needed rainfall for parts of the state. The statewide average precipitation of 5.99 inches ranks as the 21st-wettest September since 1895. Many individual stations were even wetter than that, with monthly precipitation totals exceeding 10 inches in some places.
Much of that rainfall came in the final week of the month as a low-pressure system just off the coast sat nearly stationary for days, funneling in plenty of Atlantic moisture across the state and causing flooding in some areas.
| Location | Longest Sept. 2015 Streak | All-Time Record Streak |
| --- | --- | --- |
| Plymouth | 10 days | 16 days (1971) |
| Hatteras | 9 days | 12 days (1972, 2012) |
| Beaufort | 8 days | 9 days (2002, 2003) |
| Fayetteville | 8 days | 10 days (1916, 1919, 1969, 1974, 1975) |
| Charlotte | 7 days | 12 days (1957) |
| Greensboro | 7 days | 10 days (1947, 2000) |
| Raleigh | 7 days | 11 days (1947, 1948, 1975, 1982) |
| Greenville | 7 days | 12 days (2000) |
| New Bern | 7 days | 17 days (1959) |
Longest streaks of consecutive days with precipitation in Sept. 2015.
Although it wasn't a tropical system, the rainfall totals rivaled what we've seen from some landfalling hurricanes. Beaufort received eight consecutive days of rainfall with a total of 13.98 inches. Hatteras closed the month with 11.71 inches of rain over nine consecutive days. That's the eighth-longest streak on record at that site, and as the table on the left shows, it's just shy of the all-time record streak of 12 days from August 2012 and May 1972.
Of Hatteras' rainfall, 11.56 inches fell over a seven-day period ending on the 29th. That made it one of the wettest weeks on record there, trailing only a 15.86-inch week in early November 1985 and a 14.29-inch week in early September 1999 when Hurricane Dennis was parked offshore.
The northern Piedmont and northern Mountains also saw precipitation well above normal in September. Reidsville reported 9.59 inches and its 4th-wettest September in 53 years, and Boone had 12.09 inches, making it the 2nd-wettest September since 1980.

The late-month rainfall helped alleviate some of the Severe Drought conditions across the southwestern Piedmont and Moderate Drought from the Triad and Triangle northward. Much of the southern Piedmont and central Coastal Plain did not see precipitation quite as widespread last month, so drought conditions remain in place in those areas.
Fall Colors Begin to Emerge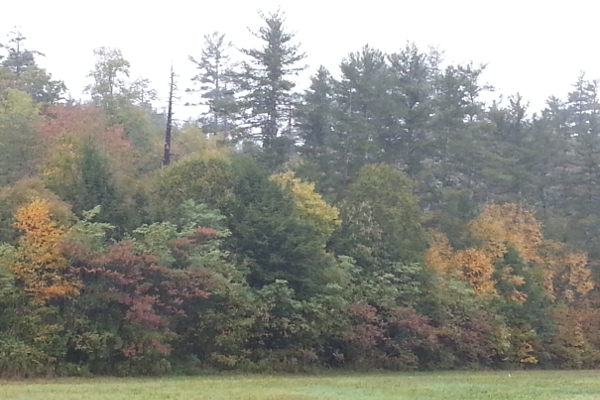 Although misty, rainy weather may have hindered fall foliage viewing in parts of the Mountains, the colors have started to emerge and are slowly creeping eastward.
For the most vivid colors, it's often best to have sufficient summer rainfall followed by dry weather in the early fall to help the colors "pop". Of course, we've seen nearly the opposite conditions this year, with a dry summer and plenty of recent rains.
As the Appalachian State Department of Biology's latest Fall Color Report notes, the warmer nights have slowed down the emergence of colors in the Mountains, but a vibrant peak is still expected during October. Like the trees, we may just have to wait out the rain until then.