September started with summer-like warmth and finished with a fall-like pattern and the first signs of changing leaves.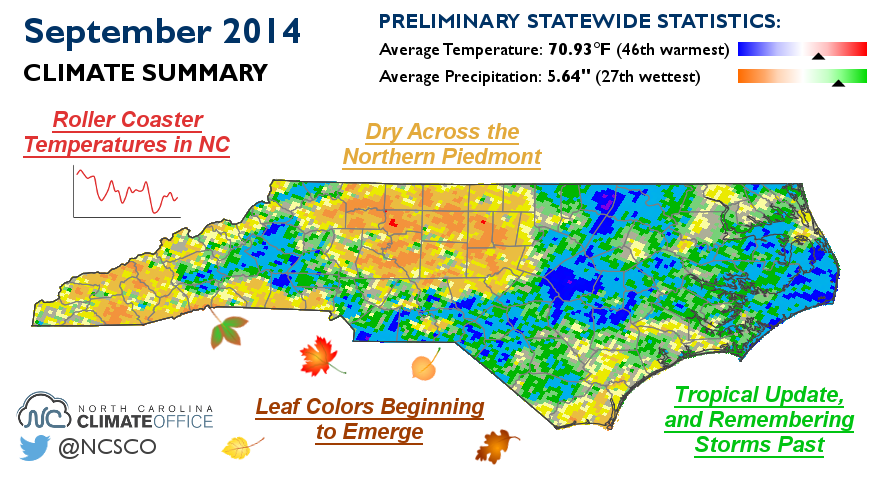 Roller Coaster Temperatures in NC
After an overall mild summer, the heat returned in late August and continued through the first week of September, when high temperatures hit the 90s across the state before cooling off into the 70s. The up-and-down temperatures continued through the rest of the month, averaging out to give us the 46th-warmest September out of 120 years of record in North Carolina.
Temperature variability isn't unusual in September as we transition from summer to fall. However, the range we saw in our high temperatures was rather extreme. In Raleigh, the difference between the warmest high temperature (96°F on Sept. 2nd) and the coolest high temperature (64°F on Sept. 23rd and 24th) was 32 degrees — the greatest such September difference since 1984. Likewise, Greensboro's 35° high temperature range (60° to 95°) was the greatest since 1989.
Several of our cooler periods were due to a so-called "Appalachian Wedge" or Cold Air Damming (CAD) pattern. In these events, cooler air funneled in by a high-pressure system to the north becomes dammed up against the mountains, trapping it in a shallow cool layer near the surface. As was the case this month, these events are often accompanied by steady rain — or during some winter events, freezing rain.
With fall-like conditions now settling in, it appears that we've seen our final 90° days for 2014. Parts of the coast saw more 90s than normal this year: Wilmington had 48 days at or above 90°, which was about 8 days above the long-term average, and New Bern had 60 such days — the eighth-most in the past 67 years.
Further inland, the heat wasn't as common. Raleigh had 43 days at or above 90° this year, which was right at the long-term average. Charlotte had 37 days with temperatures reaching 90°, which was about 5 days fewer than the long-term average. And Greensboro had 27 days hitting 90° or above, which was 9 days below average.
Dry Across the Northern Piedmont
Above-normal rainfall across eastern North Carolina meant last month finished as the 27th-wettest September on record in NC. However, not everyone saw plenty of precipitation.
Continuing a common theme from the summer, the northern Piedmont including the Triad stayed relatively dry. The Winston-Salem Airport recorded just 1.93″ of rain for the month, and radar-derived estimates (left) show that many places saw less than three inches of rain, or less than 50% of their normal September rainfall.
The ongoing precipitation deficit led to an expansion of Abnormally Dry conditions, which now span a 10-county region from Winston-Salem to Chapel Hill. The US Drought Monitor's update last week noted that "low streamflows and drying soils were causing vegetative stress in the northern Piedmont".
While that region remained dry, many surrounding areas saw above-normal rainfall. On September 8th and 9th, heavy rains fell east of Raleigh, bringing more than 8 inches of rain — and multiple reports of flooding — in Warren County. That event also brought an EF2 tornado to Duplin County.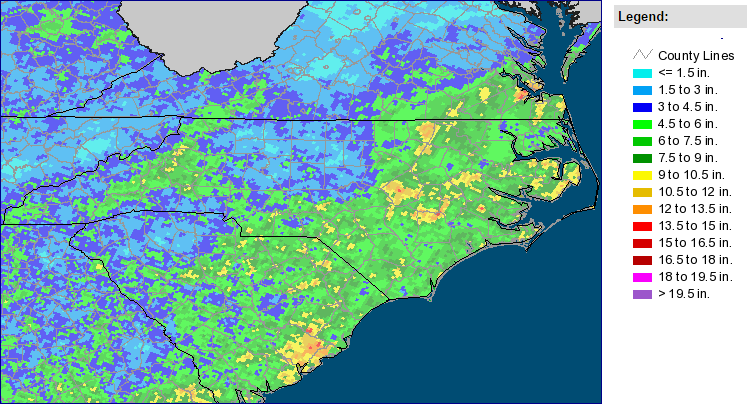 Tropical Update, and Remembering Storms Past
September saw two active tropical systems in the Atlantic — Dolly, which hit Mexico as a weak tropical storm, and Edouard, which briefly reached category-three strength in the central Atlantic to become the season's first major hurricane. Notably, this is just the sixth time in the past 30 years (and the first time since 1997) that we've had only five named storms through the end of September.
While we didn't have many active tropical systems as we crossed the peak of hurricane season last month, we did pass the anniversaries of several memorable storms:
September 13th marked the 30-year anniversary of Hurricane Diana, which brought heavy rains to the coast.
September 16th made 15 years since Hurricane Floyd hit the coast. Floyd came through less than 2 weeks after Hurricane Dennis, bringing even more rain to the already soaked eastern part of the state and causing widespread flooding and billions of dollars in damage.
September 22nd was the 25-year anniversary of Hurricane Hugo, which made landfall in South Carolina as a category-four storm. As it moved inland, it kept its strength, with Charlotte recording hurricane-force wind gusts and many downed trees and power lines.
Leaf Colors Beginning to Emerge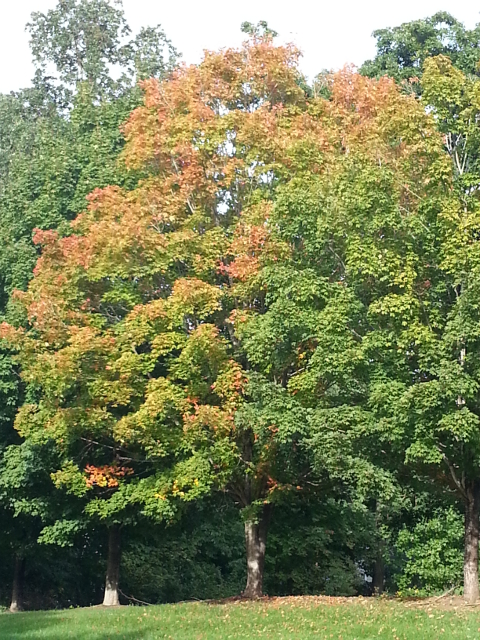 The cooling temperatures have spurred on changing leaf colors, especially in the western part of the state. The latest Fall Color Report from Appalachian State notes that trees seem to be on a near-normal schedule, which should mean the peak of color comes in early to mid-October in the mountains and later this month across the state.
We often mention ample summertime rainfall as a key ingredient for good fall color since it helps ensure leaves won't dry out and die before changing colors. However, some dryness in the early fall can actually be good for leaf color as well. Dr. Kathy Mathews from Western Carolina University recently noted that stress due to dry soils can make colors more vibrant.
As you notice the leaves changing color in your area, tweet us a picture @NCSCO! During October, we will share photos and updates of the changing colors from across the state.