The onset of fall means the end of the growing season as we see harsher conditions such as frosts and freezes. But what are these events, and when do we generally begin to see them in North Carolina?
A frost occurs when ice crystals form at the surface of plants, which can damage some cold-sensitive species. For frost to form, plant-level temperatures must reach the freezing point of water: 32°F. However, under the right conditions — clear skies and calm winds — frost (sometimes called hoar frost or radiation frost) can form when observed temperatures are a few degrees above freezing. This happens when cooler, more dense air settles near the ground, below the 2-meter height of the temperature sensors at most weather stations.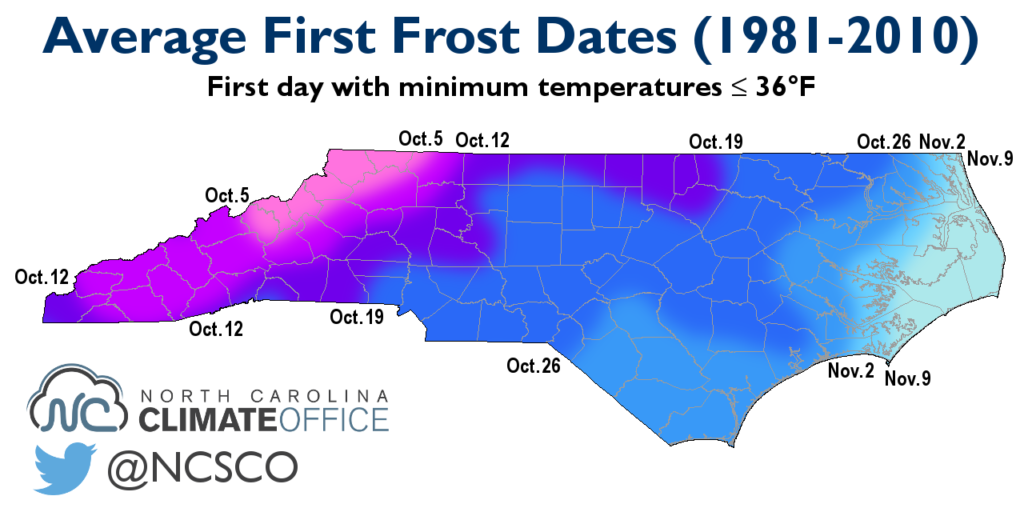 The National Weather Service issues Frost Advisories when low temperatures are forecasted to be between 33 and 36 degrees. The map below shows the average first frost dates — when temperatures first drop below 36°F — for North Carolina between 1981 and 2010. Raleigh, for instance, has an average first frost date between October 19th and 26th.
A freeze is generally more damaging than a frost, as it occurs when the water in plant cells freezes and expands, generally killing the plant. A freeze also requires air temperatures of 32°F or less, and when these conditions are observed at a weather station, plant-level freezes are highly likely. This map shows our typical first freeze dates in NC.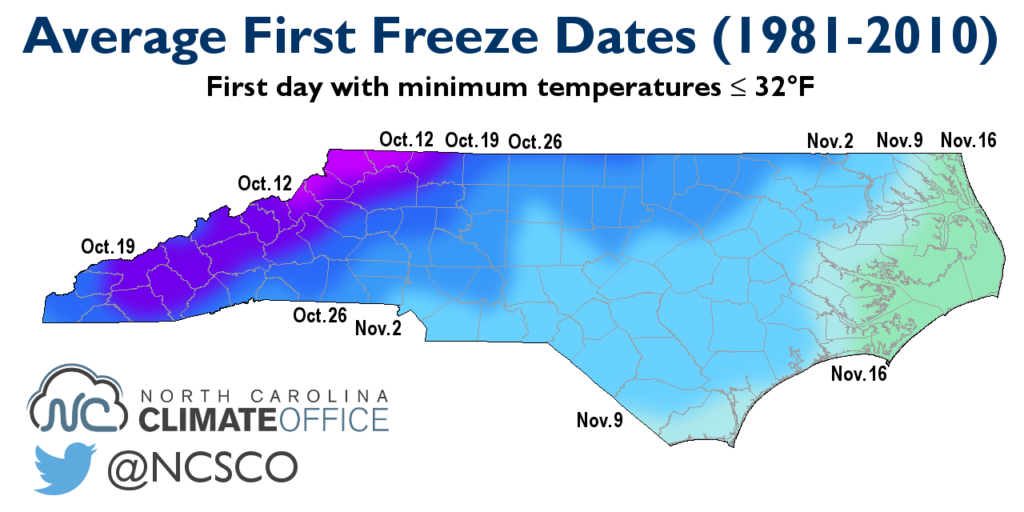 In recent years, the first frost has come slightly later than average for much of North Carolina. The western half of the state didn't see the first frost until October 21st or later in 2012 and 2013, while the Coast saw frosts on or after October 25th in both years, nearly matching the normal first occurrence.
The first freeze generally comes one to two weeks after the first frost, but the dates nearly coincided last year, both coming between October 20th and 26th for all but the immediate coast. In 2012, most of the state didn't see the first freeze until early November — later than average for the Mountains, but near-normal for the rest of the state.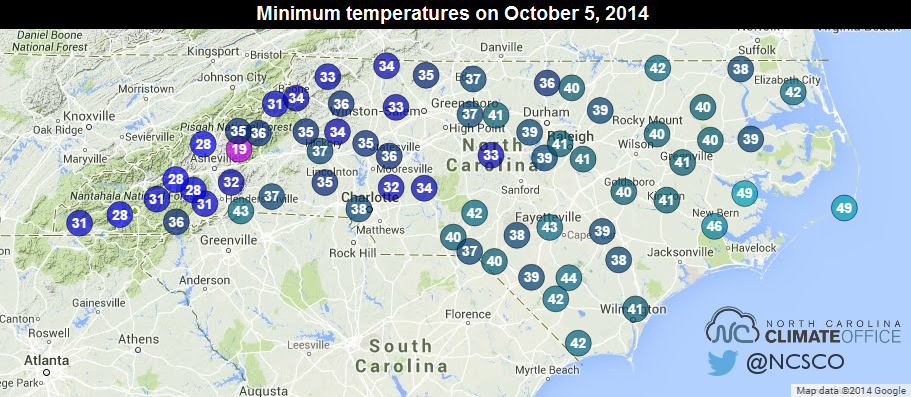 Over the weekend, parts of western North Carolina saw their first frost as temperatures dipped into the low 30s. Some high-elevation sites even had below-freezing temperatures, including a low of 19°F at Mount Mitchell. Across that region, the season's first frost came near the normal date or slightly earlier than normal.
Stay tuned to the blog and our Twitter feed during the next month as we await the first frost and freeze events across the rest of North Carolina.