This is the second in a four-part blog post series remembering Hurricane Florence for its five-year anniversary.
During the days-long deluge from Hurricane Florence, even as electricity and cell phone service were cut off across eastern North Carolina, there remained one way of monitoring the storm's local impacts from afar.
Navigation apps such as Google Maps showed roads lighting up in red as they were closed, rendered inaccessible due to flooding. Because of their rapid updates, they became a recommended resource for anyone daring to venture out during the storm.
And it wasn't just back roads feeling the storm's impact. Dozens of miles of interstates 40 and 95 were under water as well, leading to blunt but direct advice for out-of-state travelers: don't drive through North Carolina.
Flooded or not, each of those roads leads somewhere, and it's in those communities across eastern North Carolina, suddenly disconnected from each other, where Florence hit the hardest.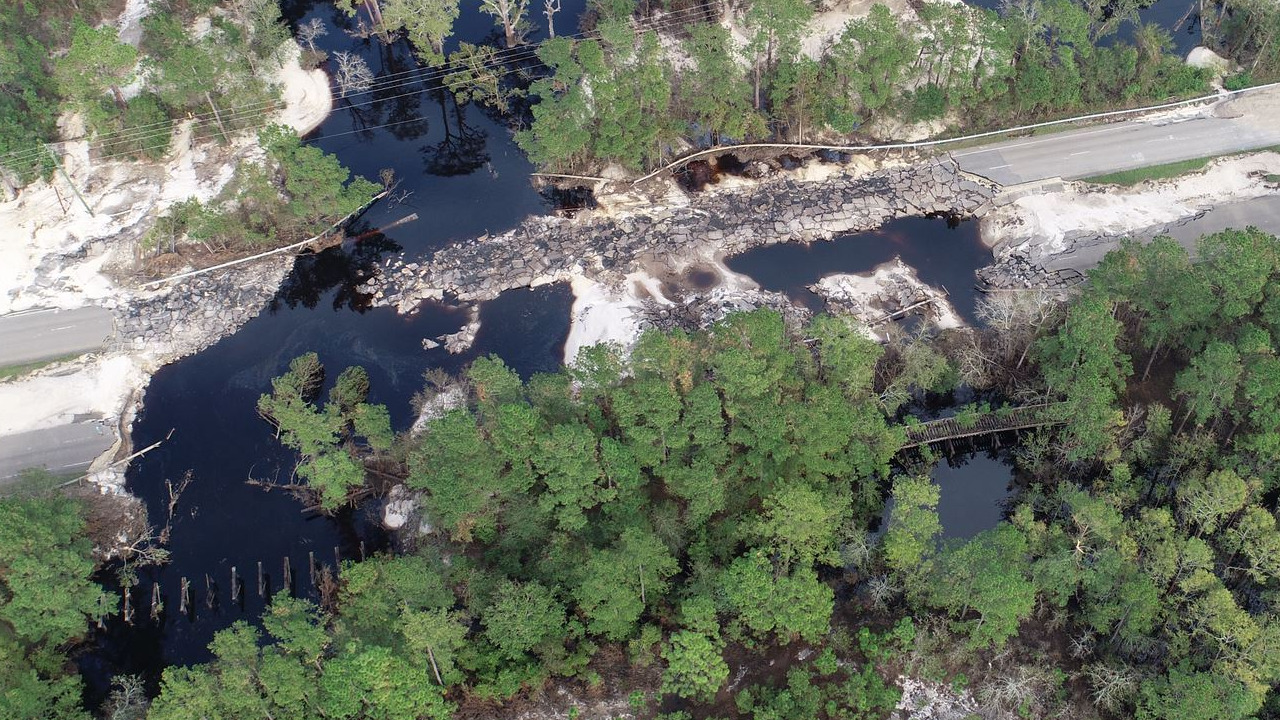 Looking Ahead
Before that flooding began, state officials were preparing for whatever Florence would eventually bring. To inform the mobilization of resources around the state, or bringing in support from other states, meteorologists at North Carolina Emergency Management began outlining scenarios almost a week before the storm reached us showing potential outcomes, from a storm hugging the coastline to one moving directly inland.
"But I don't think any of those scenarios had Florence moving at two miles per hour," said Kevin Kalbaugh, the Natural Hazards branch manager at NC Emergency Management.
The unprecedented slowdown Florence made after reaching our shores would ramp up its eventual rainfall totals, and while that precipitation was well-forecasted, that didn't make it any easier to accept.
"When I first briefed on those rainfall amounts, I thought 'I can't believe I'm about to say 30-plus inches of rain,' and it was really hard to understand what that meant and where that runoff was going to go," said Diana Thomas, a meteorologist and planner at NC Emergency Management.
All that water – estimated at more than 8 trillion gallons falling over North Carolina – ended up in rivers and streams that quickly became saturated, then spilled over into the towns dotting the flat Coastal Plain. Roads including the interstates became temporary new rivers that in some cases didn't fully reopen to traffic until seven months after the storm.
For the North Carolina Department of Transportation, Florence's timing just two years after the last flooding hurricane made its impact even more pronounced.
"A lot of us were still recovering from Matthew," said Matt Lauffer, the assistant state hydraulics engineer.
Hydraulic structures – such as the 667 pipes washed out during Hurricane Matthew, primarily along the I-95 corridor – are crucial in diverting and channeling water away from roadways, but few were designed to handle the volume of water from storms like these.
Knowing another hard hit to our transportation infrastructure was coming, Lauffer and members of his hydraulics team from NCDOT set up at the state Emergency Operations Center during Florence. That was a change since Matthew that he said was a more proactive approach to coordination with NC Emergency Management and their statewide partners.
"We just hadn't done that before, with operational hydraulics."
Even before the rain started falling, they were looking ahead to the recovery: getting barricades and chainsaws ready, locating replacements for pipes that might be damaged, and working with contractors to get those resources in place, and the roads reopened, as soon as possible.
While Florence's absolute impact in terms of structures damaged was less than Matthew's since its rainfall was spread over multiple days, its damage covered a broader geographic area, with the 464 pipes washed out spanning from the suburbs of Charlotte to the coast in Morehead City.
And then, of course, there were more than 2,500 roads closed, including almost everything east of Interstate 95 and south of US Highway 64.
"It was such a massive storm, we had all of southeastern North Carolina as 'do not travel'," said Lauffer. "Nobody in their wildest dreams thought that I-40 and I-95 would be underwater for a week."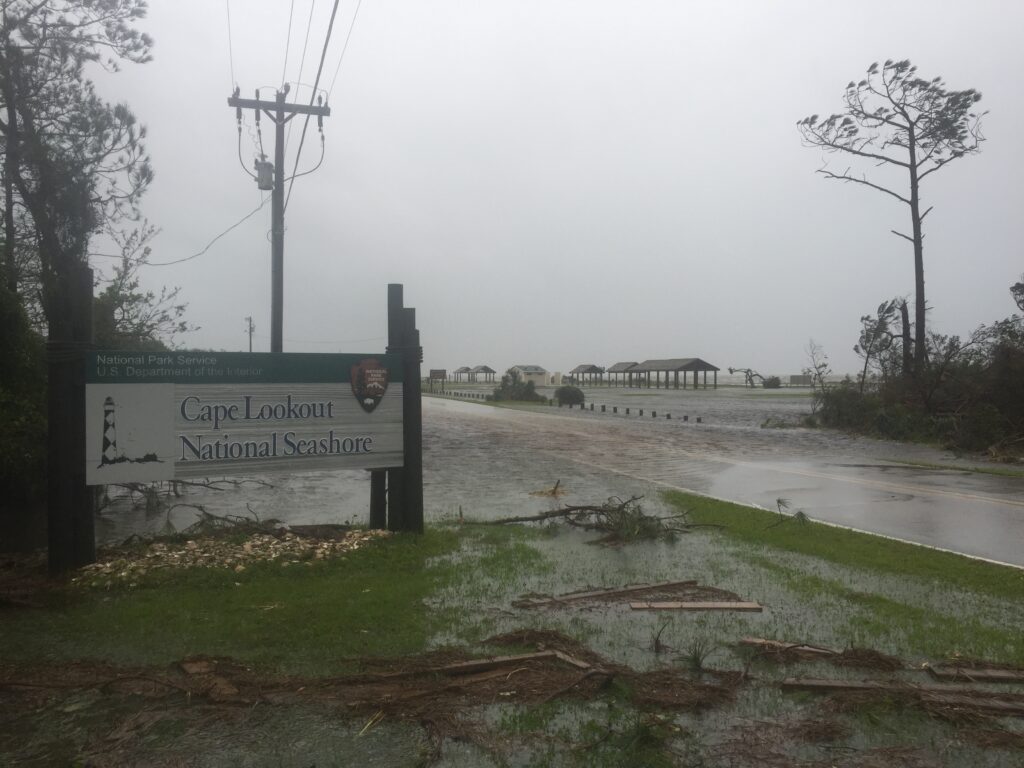 The Damage Down East
With the storm on the way, the clock was ticking for anyone who needed to evacuate before the roads out of town – and in some cases, their own homes and neighborhoods – went under water.
That was clear to Karen Amspacher, the executive director of the Core Sound Waterfowl Museum and Heritage Center on Harkers Island. She's an advocate and historian for the region called Down East, which is made up of 13 rural and aging communities east of Beaufort in Carteret County.
"You've got a plan A, B, C, and D in your head," said Amspacher. "You can feel it. Everybody's pulling up their boats. It's like the whole world goes into storm mode."
For Amspacher, the priority was helping her elderly mother, who was housebound and having serious health issues. With no guarantee that the bridges linking Harkers Island with the mainland would remain open, she needed to find a safe spot for her mom while the storm moved through.
After locating a handicapped-accessible hotel room in Cary, Amspacher's brother drove their mother there while she completed preparations at the coast that carried over until the storm rolled in.
"The lights went out Thursday night, and it was 36 hours of nothing but wind and tide," she said.
By Sunday, when it was time to reunite with her family, Amspacher came face to face with those red lines on the traffic map.
"I had to go through little Washington to get to Raleigh that night because the roads in Kinston were flooded and the roads in Greenville were flooded," she said.
While those roads eventually reopened, there sadly wasn't a story of recovery for Amspacher's mother. After suffering a stroke, she was never able to return home, and she passed away about five weeks after Florence.
While dealing with her mother's declining health and eventual loss, Amspacher was also faced with significant damage to the Core Sound museum. Part of the roof failed. Sheetrock had fallen down. And water leaking in caused mold to grow and wooden floors to buckle.
In telling her story from Florence, Amspacher is careful not to put the museum's story before those of the people Down East.
"In the grand scheme of life, museums are optional; they're a luxury," she said.
However, it's also clear that the museum and its network of staff and supporters became a lifeline for the community after the storm.
Despite the power being out for ten days with no cell signal on Harkers Island, the museum's partners in Raleigh were able to share updates via email and Facebook.
"The first thing we sent out was asking for help for the community," said Amspacher. "We worked with the local school system, who had a foundation that evolved out of Hurricane Isabel. We provided help for the kids in the Down East schools. Classroom teachers know what's going on with their kids. We worked through the teachers and guidance counselors to get roofs patched up."
Later, work began at the museum itself, with support from insurance, donors, foundation grants, and the state of North Carolina. After eighteen months of salvaging, planning, and rebuilding – plus an extra two during the Covid-19 pandemic – the museum reopened on May 22, 2020.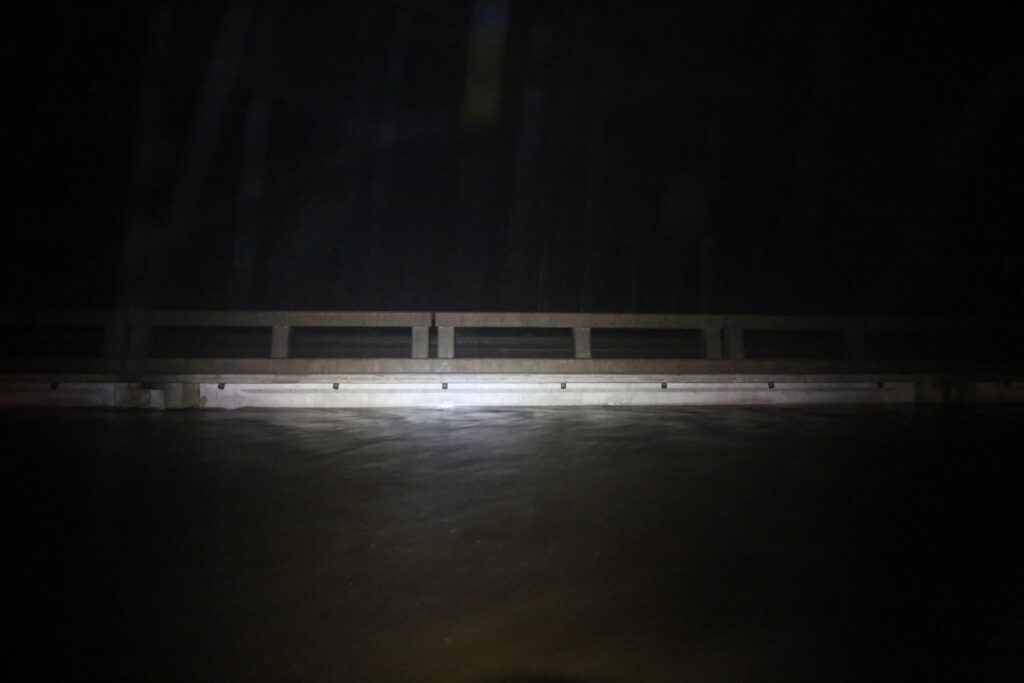 Roads Under Water
During the storm, weather and road conditions went downhill in a hurry, as Scott Kennedy, a meteorologist at the National Weather Service in Morehead City, nearly found out the hard way.
The water level was rising quickly, and it was already halfway up a friend's driveway, so Kennedy offered his own home in Newport – which was equipped with a generator – as a refuge for that friend, his girlfriend, and their three dogs.
After getting them settled in, he found the water had risen even more, with the Newport River spilling over onto Highway 70.
Kennedy made it to the National Weather Service office, which at 30 feet above sea level is on relatively high ground in this low-lying part of the state. But with cell service out and no way to contact his friend, let alone reach his home via the flooded roads, uncertainty set in.
"I was more concerned about my friends than I was about my house," said Kennedy. "But I had no idea whether my house was flooded, or how they were getting along."
NCDOT dealt with a similar experience, but on a much broader scale across eastern North Carolina.
"With riverine flooding, it takes days to watch the flood wave come down," said Lauffer. "There's roads that are open right now that are not going to be open in 12 to 24 hours, so the logistics are extremely complicated, getting from point A to point B. It's nightmarish."
At the time Florence hit, NCDOT had maps and models of what flooding might do to specific areas like short stretches of highway, but not for their entire roadway network. For Lauffer and his team at the Emergency Operations Center, that left them using a familiar tool – Google Maps – to check road elevations and estimate the inundation.
One area that was clearly at risk was Wilmington, as its major roadway connections to the rest of the state were cut off. To the north, Interstate 40 was under water for miles, and US Highway 421 was breached at the Pender County line when a culvert beneath the road failed.
In the wake of the storm, that was one of the first roads to be repaired, with that stretch of 421 replaced by bridges – first a temporary one opened on Halloween in 2018, then a pair of permanent ones opened in June 2020 – to prevent a similar failure from happening again.
"Nobody had any conceivable idea that was going to happen, but the Northeast Cape Fear had so much water flowing down it," said Lauffer.
After Florence, Kennedy's house in Newport was okay, but just barely. The water reached the bottom of his driveway, but flooded about two-thirds of the homes in his neighborhood, mostly on the south end closest to the Newport River.
For Kennedy, Florence emphasized just how quickly conditions can change during an extreme weather event.
"We preach 'be prepared' all the time, but being meteorologists, we hope we might have a better understanding of what happens," he said.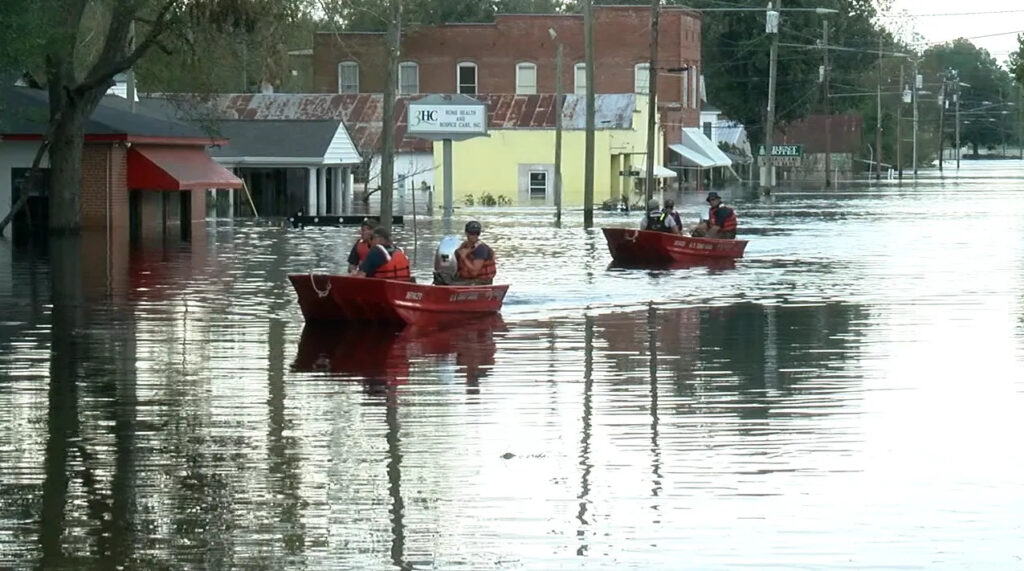 A County of Islands
Even away from the immediate coastline, some inland communities still show the signs of Florence five years later. Those are particularly apparent across Jones County, a rural part of the central Coastal Plain that's home to less than 10,000 people and only three incorporated communities: Pollocksville, Trenton, and Maysville.
Their problems started to the north. With Florence anchored off our coast, the storm's winds pushed water up the Trent and Neuse rivers, at which New Bern sits at the confluence. Flooding inundated the city at a cost of $100 million. But the water didn't stop there.
Twelve miles to the south, the Trent River spilled out of its banks and into Pollocksville, surpassing the flood levels from Floyd in 1999.
Today, the high-water mark is still visible six feet up on the buildings downtown, most of which are now empty due to the storm's significant impacts.
Sissy Mills is the Jones County emergency services director, but as a paramedic during Florence, she saw the devastation within the county first-hand.
"During the storm, Jones County became essentially seven different islands from flooding," she said. "We lost power, water, cell service and Internet."
That meant county officials were unable to make contact with the public via mass communications, and volunteer firefighters used emergency radios to call in reports from areas like Trenton – the next town in line along the Trent River – where even the fire department was flooded.
For first responders such as Mills, getting around the county was difficult, and it took more than a week before the extent of the damage became clear.
"We were only able to travel by boat through most of the county," she said. "I believe it was about five to eight days before we were able to do any actual damage assessments."
In the five years since then, parts of Jones County have bounced back with help from disaster relief grants like the one that supported a new, higher-elevation fire station.
"Recovery is a slow process," said Jones. "It takes time and funding. We as a county were fortunate to receive funding from different non-profits, FEMA and NC Emergency Management."
But in places like Pollocksville, many structures suffered "substantial damage" – defined by FEMA as costing more than 50% of the market value to repair, while also requiring updates to meet local floodplain management regulations – which Mills said has been too costly for some.
"The town of Pollocksville and areas of Trenton are still recovering where some citizens have not been able to move back home, although we have assisted over 300 families in achieving assistance and moving into a home or fixing their home that was damaged," she noted.
For now, those businesses in downtown Pollocksville still sit unoccupied and marred by Florence's muddy water, with plenty of uncertainty about what will come next: further recovery, or the next big storm?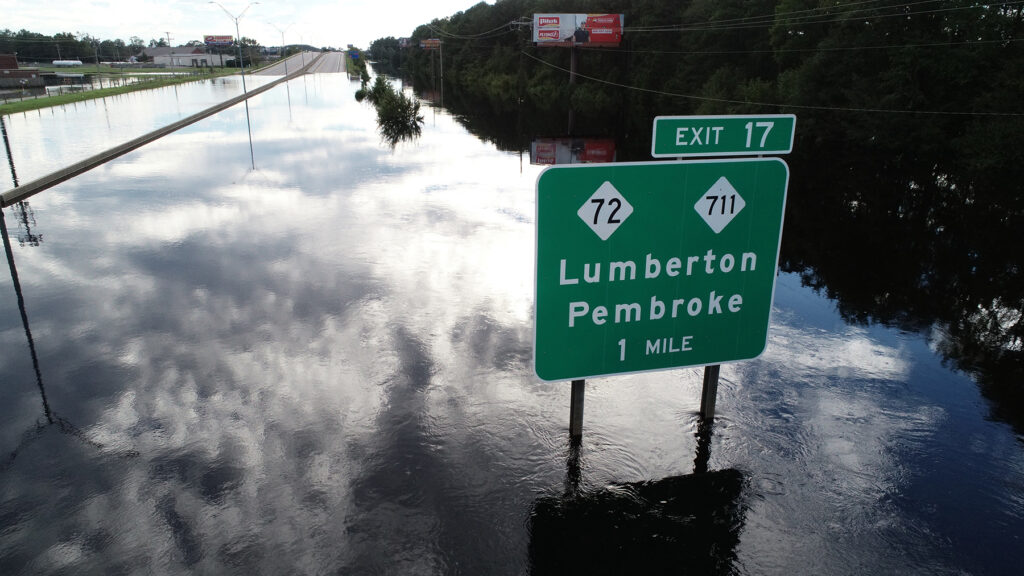 Storm-Informed Readiness
Hurricane Florence was a deadly event in North Carolina, directly blamed for 15 fatalities – 11 due to freshwater flooding, all in automobiles – and four due to falling trees. It was also associated with 25 indirect fatalities in the state, per the National Hurricane Center
But its toll could have been even worse if not for the preparation and support of federal partners, including the US military.
The state brought in more than 12,000 National Guard and military personnel to assist with response, rescues and relief. NC Emergency Managements credits them, along with local first responders, for rescuing more than 5,000 people and 1,000 animals during the storm.
"That type of response is possible because we carry out exercises on blue sky days, and we create relationships with the people who can come together so it's easier to make a phone call to them in these events," said Thomas.
The experience from Florence, our state's worst flooding hurricane, may also help save lives in the future. Kalbaugh said the biggest change on the Emergency Management front since then was developing new evacuation zones for coastal counties, implemented in 2020.
"These were drawn up primarily considering the threat of storm surge flooding, but also flooding from heavy rainfall," he said.
The North Carolina Department of Transportation has turned its weaknesses exposed by Florence into some of its greatest strengths today.
"The real story was what happened after the event, and what sort of flood warning system we now have in place," explained Lauffer.
Those technological improvements now include a suite of flood modeling and warning tools such as T-SAPP – the Transportation Surge Analysis Prediction Program – that can offer detailed forecasts of roadway inundation down to the street level.
Once a storm hits, tools like BridgeWatch and FIMAN-T – the Flood Inundation Mapping and Alert Network for Transportation, developed in tandem with NC Emergency Management – use weather and stream gauge observations, combined with high-resolution elevation mapping, to pinpoint at-risk roads and bridges.
"We've gone from no ability to understand what's going to happen to having a pretty good idea of where the water is going to be," said Lauffer.
After storms, an increased use of drones has helped them assess damage, like along the flooded stretches of Interstate 40 in Pender County, more easily and less expensively than in the past, when it took a helicopter flight to make the same survey.
At a local level, hard-hit areas such as Jones County have made some big changes in just five years, including creating an Emergency Management Planner position, establishing a water rescue team, and purchasing new equipment ranging from light towers to mobile generators to message boards.
"Jones County has grown from Florence, even as devastating as it was," said Mills.
Down East, the reopening of the Core Sound museum was a key step in the personal and professional recovery for Amspacher, but that region still bears the marks and memories of the storm.
"You don't ever get totally put back together," she said.
Among the scars left behind, a number of the historic buildings on Cape Lookout were badly damaged and have since been demolished.
For a part of the state whose identity is grounded in its history – "we're all connected, we're all kin to each other, and each community has its own flavor, its own value system, its own story," Amspacher noted – that storm severed a sense of self, which can't be easily rebuilt, no matter the time or money invested.