The jet stream pattern in February brought plenty of precipitation and some colder air into North Carolina, but that did not materialize into much snow across the state.
A Soaked February
The shortest month of the year was packed with plenty of precipitation. The National Centers for Environmental Information reports a preliminary statewide average precipitation of 5.69 inches, which ranks as our 17th-wettest February since 1895.
With the prevailing atmospheric storm track cutting across North Carolina for most of the month, a number of cold fronts and low pressure systems moved through and fueled at-times unrelenting rainfall, especially across eastern North Carolina.
Monthly totals of more than 7 inches were common, with the highest amounts along the central coast. Williamston reported 10.36 inches for its wettest February since 1931, and Bayboro had 8.08 inches and its wettest February since 1969.
It also ranked as the 2nd-wettest February on record at sites such as Washington (8.09 inches), Kinston (8.06 inches), and Raleigh (6.17 inches).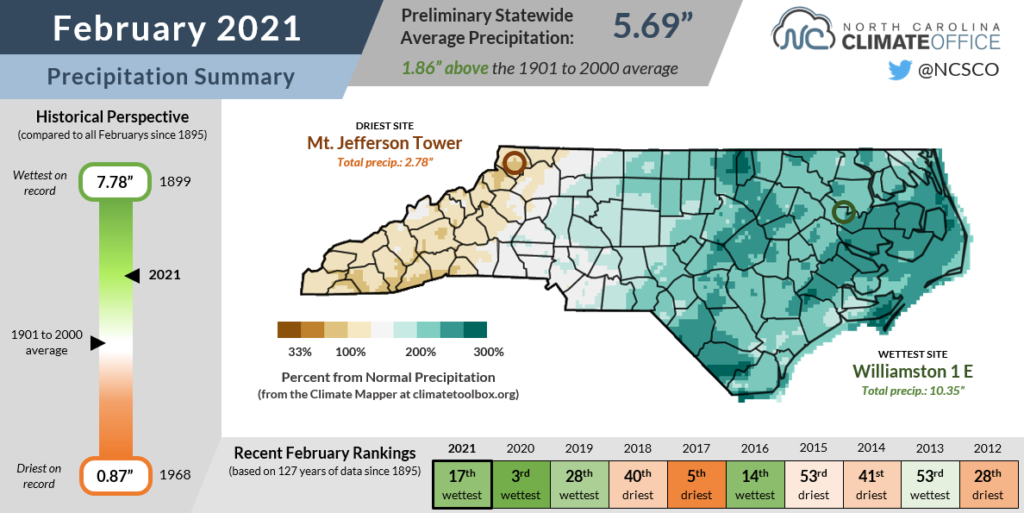 Farther west, precipitation was less widespread. The northern Mountains were below normal for the month, with our ECONet stations in Ashe County reporting just 2.78 inches at Mount Jefferson and 2.83 inches at Laurel Springs.
The central Mountains were generally closer to normal. Both Asheville and Marion had February precipitation totals less than an inch above the 30-year average.
And the southern Mountains, which slipped into Abnormally Dry conditions in January, recovered thanks to heavy rain in February. With a monthly total of 6.59 inches, Murphy finished February 1.33 inches above normal, ending a streak of three months with below-normal precipitation. That boosted streamflows back to normal seasonal levels in far western North Carolina.
Statewide, soil moisture levels have generally increased over the past month, aside from in some of the fast-draining soils of the Sandhills. However, drought and dryness are of little to no concern at the moment given the abundant precipitation in February.

A Wintry Chill in NC
Many of our wettest days last month were also our coldest, and it was generally a chilly month across the state. NCEI notes a preliminary statewide average temperature of 40.7°F, or our 48th-coolest February out of the past 127 years.
One of the major weather stories across the United States in February was the impact of the polar vortex, a large-scale upper-level low pressure system typically consolidated around the north pole.
Like billiard balls breaking, the polar vortex split beginning in January, sending a chunk of that frigid Arctic air unusually far south during February. Temperatures dropped below zero across the Midwest and remained below freezing for more than a full week.
The coldest air stayed off to our west, but some did trickle down the Mountains, and combined with the persistent cloudy weather, it made for an overall cool month. Boone tied for its 11th-coolest February since 1981 based on the average mean temperature, and tied for its 10th-coolest based on the average high temperature.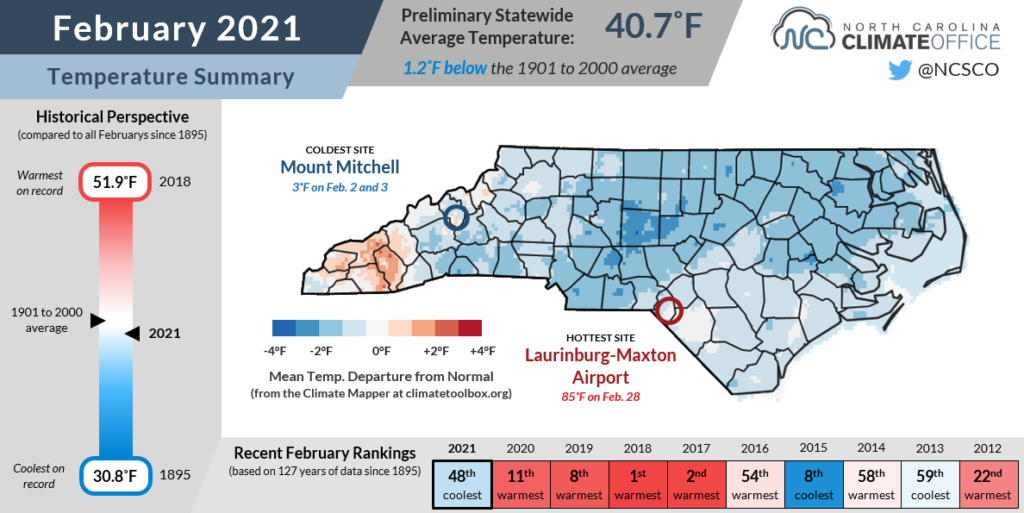 Showing just how dreary the weather was for much of the month, Greensboro spent 171 consecutive hours — between 11 pm on February 9 and 1 am on February 17 — with temperatures below 50°F and non-clear skies reported. That's the longest such streak at that site since modern cloud cover observations began in 1996.
One reason why this month may stand out as so cold is because of how warm recent Februarys have been. The past four Februarys have each ranked among the top 11 warmest on record and were generally far more spring-like than wintry.
We did get a taste of that warmer weather by the end of February this year. High pressure building to our south elevated high temperatures into the 70s on February 24 and even the low 80s on February 28 across southeastern North Carolina.
In Washington, the high of 81°F tied for the warmest ever February day there dating back to 1893. Fayetteville reached 83°F that afternoon, tying a daily record high.
Little Snow to Show
The combination of ample moisture and persistent cold weather would seem like the ideal ingredients for snow, but last month, it wasn't so for most of the state.
Parts of the Mountains did have notable snowfall, including 15.5 inches on Mount Mitchell (less than the monthly normal of 21 inches), 13.4 inches at Flat Springs, and 2.9 inches in Asheville.
Elsewhere, though, the white stuff was tough to come by. The northern and western Piedmont picked up some light snow on February 6-7, but that was the extent of the accumulations.
Instead, even in our coldest stretch of the month, warm air aloft meant that precipitation fell as sleet and freezing rain during back-to-back ice storms. And in eastern North Carolina, it was merely a cold rain that added more moisture to already-wet rivers, fields, and forests.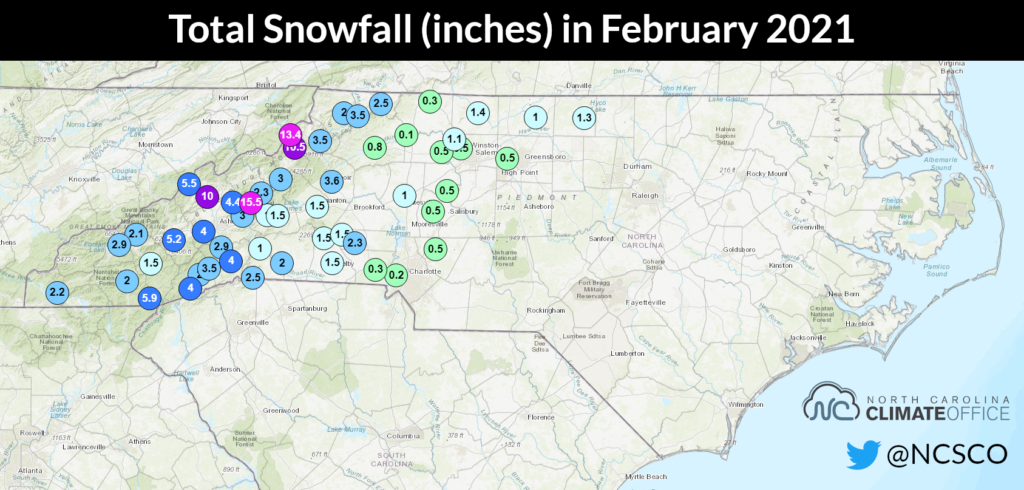 With the calendar now showing March, any remaining snow chances are waning, and we may look back at those cold and wet mid-February days as missed opportunities for adding to our limited snow totals.
Charlotte reported only 0.2 inches of snow all month and has had just 0.3 inches total for the second winter in a row. The ice-affected northern Piedmont saw its snow totals suffer as well, with only 1.2 inches in Greensboro and 3.7 inches in Mount Airy, which averages 9.3 inches of snow per winter.
We'll have more stats and local perspectives in our upcoming winter recap blog post later this month, but barring a rare March blizzard, the story of a snow-starved season for most of the state isn't likely to change.