Cooler weather filtered in last month as fall officially began, while wet conditions continued across much of North Carolina. Those ingredients mean our leaf colors could be unlike we've seen in several years — and in a good way!
Summer Splits as Autumn Arrives
The heat and humidity that wouldn't budge in July and August finally faded in September, leaving us with near-normal temperatures and our first feel of fall by mid-month. According to the National Centers for Environmental Information, the statewide average temperature of 69.8°F was 0.5°F below the long-term 1901-2000 average, and it ranked as our 54th-coolest September out of the past 126 years.
Summer-like temperatures stuck around for less than a week after September started. Highs hit the mid- to upper 90s across the Sandhills and southern Coastal Plain on September 2-4, including the warmest temperature of the month: 98.8°F in Wallace at our Williamsdale Field Lab ECONet station on September 3.
After that, high pressure built in from the northwest and dropped our highs into the upper 70s or low 80s. That pattern largely held steady as the month went on, and we even spent a few days without temperatures breaking 70 degrees thanks to strong high pressure directly to the north.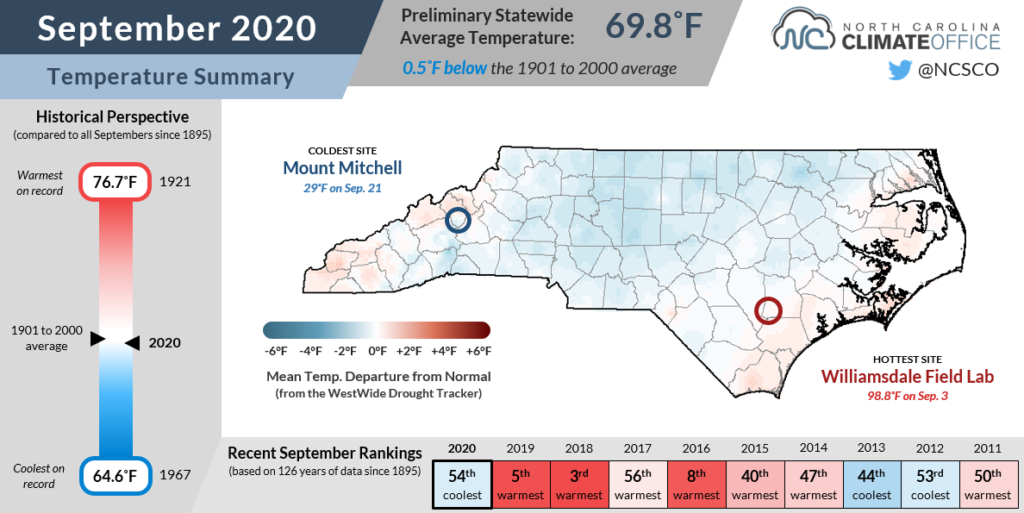 The statewide average maximum temperature of 78.7°F ranked as our 22nd-coolest September on record. Nighttime lows averaged a degree or two above normal, and it ranked as our 44th-warmest September based on the average minimum temperature. The two averaged out to give us near-normal mean temperatures as summer gave way to fall.
Locally, the coolest conditions compared to normal were across the western Piedmont, including in Mount Airy, which was tied for its 11th-coolest September out of the past 122 years, and in Statesville, which tied for its 12th-coolest September in the past 112 years.
Sites along the coast were generally a bit warmer than normal, including Elizabeth City's 14th-warmest September since 1934. Much of that was due to warm overnight lows, elevated in part by persistent cloud cover. Elizabeth City reported its fewest number of hours with clear skies — 255 total — of any September dating back to 1998.
Tropical Storms and Thunderstorms
It may not have felt like August anymore, but it was nearly as wet as this August across much of North Carolina last month. NCEI reports a statewide average precipitation of 6.63 inches, ranking as our 15th-wettest September since 1895.
The areas that saw rain from tropical remnants or passing thunderstorms racked up some impressive rainfall totals, especially in the Mountains. Asheville had 8.27 inches for its 5th-wettest September in the past 128 years, and with 13.55 inches, Brevard had its 4th-wettest September out of 91 years with observations.
One of the main rain events came on September 16-18 as the remnants of Hurricane Sally crossed the Carolinas. While we avoided the foot of rain, widespread flooding, and high winds that the Florida panhandle experienced during the storm, much of the Foothills, Piedmont, and southern Coastal Plain still picked up two or more inches of rain during the event.
Our ECONet station near Wilmington in Castle Hayne reported a storm total of 6.61 inches, and Warrenton picked up 6.19 inches during the storm.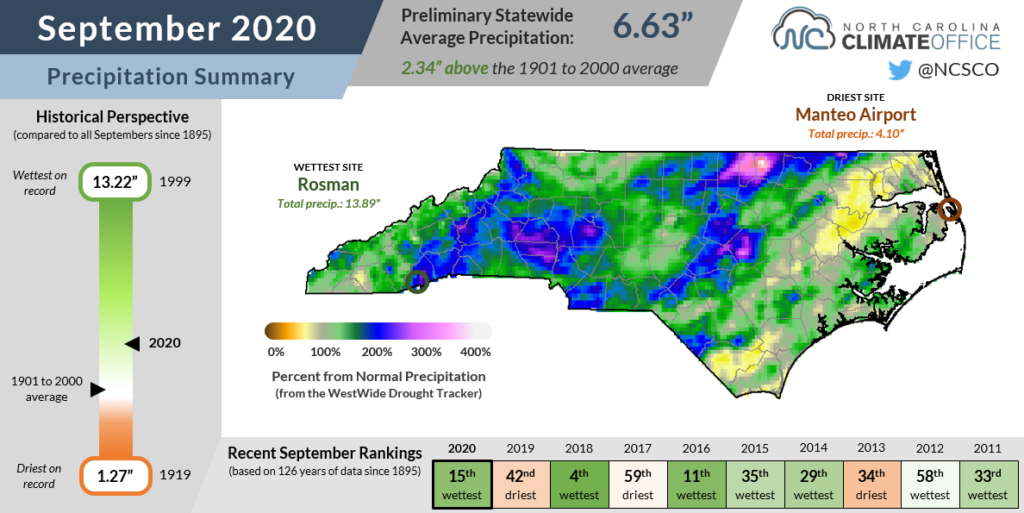 Another rainfall event across the Piedmont and Sandhills was during a frontal passage associated with the remnants of Tropical Storm Beta on September 25-26. Camp Mackall in Richmond County picked up 3.61 inches, and the same thunderstorm that dropped 2.22 inches of rain on Sanford produced pool ball-sized hail in the Triangle.
With those major rain-making systems generally moving in from the south or southwest, parts of far eastern North Carolina missed out on the heaviest rain but still finished near their normal September precipitation. As a result, the state's drought map remained clear for yet another month.
Fall Color Set for a Stellar Show
In addition to being overall pleasant for outdoor activity, our recent weather has helped leaves along as they approach their peak color within the next month or so.
Last year, we talked with Dr. Howard Neufeld, a professor of biology at Appalachian State University and author of the Fall Color Report, about the factors that affect fall color, from biology to weather to "street trees".
Temperature tends to be the most important weather factor for creating vivid colors, with cool, clear nights beginning in mid-September — exactly what we've had this year across the western two-thirds of the state.
Precipitation extremes can be a show-stopper as well if drought causes leaves to drop early or an overly wet fall limits the sugar production that creates bright red colors. In that sense, we're also in an ideal position heading into this autumn.
"Since mid-August, temperatures have been moderate, with no exceptional heat waves. Precipitation has been higher than usual, but not overly so," said Dr. Neufeld. "September has continued those moderate temperatures with lows lately getting routinely in the 40s. Rain has dropped off and we're having fairly sunny skies too.
"Based on these anecdotal weather observations on my part, I am predicting an excellent fall color season. Color is already very apparent at elevations above 4,500 feet, and in some places, they are more than 50% to peak color. It's still mostly green around 3,000 feet elevation, but color is readily apparent, and we're moving toward about 20% or so color development now.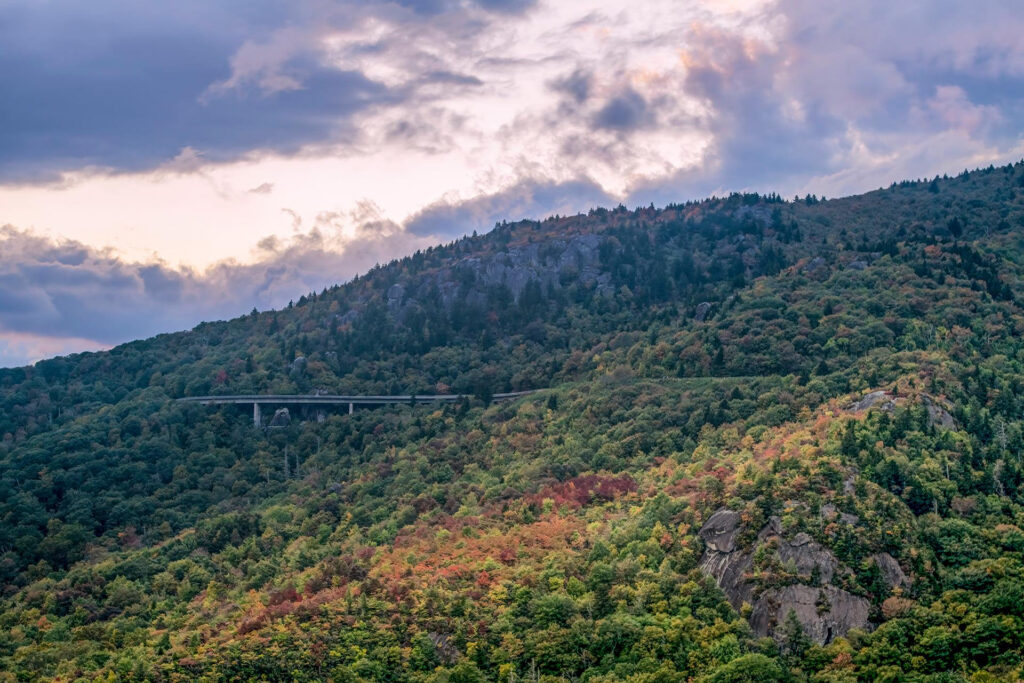 "With this recent spate of cool weather, I am predicting that the colors will develop rapidly over the next two weeks, peaking between the 12th and 18th at 3,000 feet, and 3 to 5 days earlier above that elevation. Then, color development will progress downslope and toward the last week of October be at 2,000 feet or so."
That timetable represents a return to normality, particularly after the last two years that saw warm September weather push the peak of fall color deeper into the season. September 2018 was our state's 3rd-warmest on record and in September 2019 was our 5th-warmest. The nighttime low temperatures also ranked highly in those years, including our warmest September based on the average minimum temperatures in 2018 and the 9th-warmest last year.
In addition, our precipitation has been quite variable in recent falls. September 2018 was our 4th-wettest on record, and the windy weather from Hurricane Florence in mid-September and the remnants of Michael in mid-October that year knocked off some leaves before they ever changed colors. Last fall, the flash drought in western North Carolina — including the state's 42nd-driest September on record — caused early leaf drop as moisture levels declined.
"This year, we may be back to a 'normal' fall color season for the first time in several years in terms of timing and duration," said Dr. Neufeld. "These times are earlier than previous years where we've had unusually warm fall weather, both delaying the fall colors and spreading the display out over a longer period of time, which to my mind dilutes the visual impact."
All of that is to say that 2020 may finally have a literal bright side — a sort of "Goldilocks" year for leaf color in which it's not too hot, not too cold, but just right as we enter October.