Happy August! For those of you that don't know me yet, my name is Kathie Dello and I'm the State Climatologist and Director of the State Climate Office. I was on the job for 8 months before we were sent into quarantine.
My preferred engagement model — visit folks where they are, listen, and then have conversations — was flipped upside down. As I was trying to navigate the new normal, I reached out to Max Cawley at the Museum of Life and Science in Durham.
We started brainstorming partnership activities. Keeping folks engaged in the climate conversation in North Carolina is a shared priority. We also understand that folks are navigating an incredibly uncertain time.
One of the ideas that bubbled to the top in our conversations is now known as Climate-Conscious NC, a series of short virtual panel discussions on Thursday nights from folks who live and work in climate in both rural and urban North Carolina.
We partnered with our other climate colleagues here at NC State — the USGS Southeast Climate Adaptation Science Center, the NC State Climate Change and Society Master's Program, and other groups — to put together a stellar lineup.
Grab a glass of sweet tea and join us for a set of short but informative webinars on various climate topics, starting tonight!
Take it away, Max!
---
Climate is everybody's business. You'd be hard-pressed to find any sector in our state that isn't already feeling the impacts of our changing climate, but climate science is so complex that it can be intimidating and scary to talk about. Should we just leave talking about climate to the climate scientists?
Every month, I rely on this blog to break down our state's month in weather. If you're reading this, you probably already know how lucky we are to be residents in a state served by a State Climate Office with such a priority and passion for public engagement and communication.
While this blog does an amazing job of breaking things down on a statewide level, your instincts alone can probably tell you that on top of everything else going on in the world, it has been a pretty unusual year in North Carolina's weather and climate.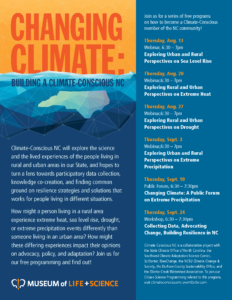 Because so much has happened, indulge me while I jog your memory. Most recently, our state was hit by a hurricane last week… then before that we had scorching hot weather in July… but then before that an unusually cool early summer and late spring… a named storm for the sixth year in a row before the official start of the hurricane season… then those few weeks of unrelenting April showers…and it all started with a rainy, but not very snowy, winter.
As a non-climate scientist, one of the most striking pieces of data about climate comes from the Yale Program for Climate Change Communication (YPCCC), whose 2019 datasets suggests that here in North Carolina, most adults (66%) agree that global warming is indeed happening. Certainly, when I look at this year's share of topsy-turvy and at-times extreme weather, that pattern is not hard to see.
Where there's more disagreement, though, is for questions like "Will global warming harm people in the US?" (55% of North Carolinians said yes), "Is global warming already harming people in the US?" (47% of North Carolinians said yes), or "Will global warming harm you personally?" (only 41% of North Carolinians said yes).
The trouble is, the lived realities of climate change, and the weather events, hazards, and risks posed, are not uniform and are not evenly distributed: not only will someone living in the Mountains of North Carolina experience climate change differently from someone living on the coast, but two people living on different blocks of the same city might have vastly different experiences based on other factors like built environment or income level.
Most upsetting of all from that YPCCC dataset, however, was the responses to the question "Do you talk about global warming at least occasionally" — only 34% of North Carolinians said yes. That means that while there is a majority of people who agree that global warming exists, most of those people do not talk about it.
The type of political will needed to effectively build resilience, adaptation, and equitable solutions for everyone in North Carolina comes from building more a informed and engaged public, which in turn, creates a more caring public.
This must start with ridding ourselves of the notion that climate isn't yours to talk about. Your experiences with climate and weather are already linked with climate change in some form or another. Change begins when we take note and talk with our neighbors about what we're seeing. Let's change the conversation together.
Join us starting tonight as we take a new approach to talking about climate: looking at it from the angle of science and lived experience in different parts of our state. We hope you'll join in the conversation by registering here for Climate-Conscious NC.