Cold air continued to stay away from North Carolina this winter in another warm month. Precipitation spanned the spectrum from wet to dry in January, but few areas saw any wintry weather as snowless streaks continued.
The Winter That Wasn't
Data from the National Centers for Environmental Information (NCEI) shows that last month's statewide average temperature was 46.2°F, ranking as our 11th-warmest January dating back to 1895.
Mean temperatures across North Carolina were 5 to 8 degrees above normal, on average, and the warmth in our nighttime lows was even more pronounced. In fact, the statewide average minimum temperature was only 36.4°F compared to the 1981 to 2010 average of 29.4°F.
That warmth was only briefly interrupted by a few nights in the 20s from January 20 to 23, which came less than a week after our highs climbed into the 70s. That came as a shock — literally — for sea turtles caught in colder water near the Cape Lookout National Seashore.
Those cold nights were the exception, though, as for much of the month, upper-level ridging to our south and east kept us in a warm, southwesterly flow.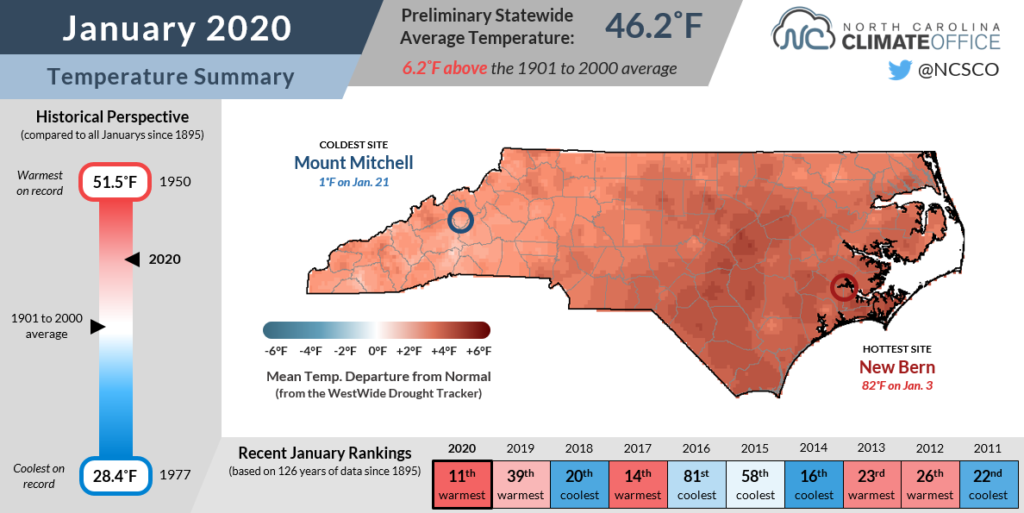 In our Winter Outlook issued in November, we expected a variable weather pattern would give us a mix of warmer and cooler weather. However, the prevailing pattern since early December has been remarkably steady, and particularly warm in North Carolina.
After our December warmth that jumped 2019 to the top of the list of our state's warmest years on record, January's continued warmth delivered only disappointment for anyone hoping for a sustained cooldown in our climatological coldest month.
The lack of below-freezing nights so far this winter is one good indicator of just how warm it has been. Even in Asheville, they've had only 31 days with lows at or below freezing so far this winter — just half of the season — compared to the 30-year average of 43.4 days that cold and the record of 59 days (out of 62 in the season to date) set back in 2010-11.
The forecast doesn't show any big changes on the horizon, either. The NWS Climate Prediction Center's outlook shows elevated chances of above-normal temperatures for February across much of the eastern US.
Wet in the West, Dry in the East
Our precipitation pattern has also been consistent throughout the winter. Cold fronts approaching from the west or southwest have brought abundant precipitation to the Mountains and Piedmont, but the immediate coast has largely missed out on that rainfall
The stats show it was a slightly wetter-than-normal month overall in January. According to NCEI, the statewide average precipitation of 4.36 inches ranked as our 38th-wettest January out of the past 126 years, around half an inch above normal.
But that average masks some sharp divides from west to east. While Mountain sites like Boone (6.93 inches) and Franklin (6.99 inches) each had one of their top 12 wettest Januarys, Hatteras (1.45 inches) only received about a quarter of that rainfall and had its 8th-driest January.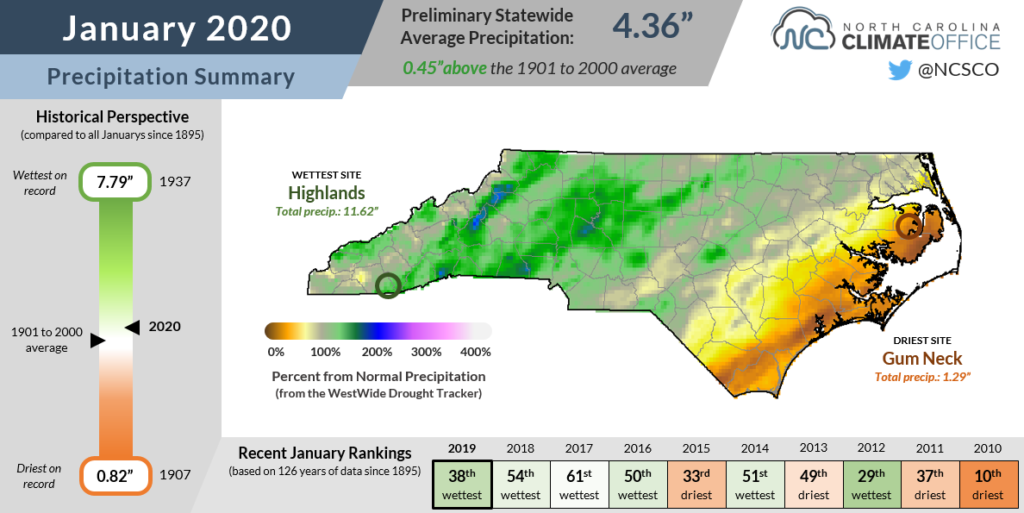 By mid-December, the state had fully recovered from its fall drought and the US Drought Monitor map for North Carolina was completely blank, indicating no outstanding drought or dryness.
But that didn't last long thanks to the increasing dryness along the coast, which has now expanded to include 27 counties in eastern North Carolina.
As we often emphasize, Abnormal Dryness (D0 on the US Drought Monitor) is not considered drought, and it doesn't necessarily mean drought development is imminent. Even with the warmer weather that may have increased evaporation rates or helped some plants begin taking root early, it's tough to find many impacts of the recent drier weather at the coast.
A few streams and groundwater wells have fallen to below-normal levels, some wetlands have been reported as having less standing water than usual in the winter, and fire danger has begun to tick up at the coast, but these likely wouldn't become noticeable issues until the spring if conditions remain dry.
And it's worth remembering that most of the state is in a moisture surplus at the moment, so it would take a change to an even wider-reaching dry pattern — which isn't likely any time soon, at least based on the February outlook — for drought to become a concern elsewhere.

Snow (Mostly) Stays Away
Even if most of the state has been wetter than normal recently, it certainly feels like we're in a snow drought across most of North Carolina.
The last accumulating snow in the Piedmont and northern Coastal Plain came in early December 2018 — now more than 13 months ago — and other southern and eastern sites have gone even longer since seeing any snow on the ground.
But despite more than a year without snow, we're nowhere near the records for the longest streaks without measurable snowfall.
In Raleigh, which hasn't seen snow in 421 days and counting, the record streak is 1,164 days — more than three years — between December 1989 and February 1993.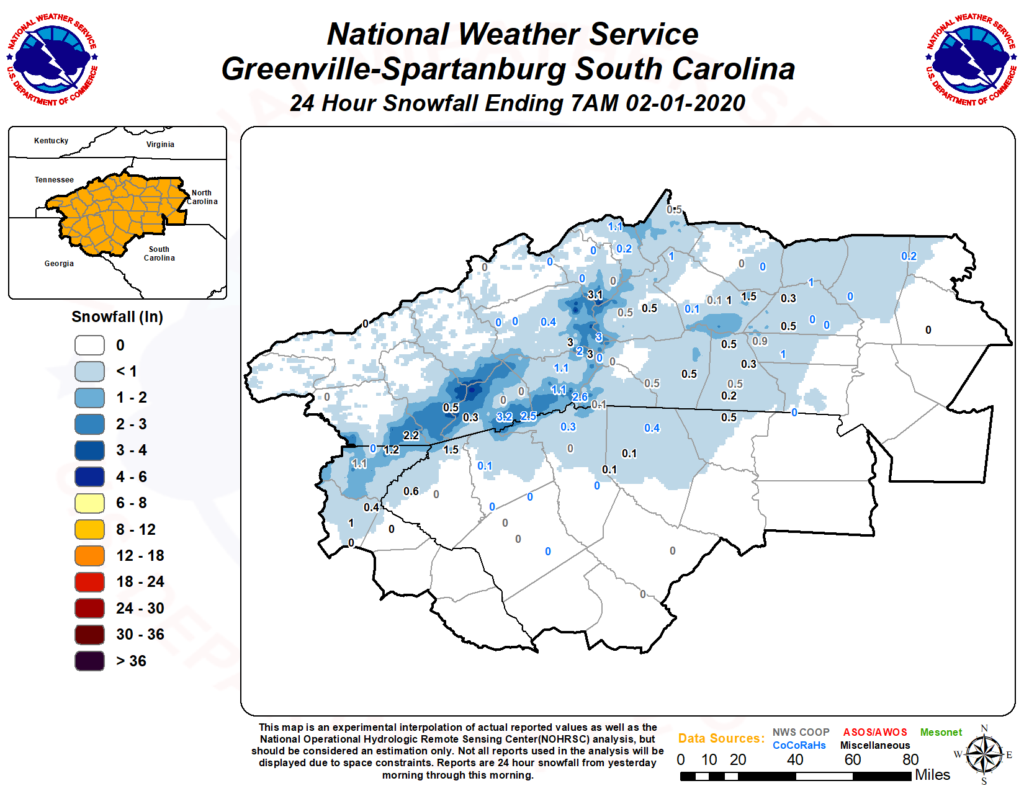 In Wilmington, the current snowless streak of 762 days dating back to January 2018 doesn't even crack the top ten longest at that site. The longest time between snows in the Port City was 2,188 days — nearly six full years! — that finally ended in January 2009.
It's worth noting that January did bring an end to at least a couple of snow droughts in western North Carolina. On the final day of the month, precipitation began as snow before changing to rain, and parts of the Mountains and Foothills picked up an inch or two that morning.
With 2 inches reported last Friday, Lincolnton ended its 417-day snowless streak, which had been the fifth-longest since 1952 at that station. Asheville reported 0.6 inches to snap a 417-day streak, which was the 2nd-longest on record there.
For the sorrowful snow lovers who fancy a few flakes, just know we've been through longer snowless streaks than the current one. But also don't look too closely at the forecast, which favors more 60s than snow chances in the weeks to come.