December was a month of mostly warm temperatures and fairly wet weather. It also put 2019 on top of the rankings for North Carolina's warmest years, as the statistics show.
A Warm Start to Winter
Several spells of fall-like warmth with only a few days of wintry chill yielded a warmer-than-normal December in North Carolina. According to NOAA's National Centers for Environmental Information (NCEI), the statewide average temperature of 46.5°F ranks as our 17th-warmest December dating back to 1895.
On December 10 and 16, highs hit the 70s in eastern North Carolina as warm air rushed in from the south ahead of approaching cold fronts.
And instead of steadily declining on the way into winter, our December temperatures peaked near the end of the month. High pressure off our coast brought in a feed of warm, moist air off the Atlantic, and temperatures again reached the 70s on December 28, 29, and 30.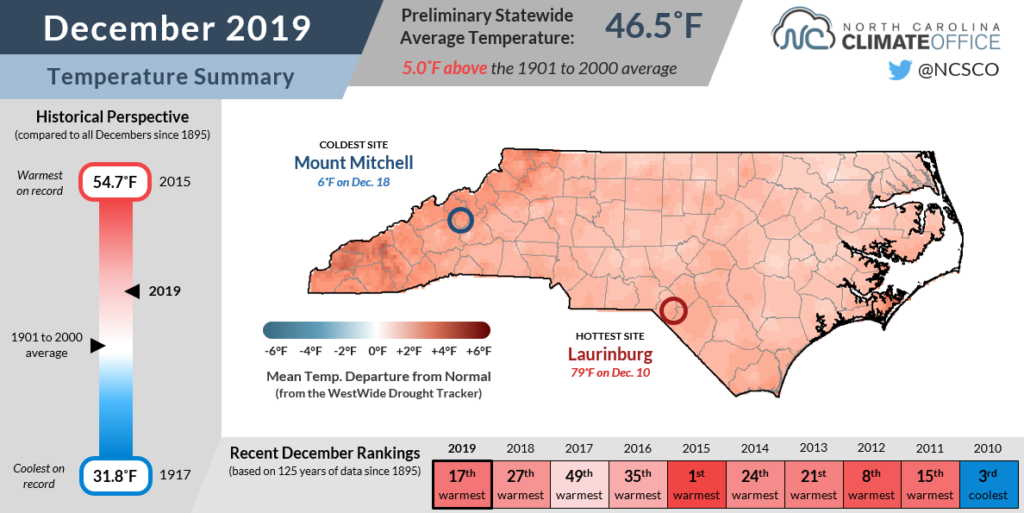 Those temperatures were up to 25 degrees above normal, and it made late December feel more like early October!
With so many warm days, it's no surprise that many sites recorded one of their warmest Decembers on record. In both Elizabeth City and Wilson, it was tied for the 10th-warmest out of the past 85 years.
It was also tied for the 10th-warmest December in Marion dating back to 1893, and Pisgah Forest had its 7th-warmest December in the past 80 years.
A Sandhills Soaking
The same southerly flow that made our weather so warm also made it generally wet across North Carolina. The statewide average precipitation of 4.52 inches ranks as our 31st-wettest December out of the past 125 years, according to data from NCEI.
In the Mountains, it generally wasn't cold enough for snow outside of the highest peaks. Even Mount Mitchell only reported 4.2 inches of snow in December, short of its normal 16.4 inches for the month.
While mountain locales such as Lake Toxaway (9.49 inches) and Tryon (7.29 inches) had some of the highest reported totals, parts of the Sandhills were the wettest sites compared to normal.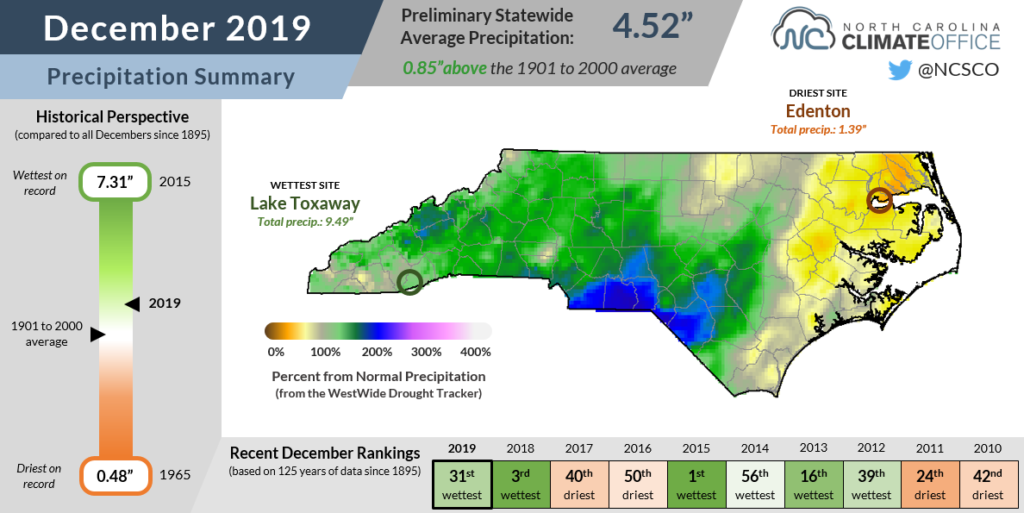 With 6.35 inches of rain last month, Lumberton had its 3rd-wettest December out of 105 years with observations, and Laurinburg recorded 5.91 inches for its 5th-wettest December since 1946. Both sites received at least 3 inches more than their normal December precipitation.
The northern and central Coastal Plain missed out on that moisture feed, and as a result, it was a drier-than-normal month in that corner of the state. With only 1.39 inches of rain, Edenton had its 16th-driest December out of 120 years with data, and Plymouth's 1.68 inches of rain ranked as its 13th-driest December.
A few dry weeks has put those areas back into the Abnormally Dry (D0) category on the US Drought Monitor, although at this point, streamflows are generally near-normal and soil moisture levels have been slow to decline, even with our warmer weather.
Since we don't necessarily expect to see many drought or dry-weather impacts during this time of the year when crops are mostly dormant and evaporation is lower, this classification is simply a bit of meteorological accounting to track the recent dry weather.

Stats from 2019
Earlier this week, we discussed North Carolina's big weather story from the end of 2019 — its crowning as the warmest year on record. It was also a record warm year for weather stations in all parts of the state, from Asheville and Marion in the Mountains to Lincolnton and Salisbury in the Piedmont to Greenville and Hatteras in the Coastal Plain.
Precipitation was less extreme last year, but it was still generally on the wet site. The statewide average precipitation of 51.03 inches ranked as our 46th-wettest year since 1895.
Despite their fall flirtation with flash drought, most southern Mountain sites finished 2019 as one of their top-ten wettest years on record.
The apparent wettest spot in the state last year was Highlands in Macon County, which had 110.61 inches of precipitation, ranking as its 4th-wettest year out of 110 years with observations.
Brevard also recorded its 4th-wettest year with 90.53 inches total, and Asheville had its 9th-wettest year. Its 57.25 inches were more than 11 inches above normal.
The driest spots were in the southern Coastal Plain, which apart from Hurricane Dorian had few major rain events. After measuring more than 100 inches of precipitation in 2018, Wilmington had less than half that — 49.08 inches, to be exact — in 2019, which was 8.5 inches below normal and its 56th-driest year since 1870.
Fayetteville looks like the state's driest site last year with 39.15 inches reported. That's 6.1 inches below its normal precipitation.
On the heels of our record-wet 2018, last year was decidedly less soggy in most areas, but it still made headlines with a new record of its own. After back-to-back record-breaking years, 2020 has a big task ahead of it if it will break one of its own.