Our warm winter continued in February with generally above-normal temperatures, although we did see cold and snow during the month. It was a wet month overall with some severe storms mixed in.
Cold Air Remains Rare This Winter
Mild weather continued through most of February, and the numbers reflect just how warm it was in North Carolina. According to the National Centers for Environmental Information (NCEI), last month's statewide average temperature was 47.2°F, ranking as our 11th-warmest February out of the past 126 years.
That comes on the heels of our 17th-warmest December and 11th-warmest January, rounding out a climatological winter in which cold air was fleeting and above-normal temperatures seemed more like the norm.
In February, most stations had mean temperatures 3 to 6 degrees above normal, on average. Our nighttime lows were even warmer, and it ranked as our 8th-warmest February based on the average minimum temperatures.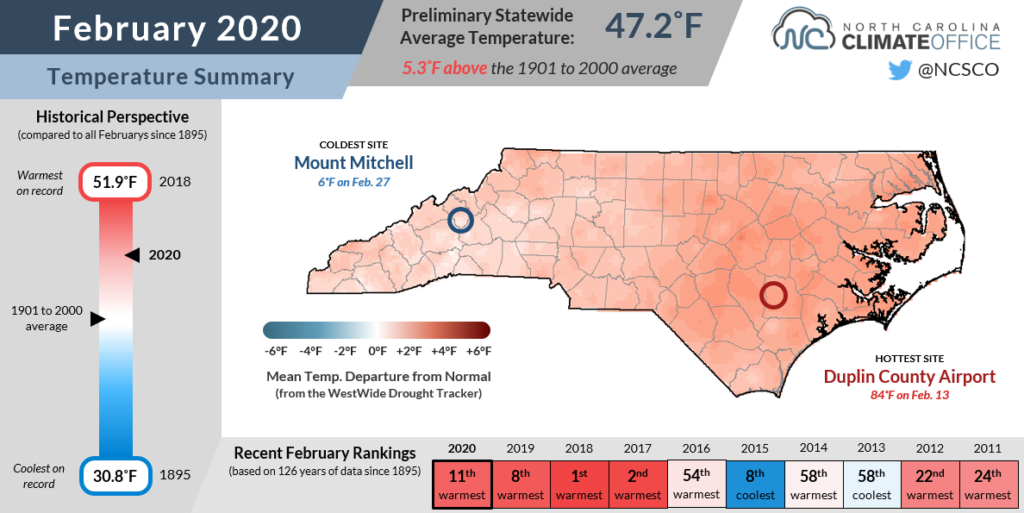 We also had several unusually warm afternoons, including highs in the low 80s — a full 25 degrees above normal — across southeastern North Carolina on February 13. Overall, that part of the state had more days with highs reaching 70 degrees (9 in Wilmington, 8 in New Bern) than they had lows at or below freezing (6 in Wilmington, 7 in New Bern).
Last month also continued a trend of warm Februarys in North Carolina, as each of the past four has ranked among the eleven warmest on record. That unseasonable warmth was enough to send plants into bloom, and according to the National Phenology Network, leaf emergence occurred more than 20 days earlier than normal across much of southern and eastern North Carolina — the earliest in the 39 years with recorded data.
Of course, we can still see sub-freezing temperatures for nearly another month and a half, so for any gung-ho gardeners or impatient planters, just know that we're not out of the woods yet when it comes to spring freeze risk.
Light Snow Blankets NC
We did get a brief break from the warm, spring-like weather last month in the first statewide snow event of the season, and the first snow in many areas since December 2018.
On February 20, a low pressure system developing off our southeast coast delivered Atlantic moisture across the state while high pressure to our north locked in cold air near the surface that allowed precipitation to fall as snow during the event.
It's a fairly common setup for snow events in North Carolina, but one we haven't seen often over the past year. Instead, most of our precipitation this winter has come from frontal systems crossing the state from west to east, and cold air has generally remained too far to the north.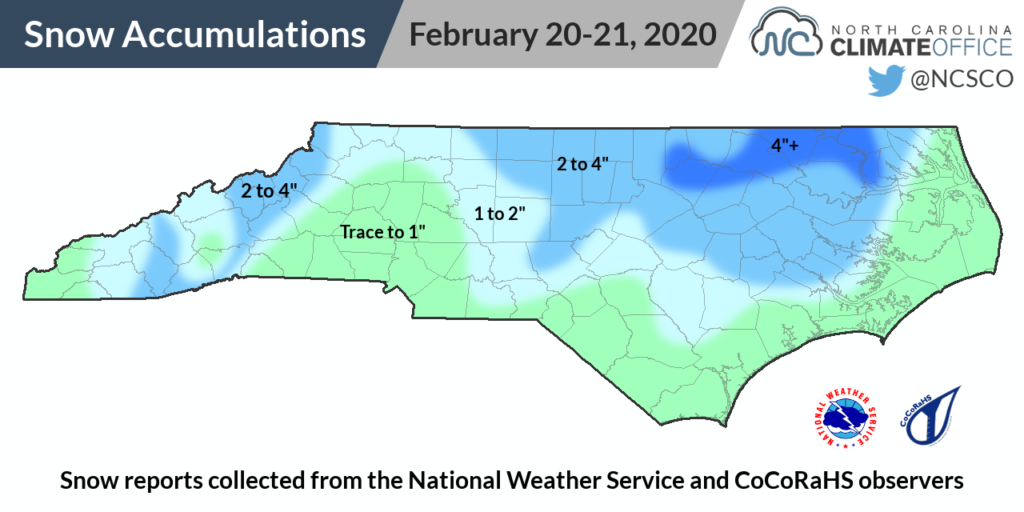 The greatest snowfall totals in North Carolina during the February 20-21 event came across the northern Coastal Plain, including 4.5 inches in Halifax and 4 inches from Henderson to Edenton. Accumulations may have been greater if not for the warm soil temperatures in the 40s and low 50s when snow began falling.
Liquid precipitation totals were limited to around 1.5 inches at the southern coast, which received mostly rain along with a few flakes mixed in.
Since most of the moisture was over the eastern part of the state, areas farther west received less snow. Charlotte reported just 0.3 inches on the ground, and even in Asheville, the official report at the airport was only 0.8 inches. (By comparison, Asheville recorded more snow — 1.1 inches — as part of a system affecting the Mountains on February 29.)
Heavy Rain and Severe Weather
While February may not have been an extremely wintry month, it certainly was a wet one. Multiple rain-making weather systems moved through the state during the month, and per NCEI, the statewide average precipitation of 6.79 inches ranks as our 3rd-wettest February since 1895.
Stations throughout western North Carolina received more than 7 inches of precipitation — more than double their normal February totals — and finished with their wettest February on record.
Those sites include Greensboro with 7.23 inches, breaking its old monthly record of 7.04 inches from 1929, Hickory's 9.16 inches, and several soggy high-elevation sites such as Highlands (17.30 inches) and Mount Mitchell (17.71 inches).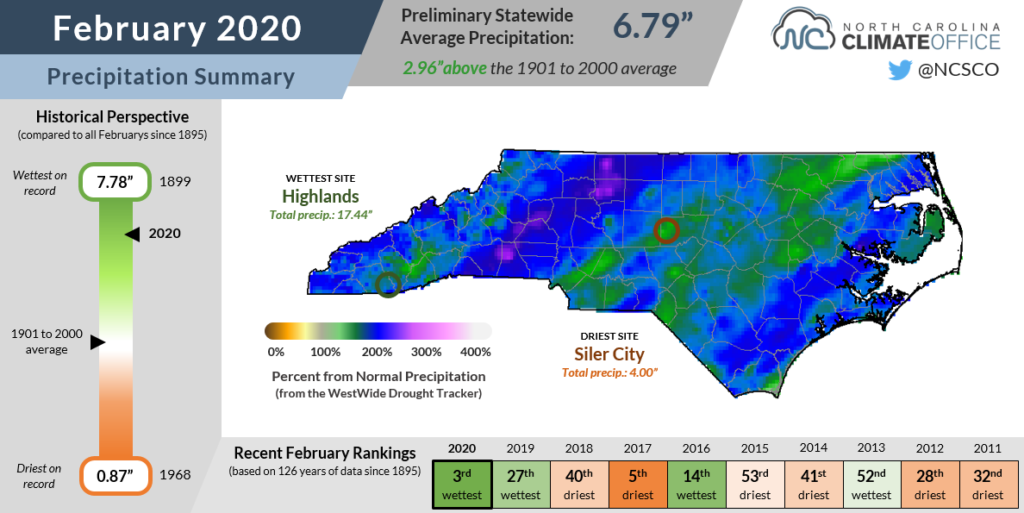 The coast was wet as well, with up to 7.68 inches recorded at Cape Hatteras. That was more than five times as much rain as that site received in all of January, when Abnormally Dry conditions reemerged at the coast.
Needless to say, with so much moisture in the last month, those dry areas quickly disappeared, and we're now back to a blank map on the US Drought Monitor, indicating no outstanding drought or dryness as we head into the spring.
Last month's precipitation wasn't all good news, though. Heavy rain falling on already saturated ground caused flash flooding and rivers spiking to near record levels.
The weather system on February 6 also brought severe weather across the state. Warm, moist air rushing in from the south ahead of an approaching cold front created a spring-like environment, primed for strong thunderstorms, in the middle of winter.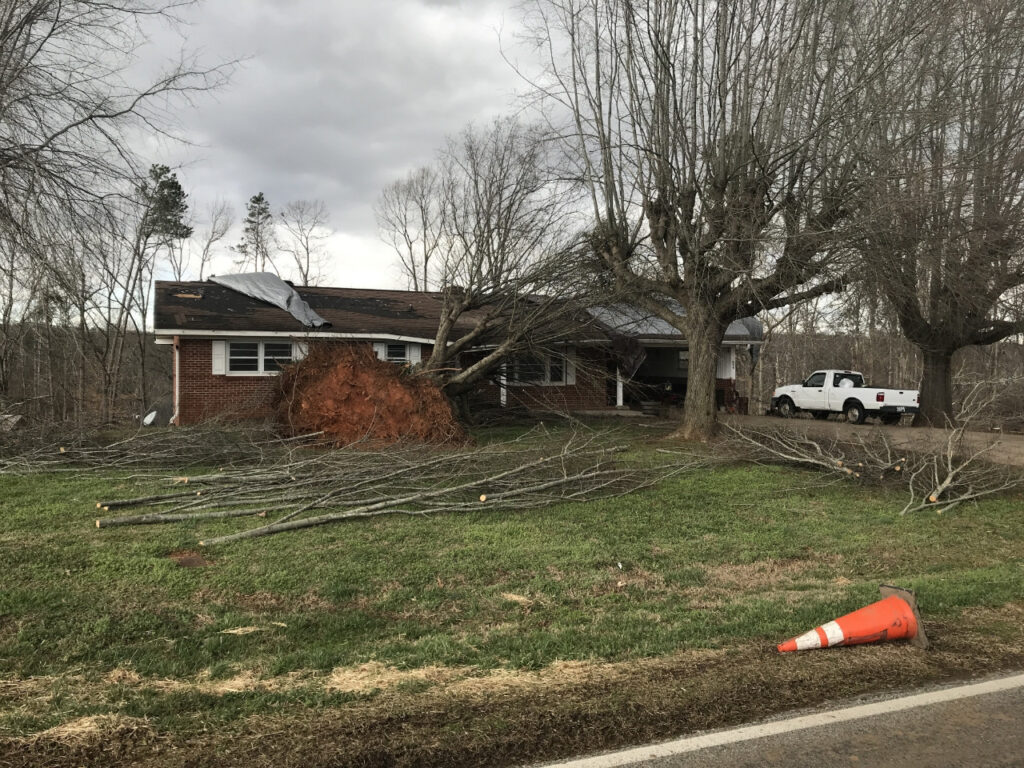 The National Weather Service confirmed eight tornadoes in North Carolina from the southwestern Piedmont to the northeastern coast, including a pair of EF2s that first touched down in Cleveland and Cabarrus counties.
Based on records from the Storm Prediction Center since 1951, this marks the earliest in the calendar year that North Carolina has recorded its eighth tornado. The previous earliest was in 2016, when a pair of tornadoes on February 3 and another on February 16 were followed by an outbreak in eastern North Carolina on February 24.
February tornadoes are rare, of course, but our state has seen some notable ones, including an F3 in 1971 that caused widespread damage and multiple injuries and fatalities in Fayetteville.
In this case, National Weather Service storm surveys identified no injuries, but damage to several homes and other structures. However, this most recent severe weather event still joins our short but impressive list of February tornadoes.