June brought wet weather across much of North Carolina, as well as a mid-month break from the heat. It also saw our office get out and about to a number of weather stations and events across the state and even across the country.
A Wet Month in the North and West
After a dry May in which organized precipitation stayed off to our west, June saw a return of regular rainfall to North Carolina. The preliminary average statewide precipitation of 7.12 inches ranks as our 8th-wettest June on record since 1895.
Most weather stations had between 10 and 15 days with measurable precipitation last month, including 16 such days in Greensboro — the third-most days with rainfall there in any June out of the past 117 years. That's compared to just 5 to 10 days with precipitation at most sites in May.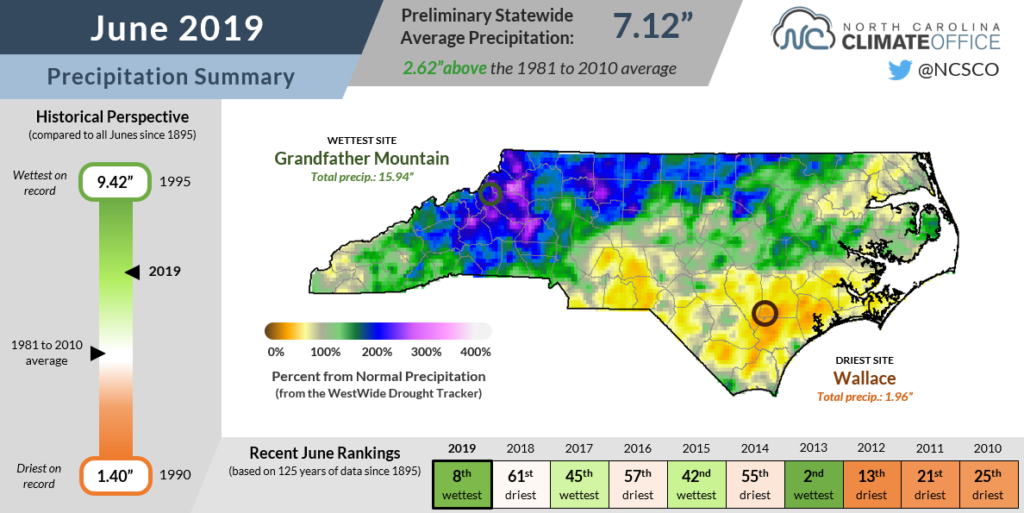 The Bermuda high, which helped suppress our rain chances as it hugged the east coast in May, shifted farther off-shore in June, allowing more Gulf and Atlantic moisture to move in and fuel showers and thunderstorms. Several organized cold fronts also passed through North Carolina, at times bringing heavy rainfall.
In one of those events from June 7 through 10, a stalled front and showers rising up mountain slopes produced more than a foot of rain in the Foothills and northern Mountains. Grandfather Mountain received 12.96 inches over that four-day period — part of a monthly total of 15.94 inches that made it the wettest spot in the state last month. It was also the wettest June on record at Grandfather out of the past 64 years, surpassing the 15.77 inches from 1957.
Impacts from that event included widespread flash flooding that closed roads, isolated homes, and resulted in three deaths when a car near Lincolnton hydroplaned and ran off-road into flood waters. Those storms also spawned a short-lived EF0 tornado in Rutherford County.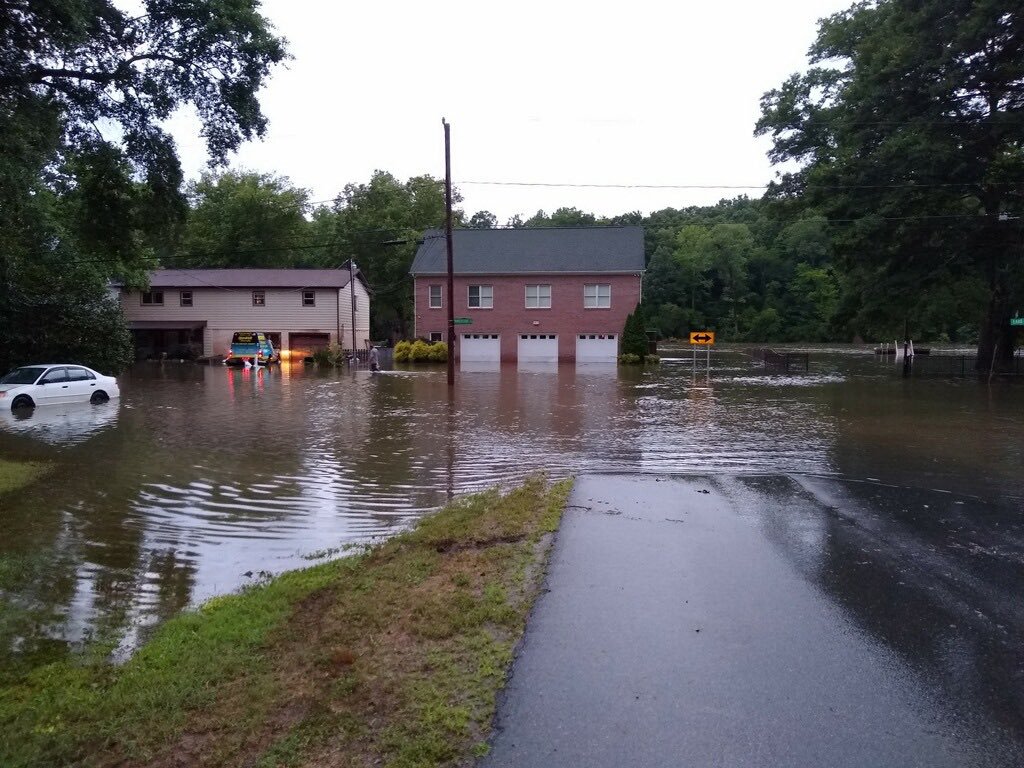 While the wet weather didn't come without its own set of hazards, it did offer some relief for parts of the state that had been quickly drying out. The rain helped replenish soil moisture levels and gave reservoirs across the Piedmont a needed top-off to offset the summer's losses due to evaporation and downstream releases.
After Abnormally Dry conditions had expanded across the northern Piedmont in May, they are now confined to the Coastal Plain, aside from one dry patch in Stanly and Montgomery counties that missed out on recent rainfall.
Moderate Drought (D1) conditions remain along the southern coast — another part of the state that did not see above-normal precipitation last month. The 28-day average streamflows show the contrast from west to east; streams in the Mountains and Foothills remain at record high levels for this time of the year, while a handful of gauges in southeastern North Carolina are below normal.

Milder Temperatures Bookended by Summer Heat
Last month's pattern change also had a noticeable impact on temperatures. In fact, the preliminary average statewide temperature of 73.3°F was slightly cooler than normal, ranking as our 53rd-coolest June out of the past 125 years.
As the Bermuda high relaxed to begin the month, we escaped the heat that plagued us during May. The abundant rainfall played a role in our temperatures as well as well. Our high temperatures were one or two degrees below normal, on average, in part because of the afternoon cloud cover associated with showers and thunderstorms.
In the areas that saw the most rain, the lower temperatures were offset by the discomfort of higher humidity. Greensboro had an average relative humidity of 76.7%, while in Hickory, the average was 77.2%. Both were above the June normal values but not as high as the particularly muggy June of 2017, when average relative humidities approached 80%.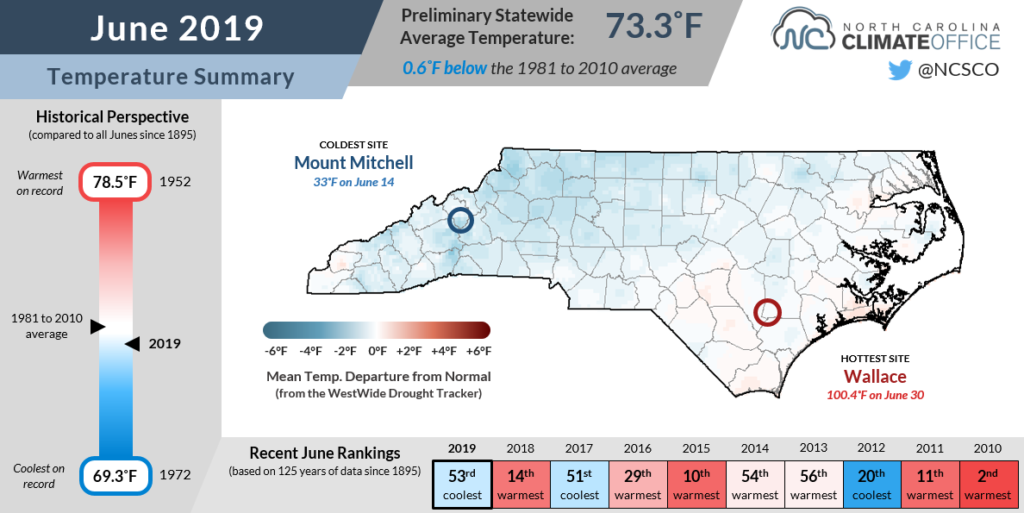 The end of the month saw a return of those hotter temperatures and yet another change in the large-scale weather pattern. A stubborn, slow-moving high pressure system that developed over the Southeast US in the final week of June elevated our temperatures into the upper 90s, with our Williamsdale Field Lab ECONet station in Duplin County hitting 100.4°F on the final day of the month.
As we approach our climatological hottest part of the year, the current forecast doesn't offer much relief, at least right away. Much of the Southeast is expected to remain warmer than normal through the first two weeks of July. For the month as a whole, the NWS Climate Prediction Center calls for slightly elevated chances of above-normal temperatures.
Get the SCO on the Road
It was a busy month for our office as we traveled far and wide for outreach, extension, professional development, and station maintenance trips.
For starters, we participated in the National Trails Day event in Wake Forest, engaged with water system managers at the Catawba-Wateree Drought Management Advisory Group meeting in Huntersville, and exchanged ideas with Cooperative Extension agents as part of a feedback session at the North Carolina Association of County Agricultural Agents Meeting in Southern Pines.
We traveled to 15 of our ECONet stations for maintenance visits, including in Plymouth, where the 10-meter tower toppled over last month and is being replaced. We also installed the first part of an organic soil moisture monitoring station at the Green Swamp in Brunswick County, which will be our fourth such station in the state.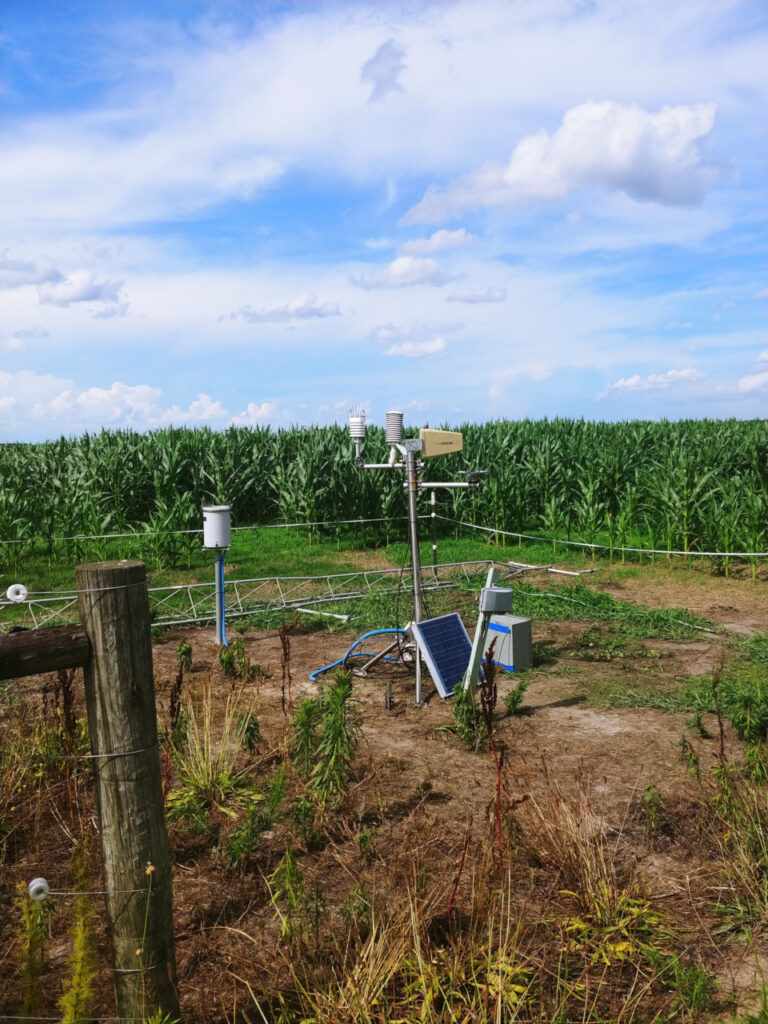 To wrap up the month, four of our scientists as well as our new director, Kathie Dello, spent last week in Santa Rosa, CA, for the American Association of State Climatologists annual meeting.
Along with other state climate offices and our regional and federal partners, this meeting allowed us to share office and project updates, identify opportunities for collaboration, and discuss best practices for things like mesonet standards and science communication. Of course, it was also a nice escape from the humidity of the North Carolina summer!
At this year's AASC Meeting, Darrian Bertrand from our office presented about the Wet Bulb Globe Temperature Tool being developed in conjunction with the Southeast Regional Climate Center and the Carolinas Integrated Sciences and Assessments for users including the North Carolina High School Athletics Association.
With those discussions fresh in our minds, we're set for a flying finish to 2019 as we continue working on some exciting new web products, events, and other projects to better serve the state of North Carolina.