Headlined by a week of often-oppressive heat for humans and crops alike, July was marked by warm temperatures and scattered but near-normal rainfall. In this climate summary, we also turn our attention to the tropical Atlantic in a hurricane season update.
Summer Heat Sizzles
A mid-month spell of hot weather punctuated what was a warm month overall in North Carolina. The preliminary average statewide temperature of 78.1°F ranked as our 28th-warmest July since 1895.
Many weather stations had one of their top-ten warmest Julys based on average mean temperatures, including Cape Hatteras, where it was the 4th-warmest July out of the past 126 years.
Overnight low temperatures ranked particularly highly in the Mountains, which spent much of the month in a humid air mass that kept nighttime dew points and temperatures elevated. In Marion, the average low temperature of 68.7°F was the 2nd-warmest in any July dating back 109 years.
All across the state, the elevated high temperatures were hard to ignore. We started the month on a warm note, including the month's highest reported temperature of 105°F in Dunn on July 3.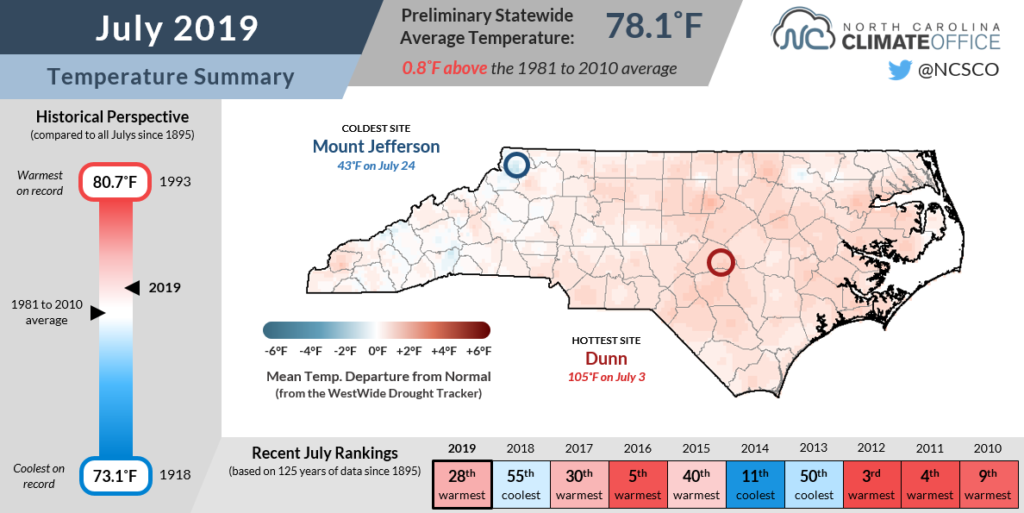 By the middle of the month, a stubborn high-pressure system set up to our south, bringing a week of heat from July 16 through 22. In Raleigh, the average maximum temperature during that 7-day period was a stifling 97.0°F, making it the hottest week there since mid-June 2015.
At coastal locations, it was the second sweltering week so far this summer after May ended with average highs consistently in the 90s. Added humidity from the nearby ocean, sounds, and rivers helped escalate the heat index as high as 115°F. In New Bern, the 7 hours so far this year with heat index values of 110°F or greater are the most since 2012.
Following a dry June in the southern Piedmont and Coastal Plain, those hot July days and nights created more stress for crops such as corn. In the latest USDA Weather & Crops Report, 37% of North Carolina's corn crop was rated in poor or very poor condition, compared to 34% in good or excellent condition.
Hit-or-Miss Summer Rainfall
July wasn't a particularly wet month anywhere in the state, but it also wasn't exceptionally dry. Instead, the preliminary statewide average precipitation of 4.90 inches was close to normal, ranking as our 44th-driest July out of the past 125 years.
For the most part, we were in a typical summertime pattern. Many afternoons saw scattered showers and storms. We endured a few drier stretches when those stagnant high-pressure systems settled in. And we saw more widespread rainfall when cold fronts passed through, including an event on July 22 and 23 that brought up to 4.2 inches of rain in Cherokee and 3 or more inches to localized parts of the northern Piedmont and Coastal Plain.
That front also spawned two tornadoes — an EF-0 near Willow Springs in southern Wake County, and an EF-1 near Clayton in Johnston County.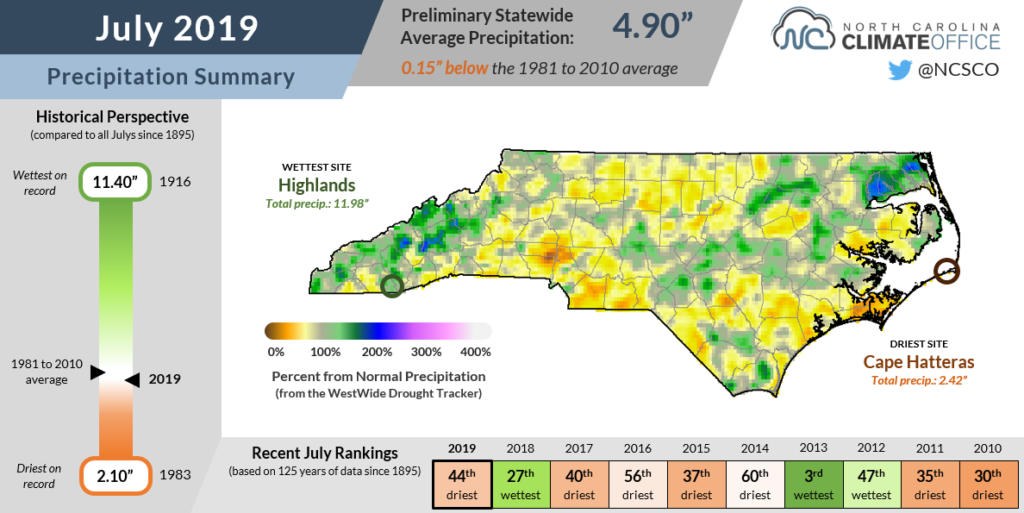 The rain across that region helped alleviate Abnormally Dry conditions that briefly emerged during our mid-month heat wave. However, less rain fell in the southern Piedmont and coast, so those areas remain Abnormally Dry or in Moderate Drought on the US Drought Monitor.
In those areas, July continued a rough summer for crops. Rainfall has been lacking especially in southeastern North Carolina. In fact, Wilmington just wrapped up its third-driest May through July period on record. Soil moisture levels have continued to decline, including in Robeson County, where Moderate Drought expanded last week.
Elsewhere, the rain amounts have been enough to stave off further degradation, but rainfall has been very scattered, creating some big differences over small areas.
"Some tobacco is still knee-high while some is over head height," noted Franklin County extension agent Charles Mitchell. "As one farmer said, 'Every year is different.'"

Tropical Update
One potential source of relief for drought-affected eastern North Carolina could be a tropical storm along our coast. But is the Atlantic active enough to send something our way?
So far, it has been a relatively quiet start to the hurricane season. Two named storms had formed through the end of July — the fewest since 2009, when the first named storm didn't develop until August.
However, both storms so far this year have been relatively close by. A low pressure system between the Bahamas and Bermuda developed into Subtropical Storm Andrea in late May, and another low stalled over the Gulf of Mexico became Hurricane Barry, which hit Louisiana last month.
While the warm waters of the Gulf of Mexico and Gulf Stream favor tropical development this early in the season, conditions have been particularly unfavorable in the rest of the Atlantic basin.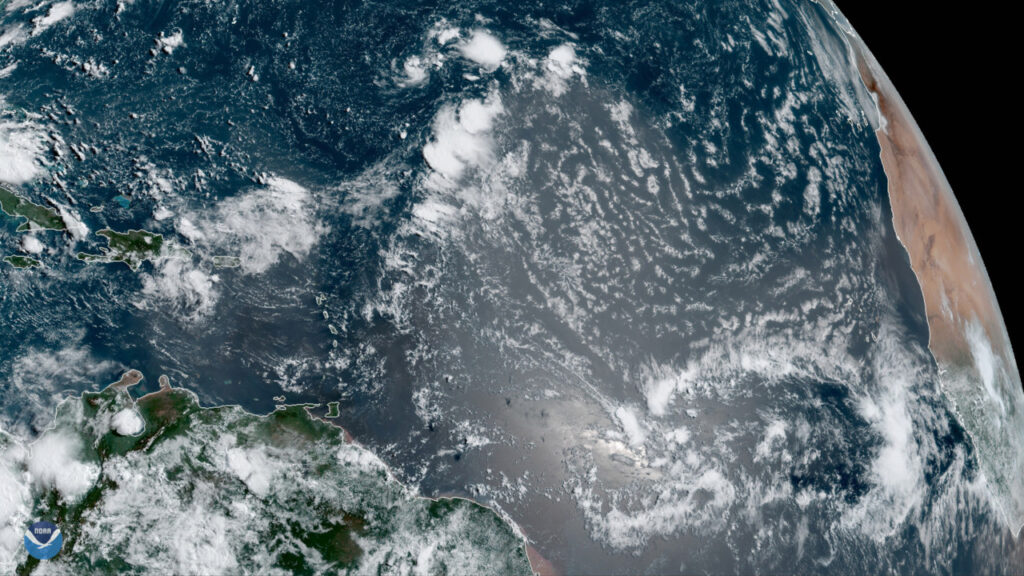 High wind shear and Saharan dust stretching from African west coast to the Caribbean islands have hindered any would-be storms from forming along the conveyor belt track across the Atlantic.
That inactivity in the eastern Atlantic isn't too unusual at this point in the season, but by mid-August, we often begin to see storms form in this region.
Until environmental conditions improve, expect any tropical activity to be limited to the western Atlantic. Of course, that's no guarantee that we'll see any storms come our way.
We can say this, though: It will be a stormy summer here on the Climate Blog as we revisit some of our state's most famous hurricanes on their anniversaries. From Dennis and Floyd 20 years ago to Hugo three decades in the past to a pair of hurricanes more than a century old, we'll bring you the stories of these storms — and the stories of those affected by them — over the next two months.
Stay tuned, because big things are brewing on the blog!