We are delighted to announce that later this month, Kathie Dello will join the State Climate Office of North Carolina as our new permanent director and as the State Climatologist for North Carolina.
Kathie comes to us from Oregon, where she serves as Associate Director of the Oregon Climate Change Research Institute and as Deputy Director of the Oregon Climate Service, the state climate office for Oregon.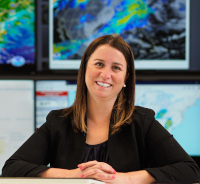 Beyond her administrative roles, Kathie is a skilled climate communicator and has worked extensively and effectively at the intersection of climate science and public policy, including positions on Oregon's Water Supply Availability Committee and Drought Readiness Council.
Originally from Upstate New York, she earned her BS in Meteorology and MS in Geography from the University at Albany and her PhD in Environmental Sciences from Oregon State University. In her spare time, Kathie likes to cook, hike, and bike.
"I am very excited to join the North Carolina State Climate Office this summer," said Kathie. "The office has a long history and stellar reputation of doing top-notch climate services work. I am looking forward to being a part of it, and getting to know North Carolina. I look forward to meeting with partners after my arrival in Raleigh. Please don't hesitate to reach out!"
Kathie will be the first permanent director of SCO since 2016, when Ryan Boyles departed to take a position in the US Department of the Interior. She will become the fifth permanent director in the Office's 43-year history and the first woman to serve in this role.
The office has been led in the intervening years by Aaron Sims and Walt Robinson as interim directors. Aaron left in 2018 for a position with Baron: Critical Weather Intelligence. With Kathie's arrival, Walt will return full-time to his faculty role at NC State.
Kathie takes the helm of an office that is one of the most active state climate offices in the nation, with 10 full-time staff, six student employees, excellent computing facilities, a robust state-wide observing network, and active engagement with stakeholders, the general public, and K-12 students. SCO's diverse portfolio of applied climate research includes $1.7 million in externally funded projects supported by 3 North Carolina state agencies, 4 federal agencies, and 3 nongovernmental organizations.