Sizzling summer temperatures and widespread dry weather made for a scorching May that saw drought emerge in a potentially unlikely area.
The Heat is On
We didn't have to wait for the start of meteorological summer on June 1 to feel summer-like heat across the state. Unseasonably warm temperatures over the past month culminated in our 3rd-warmest May since 1895 with a preliminary statewide average temperature of 71.0°F — a full five degrees above the 1981 to 2010 monthly average.
The Bermuda high pressure system is often responsible for producing hot, humid summer weather, and it has been one of the main culprits so far this season. With that large-scale high sitting right off our southeast coast, we've seen an ongoing flow of warm, moist air from the Atlantic and Gulf of Mexico.
That pattern was quick to set up and slow to shift, producing one of the warmest Mays on record in many locations, particularly across the Coastal Plain.
Based on average mean temperatures, it was the warmest May in Wilmington dating back 146 years, the warmest at Hatteras since 1893, and the warmest in Elizabeth City since 1934. Greenville and Fayetteville also recorded their warmest Mays last month.
So was this summer's heat especially early to arrive? In some spots, it was. The normal first 90-degree day in Asheville isn't until June 25, but they'd already racked up a week's worth of such heat before we even turned the calendar to June this year.
Elsewhere, the initial onset of 90-degree temperatures was within a week of the normal timing. Raleigh, Charlotte, and Wilmington each reached 90°F for the first time on May 18. The average first dates in those locations range from May 12 to May 21.
However, the rate at which we racked up 90-degree days in the final two weeks of May was impressive — again thanks to that stubborn off-shore high — and has put us well ahead of our typical timing. Much of the state including parts of the Mountains have already had 7 to 14 days with high temperatures reaching 90 degrees or higher.
Rain Becomes Elusive
A seemingly unending wet pattern that started in some areas a full year ago, during our wettest May on record in 2018, has come to a sudden stop. The switch has instead flipped to put us on the dry side, and the past month had a preliminary statewide average precipitation of 2.64 inches to rank as our 17th-driest May out of the past 125 years.
Parts of the coast received less than an inch of rain, including just 0.63 inches in Wilmington to rank as its 3rd-driest May on record, and 0.98 inches in Williamston.
While those areas had been slipping into a drier pattern since late winter — more on that in a bit — the dry weather represented a change from the mostly wet April in areas farther west.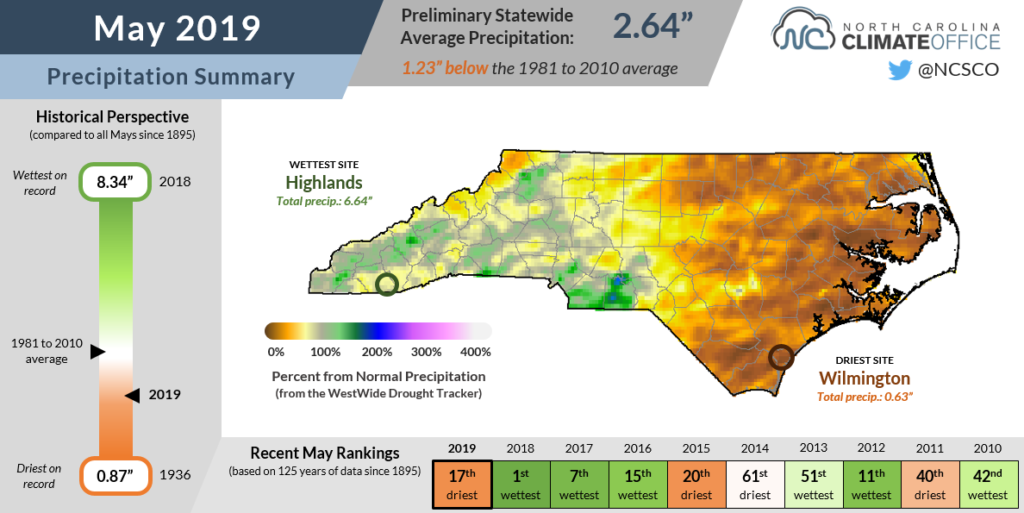 Across the Mountains and Piedmont, the driest spots were along the Virginia border. Henderson in Vance County had only 1.40 inches of rain last month, while Reidsville reported 1.29 inches and our ECONet station on Mount Jefferson picked up only 2.24 inches.
While we've watched the jet stream troughing and storm track that saturated us early last winter shift over the US Midwest, the Bermuda high has also taken control of our precipitation pattern. Sinking air associated with the high pressure system has prevented the sorts of pop-up showers and storms that are responsible for most of our rainfall this time of year.
Fortunately, there is at least some hope for relief in the short-term. The Bermuda high is expected to shift off to the east later this week, which would make those localized showers a bit more likely.
Drought is Back in NC
It's hard to believe considering that much of the southern Coastal Plain was under more than a foot of water after Hurricane Florence moved through just under nine months ago, but many of those same areas are now classified in Moderate Drought (D1) after the recent spell of hot, dry weather.
A total of 10 counties, from Brunswick through Pamlico, along the southern coast are now in the US Drought Monitor's least severe drought classification, while an additional 31 counties in northern and eastern North Carolina are classified as Abnormally Dry.
Especially for the southern and eastern counties, the dryness is not a recent phenomenon. Since mid-winter, when the predominant storm track shifted inland, these areas have seen increasing precipitation deficits.

Over the past three months, Wilmington is 4 inches below its typical springtime precipitation, while New Bern is 4.7 inches below normal. Now that the growing season is in full swing, the impacts of that lack of precipitation have become more evident.
Soil moisture values as measured by NASA SPoRT have continued to decline, and some growers have reported not being able to plant because of insufficient moisture levels. The recent heat has also increased evapotranspiration, further stressing plants and soils.
The suddenness with which conditions have worsened has been striking for many growers in the drought-affected region:
"Dry. Dry. Dry. Amazing how fast soils in the county have gone from good moisture conditions to extremely dry. Subsoil moisture depth is dropping quickly. Soybean planting has stopped until rain comes. Soil moisture is adequate for corn to rebound at night but daytime temperatures and dry surface conditions are causing wilting and leaf curl."

Mark Seitz, Pender County Extension, from USDA's May 26 Weather & Crops Report
Eastern North Carolina hasn't seen a widespread summer drought since 2011 — a full eight years ago. In areas where drought had become a distant memory, obscured by the flooding from Florence and other storms, some of those impacts from fast-emerging dry weather are suddenly showing up once again.