By early May, even North Carolina's Mountains have usually escaped winter's grasp. Ski resorts have closed, pastures are greening up, and spring's final freeze has come and gone. You can imagine the surprise, then, when a springtime storm brought a significant snowfall to the high elevations of the Mountains on May 5-9, 1992.
Snow from a Strong Low
The event was the result a strong disturbance in the upper atmosphere that provided the ingredients needed at the surface — cold air and moisture — for snow to fall. That trough in the jet stream began to dig southward on May 5, bringing in unseasonably cool air with low temperatures hitting the 20s and 30s in the Mountains and the 40s across the rest of the state.
The upper-level system strengthened even more on May 6, becoming a cut-off upper-level low similar to the one that brought us heavy rainfall two weeks ago. By that point, a surface low pressure system had formed off the Southeast coast.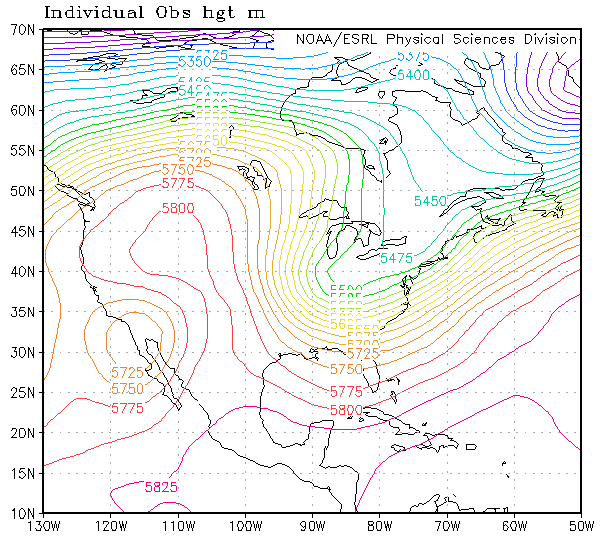 As the low moved northward, it brought in Atlantic moisture that helped precipitation pick up across the state — as snow at elevations above about 2,000 feet, and as rain everywhere else.
One sign of the spring season was the precipitation transition in the Mountains. As Grant W. Goodge's event summary for the Asheville-based National Climatic Data Center notes, "even at the higher elevations, snow changed to rain several times and thus kept the maximum depths to a level less than if the event had occurred in mid-winter."
Accumulations
Despite snow mixing with rain at times, several high-elevation sites in the Mountains picked up some hefty snow totals. Mount Mitchell received 15 inches of snow between the afternoons of May 6 and 7, with an overall event total of 30 inches. Due to melting and compaction, the maximum snow depth was 24 inches. Farther north, Grandfather Mountain received 11.5 inches of total snowfall.
| Station | Elevation | Snowfall |
| --- | --- | --- |
| Mount Mitchell | 6,240 ft. | 30.0″ |
| Swannanoa 2 SSE | 4,320 ft. | 12.2″ |
| Grandfather Mountain | 5,300 ft. | 11.5″ |
| Waynesville 1 E | 2,658 ft. | 7.0″ |
| Highlands | 3,840 ft. | 5.5″ |
| Lake Toxaway 2 SW | 3,080 ft. | 1.0″ |
| Cataloochee | 2,650 ft. | 1.0″ |
| Asheville | 2,238 ft. | 0.2″ |
Total snowfall from May 5-9, 1992 (view a map of totals)
In Buncombe County, Swannanoa reported 12.2 inches of snow. At the slightly lower elevations in Asheville, precipitation fell as mostly rain, but snow mixed in at times to yield an accumulation of 0.2 inches.
The heaviest snow fell southwest of Asheville along the Blue Ridge Parkway. Reports from Mount Pisgah suggested that up to 61 inches of snow fell there, although those amounts were almost certainly inflated by drifting snow, similar to the later-refuted report from Mount Mitchell during the winter of 2015-16.
Based on the observed precipitation totals of 4 to 5 inches and assuming a 10-to-1 snow-to-liquid ratio, it's more likely that totals reached 40 to 50 inches — still extremely impressive, especially for a springtime snowstorm.
Nearby areas did report accumulations of 36 to 40 inches, which trapped 75 tourists at the Pisgah Inn without hot water or electricity, according to an Associated Press report. Farther down the mountain, the Blue Ridge Parkway became a ski slope — part of what Pisgah Inn owner Phyllis O'Connell called a "winter carnival" atmosphere in early May.
Other Impacts
The heavy, wet snowfall downed trees and power lines throughout the Mountains. Among the trees that didn't fall, many were damaged by the accumulating snow since the leaves had already emerged.
That also provided an unusual sight for passersby, including Howard Neufeld, a biology professor at Appalachian State University who was doing ozone research in the Great Smoky Mountains at the time of the storm.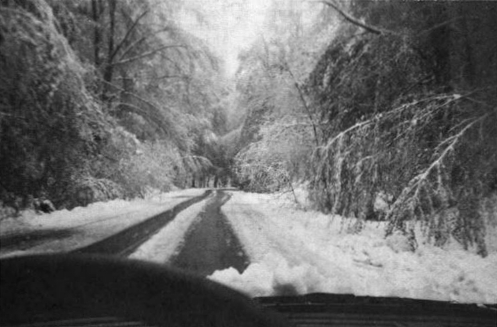 "I was traveling on I-40 near Asheville, and was puzzled by the strange appearance of the mountains, which were green and white," said Neufeld. "I realized that the trees had already leafed out, yet the upper elevations were hit with a lot of snow. At the time I heard stories of 4 to 5 feet of snow."
On the back side of the low pressure system, strong northeasterly winds whipped up all across the state, gusting to 63 mph at Swannanoa, 39 mph in Greensboro, and 38 mph at Cape Hatteras. Wind-driven sand covered Highway 12 along the Outer Banks and interrupted ferry service, according to the Associated Press.
Records
The cool temperatures during the event set daily low temperature records at a handful of sites statewide, including a low of 40°F at Southport on May 5 and a low of 25°F at Mount Mitchell the following day.
The 15 inches of snow at Mount Mitchell on May 7 is the highest daily snow total on record for North Carolina in the month of May. That's nearly double the next-highest daily total of 8 inches, which has occurred three times: at Mount Mitchell on May 8, 1992, and in Montreat on both May 16, 1926, and May 7, 1928.
This event also brought the latest snowfall on record at most sites, including Asheville, Waynesville, Swannanoa, and Lake Toxaway. Mount Mitchell and Grandfather Mountain have both seen measurable snow later in May, but never with totals as high as those in May 1992.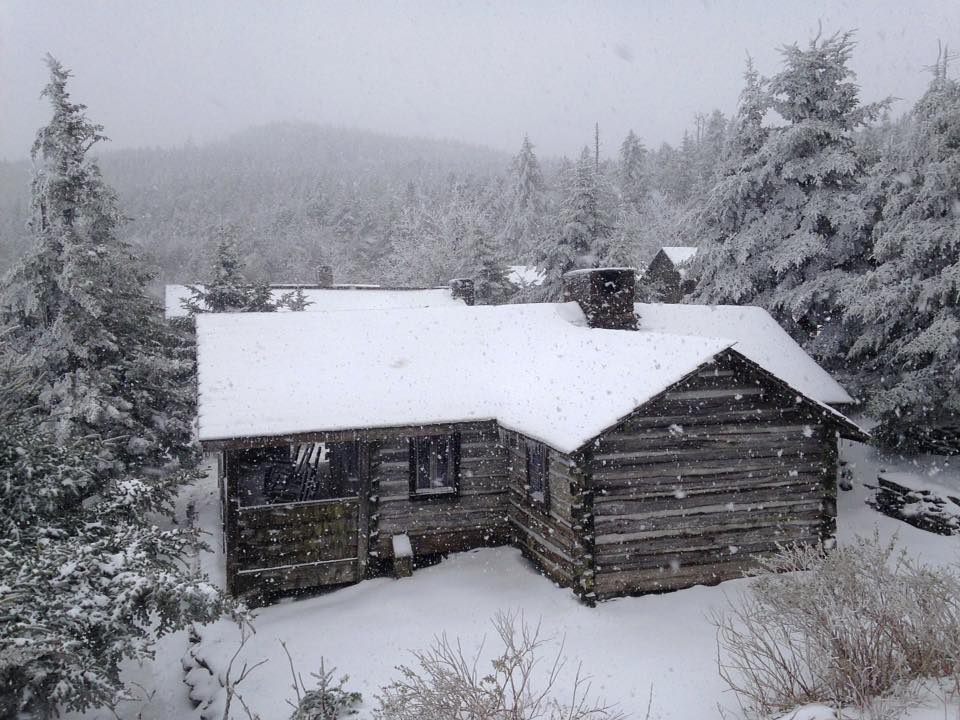 While it wasn't quite a case of history repeating itself, parts of the Mountains saw snow again last weekend. The National Weather Service in Morristown, TN, reported that Newfound Gap, NC, received 1 inch of snow on Friday and 2.6 inches on Saturday, while Mount Mitchell picked up 1.7 inches and Mount LeConte, TN, received 7 inches total.
Of course, those accumulations didn't match those from 1992 — Mount LeConte received 17 inches during that event — but it provided another example of a rare May snow in North Carolina, coincidentally on the 25th anniversary of the region's greatest snowfall on record.