While eastern North Carolina continues to recover from record flooding after Hurricane Matthew, western North Carolina remains in a persistent drought. Extreme Drought (D3), the second-most severe drought category on the US Drought Monitor's classification scheme, appeared in Cherokee, Clay, and Macon counties this week while Severe Drought (D2) expanded to include 10 counties in the western part of the state.
This is the first time since August 2011 that North Carolina has seen Extreme Drought, and while that drought event was largely wiped out by rains from Hurricane Irene, the current forecast isn't looking as promising for western North Carolina.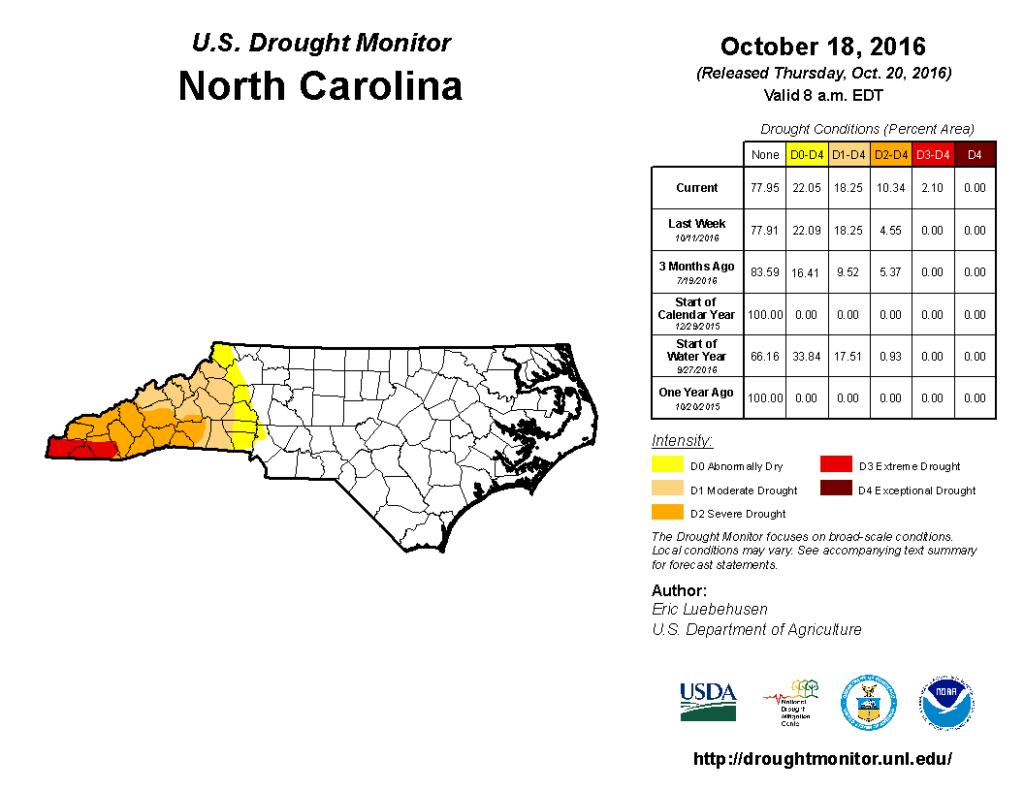 How Bad Is It?
Drought first appeared in western North Carolina on the May 3, 2016, US Drought Monitor map. In the intervening months, below-normal rainfall has continued in this part of the state, and the result has been a gradual decline in soil moisture conditions, streamflows, and groundwater levels.
While the eastern part of the state received more than 8 inches of rain from Hurricane Matthew earlier this month, western areas missed out. Total precipitation for the fall season to-date is just over one inch for places like Asheville and Cullowhee, drawing a sharp contrast to parts of eastern NC including Williamston, Kinston, and Wilmington, that have seen more than 20 inches of rain in the same period of time!
Putting this in perspective: western NC is seeing one of its top-five driest falls so far while eastern NC is seeing one of its top-five wettest falls on record. And for the year-to-date, precipitation across western NC is below the 25th percentile. For comparison, precipitation in eastern North Carolina is in the 95th percentile or above.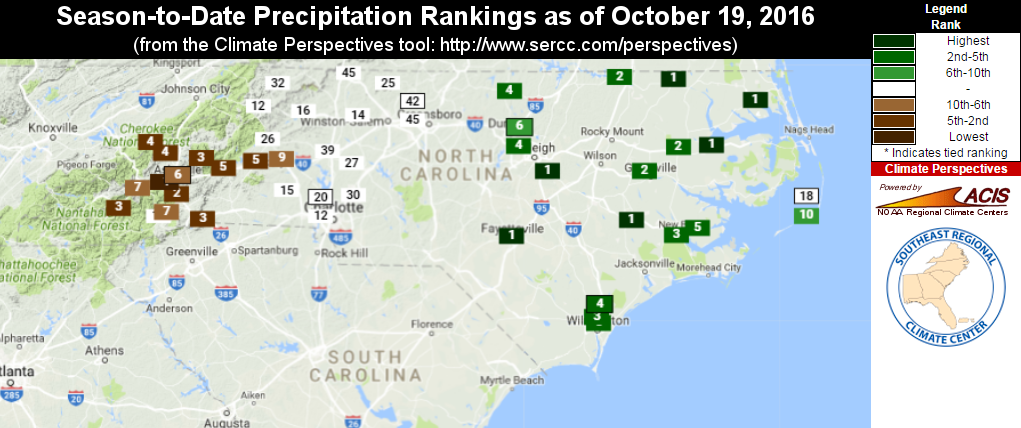 The Impacts
The below-normal precipitation in the western part of the state has led to streamflow and groundwater levels that are well below normal. The most notable agricultural impacts have been to pastureland and fall planting. A cooperative extension agent report for the week ending October 17 summarizes these impacts:
Dry weather has really limited fall fescue growth, and some fields are too dry and hard to drill small grains.

Stephen Bishop, Cleveland SWCD
Condition Monitoring reports from Community Collaborative Rain Hail and Snow (CoCoRaHS) network volunteers have also been useful as a way to gauge (no pun intended) conditions in western NC. Take this excerpt from a Clay County, NC, volunteer's report that talks about impacts to soil moisture:
I took soil samples for analysis this weekend and soil is bone dry down 8-10 inches.

Reported Oct, 17, 2016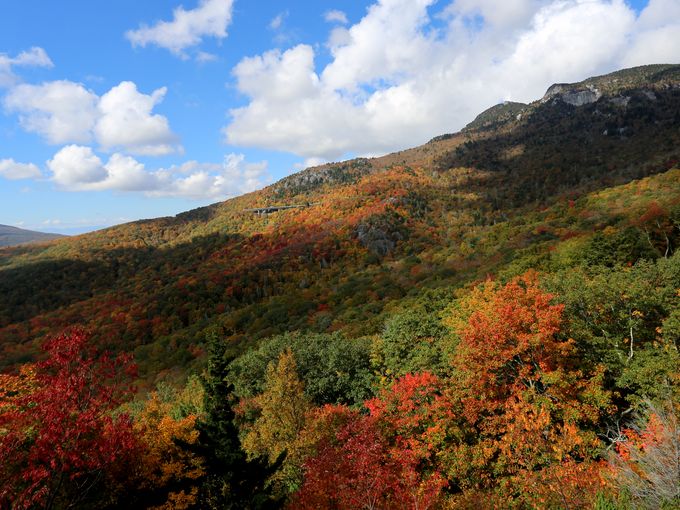 This is a time of year when the North Carolina mountains see tourists flocking in for the scenic leaf colors and flowing waterfalls. While there will still be plenty of this for visitors to see, several CoCoRaHS observers have noted drought impacts to these annual attractions:
Local waterfalls — even those with usually strong streams — are down to a small stream.

Cherokee County volunteer, reported October 12, 2016
Our lawns & gardens are very dry with large dormant patches and some trees are browning rather than turning normal fall colors.

Henderson County volunteer, reported October 10, 2016
Often overlooked is the impact a drought has on wildlife, be it deer, squirrels, birds, or even bees and other insects. If you live in the drought-affected part of the state and have birdbaths or water features in your yard, you may have noticed something similar to this observer from Buncombe County:
My critter watering stations have a queue!

Reported on October 16, 2016
Looking Ahead
The latest outlooks from NOAA's Climate Prediction Center suggest warmer-than-normal and drier-than-normal conditions will persist for the next few weeks. Beyond that, as we mentioned in our fall outlook, we don't expect to see La Niña conditions emerge. However, forecast models and recent weather in western North Carolina suggests that we may well see La Niña-like impacts. Unfortunately for the western part of the state, this typically means more warm, dry weather as we head into the winter.