This past weekend saw the passage of Hurricane Matthew, and with it, heavy rains and strong winds in central and eastern NC. If you were in these affected areas, you may have observed swollen creeks, overflowing ditches, and wind-blown debris. During the inevitable cleanup following the storm, you may have taken note of how squishy the ground felt, and how quickly (or slowly) the waters receded.
If you're in the western part of the state and missed out on the rain, you've probably observed a pattern of persistent dryness. Perhaps you've started planting a winter garden and noticed dry soil in the top several inches, or noticed leaves that are turning a dull brown instead of their usual display of color.
These type of observations can be incredibly helpful for monitoring the severity and extent of dryness in the state. Moreover, if you tend to take note of conditions in your area, even when there isn't a huge event, then you might be interested in becoming a CoCoRaHS Condition Monitoring volunteer!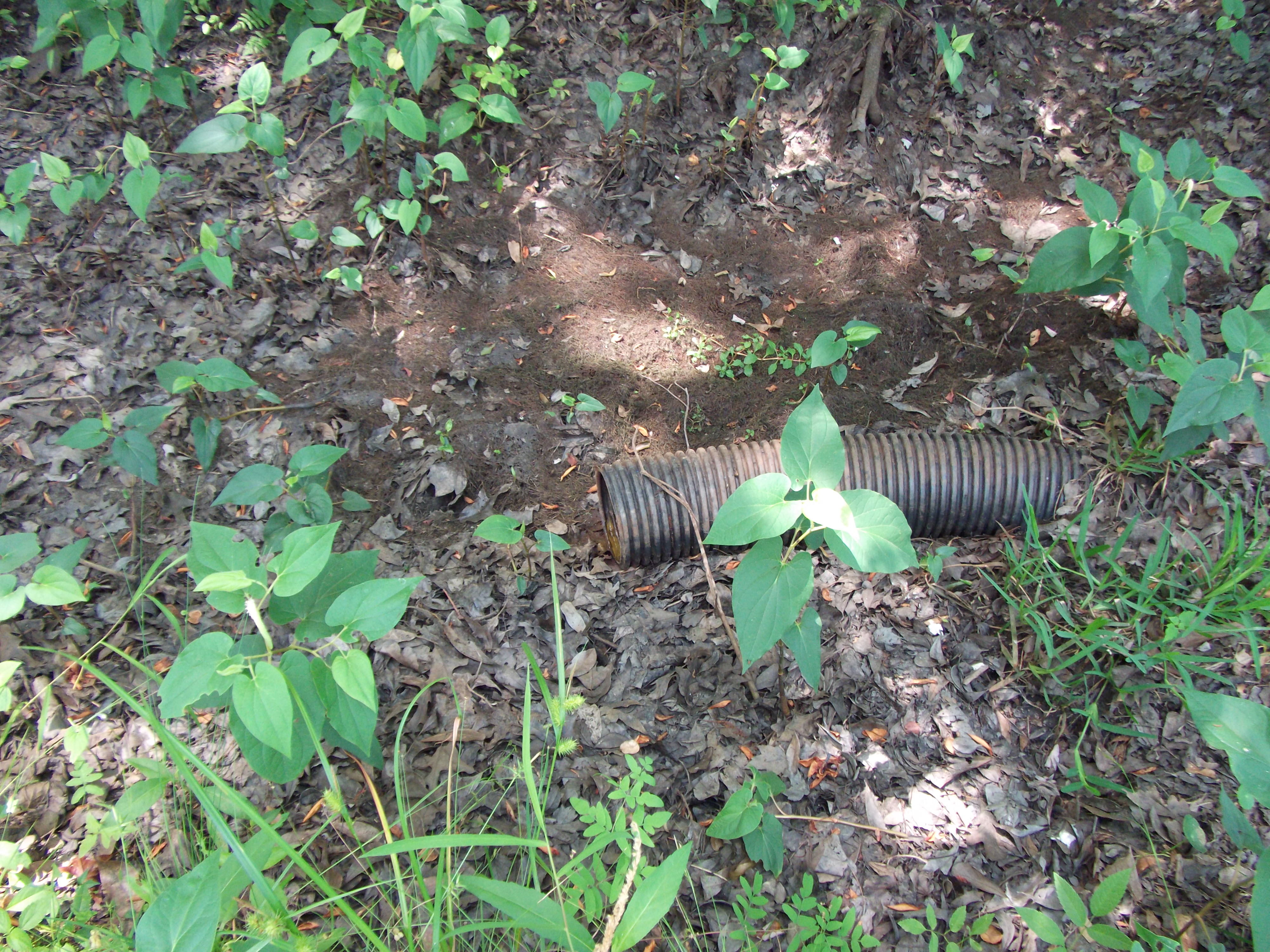 Background
The Carolinas Integrated Sciences and Assessments, or CISA, team is working with volunteers throughout the Carolinas to improve our understanding of how drought impacts ecosystems and communities. Using tools developed by the Community Collaborative Rain, Hail, and Snow (CoCoRaHS) network, citizen scientists take daily rainfall measurements and submit weekly condition monitoring reports to share information about how recent rainfall, or a lack thereof, has affected the plants, animals, and people in their area. This project is part of the National Integrated Drought Information System (NIDIS) Carolinas Drought Early Warning System (DEWS) program.
Regular reporting helps us to identify expected seasonal changes, such as soils generally being drier in the summer because of hotter weather, longer days, and more evaporation, versus changes caused by unseasonably wet or dry weather conditions. Reports can also reveal the onset, intensification, or recovery from wetter- or drier-than-normal conditions.
Here is an example of a recent report from an observer in Transylvania County, NC:
When turning [my] garden for fall planting, no moisture in first 10-12 inches of soil. No worms observed. Soil VERY dry.

Report date: October 10, 2016
This type of reporting is helpful because it not only gives information about the soil moisture (dry) but how deep the dryness extends and the types of impacts this is having on animal life (such as worms). When we combine this with other information, such as above- or below-normal rainfall amounts and streamflow levels in the area, it gives a more complete picture of the level of dryness in that location. This is particularly useful in places like the mountains, where elevation differences can lead to lots of variation over short distances.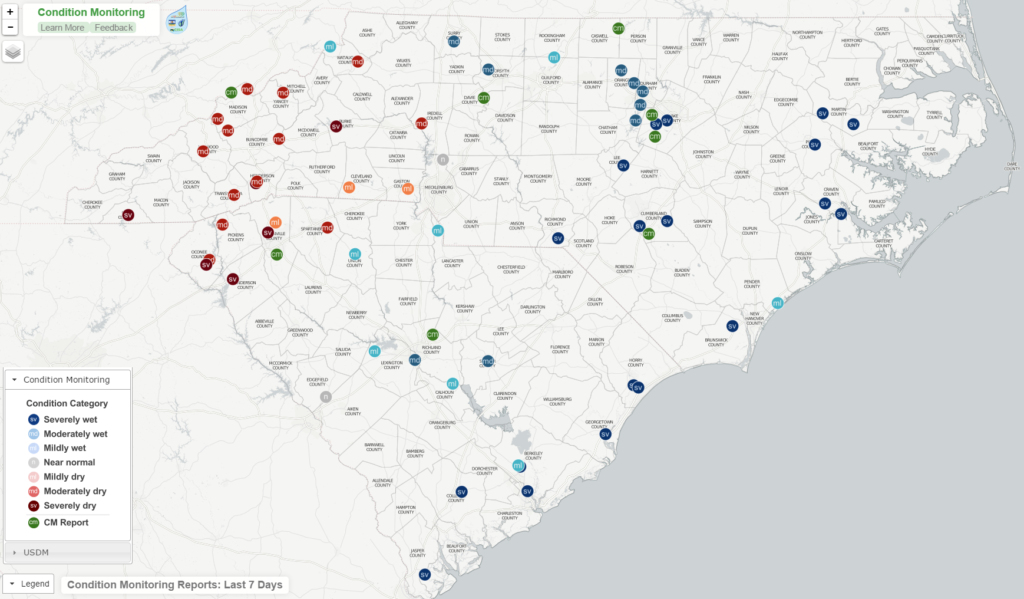 CoCoRaHS Condition Monitoring reports are also helpful when a place is coming out of a drought. This is the case with the following report, which was submitted by an observer in Wake County in early September following Tropical Storm Hermine's rains. It gives specific information about how much rain fell and how conditions responded:
Tropical Storm Hermine brought us over 2 inches of rain yesterday spread over 17 hours, so ground moisture levels are back to normal levels. There was very little run-off and no flooding in our area from this storm system so most of the rainfall was absorbed into the ground. The winds with the storm knocked some leaves and branches off the trees but no other damage was observed. The stream and pond are both full with a moderate flow of water coming down the stream. The water in both is quite clear with a slight brown tinting. Fish and turtles were seen in the pond. The great blue heron was seen fishing in the rain yesterday, apparently with some success. Birds of various types are at the feeders. Flowers and shrubs are flourishing again.

Report date: September 3, 2016
The information that volunteers submit is used by state climate offices, National Weather Service offices, US Drought Monitor authors, and others to help inform drought-related decisions. Since 2013, volunteers in the Carolinas have provided over 1,500 reports about how weather affects their communities!
What's Next
In "Phase 2" of the project, here's what you can expect: a web map developed to display reports spatially, new volunteers recruited to test the new reporting tools and format, volunteer surveys to get feedback about your experiences with the project, and feedback interviews conducted to understand how the new tools are used for drought monitoring and management decisions.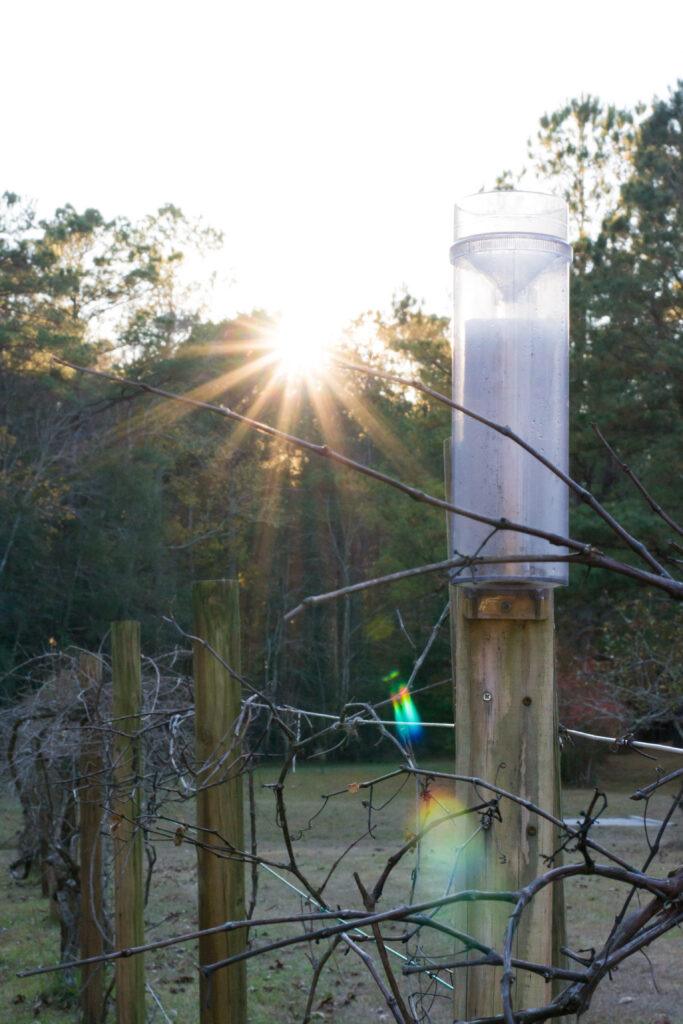 If you're already a CoCoRaHS Condition Monitoring volunteer, we'd like to take a moment to say THANK YOU! All of your efforts in reporting have provided much appreciated weather and climate observations.