Cloud cover reigned in May, keeping high temperatures down and showers moving through regularly.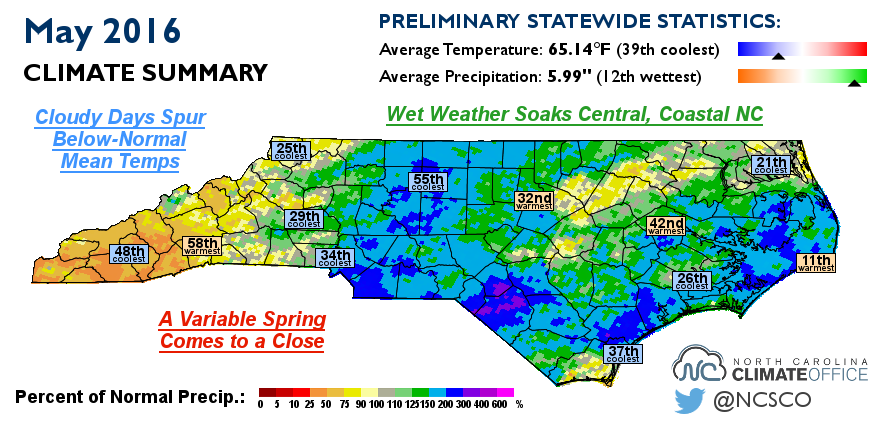 Cloudy Days Spur Below-Normal Mean Temps
While May can sometimes feel quite summer-like in North Carolina, that wasn't the case last month. The statewide average temperature was 65.14°F, ranking as the 39th-coolest May in North Carolina since 1895.
A number of locations had one of their top-ten coolest Mays on record based on maximum temperature rankings. Notably, Marion's average highs ranked 7th coolest out of 110 years of record, Statesville ranked 8th coolest out of 109 years of record, and Mount Airy ranked 10th coolest out of 117 years of record.
The main culprit behind those below-normal temperatures was an abundance of cloud cover. While clouds kept nighttime temperatures warmer, they kept our afternoon highs on the cool side.
Just how prevalent was the cloud cover last month? Out of the 465 daytime hours, the Greensboro Airport reported 333 hours (72%) with mostly cloudy or overcast sky conditions. Raleigh had 320 such hours (69%) and Charlotte had 274 mostly cloudy or overcast daytime hours (59%). The last time we had such widespread cloud cover in May was in 2003, which was another cool, wet month.
With so many cool, cloudy afternoons last month, most of the state has yet to hit the 90°F mark this year. Wilmington got up to 91°F on May 9 and Lumberton has hit 90°F or higher on six days, but hasn't exceeded 91°F to this point. On average, our first 90°F day typically occurs in mid to late May, so the rest of the Coastal Plain and Piedmont will hit that mark a bit later than normal this year.
Wet Weather Soaks Central, Coastal NC
Last month's clouds also brought some showers and storms, leading to a wet month overall. The average statewide precipitation of 5.99 inches ranks as the 12th-wettest May in the past 122 years.
The month began with some severe storms that brought large hail across the state. In a recent blog post, we described how the right atmospheric ingredients, including strong updrafts and cool temperatures aloft, make hail so frequent in May.
May's rains helped quell the expanding dryness across much of the state, but the far western part of the Mountains remains in Moderate Drought after another dry month. Cullowhee received just 2.04 inches of rain all month, ranking as the 14th-driest May in the past 105 years.

The month finished with heavy rains along the immediate coast from the slow-moving remnants of Tropical Storm Bonnie, which made landfall near Charleston, SC, on May 29. Hatteras received 7.09 inches of rain on May 30. According to the Southeast Regional Climate Center, that ranks as the 11th-highest single-day precipitation total at that site since 1893.
Bonnie formed about a week before the traditional June 1 start of Atlantic hurricane season, but it's not unusual to see a storm that early, particularly along the southeast coast. Last year, Tropical Storm Ana formed from a low pressure system over the Bahamas before making landfall near Myrtle Beach. Prior to that, tropical storms Alberto and Beryl in 2012 plus Subtropical Storm Andrea in 2007 all formed in May over the warm waters of the Gulf Stream.
A Variable Spring Comes to a Close
After such cool, wet weather in May, it's almost hard to remember that conditions were quite the opposite just three months ago. Spring-like weather was indeed quick to arrive in March, and while temperatures returned to near-normal levels in April, dry weather continued as we crossed the midway point of the season.
The preliminary seasonal statistics average out a lot of the variability, but they still show a warm, dry spring overall. The statewide average temperature of 59.33°F ranks as our 27th-warmest spring since 1895, and our average precipitation of 10.56 inches ranks as the 37th-driest spring on record.
Many sites with shorter periods of record finished with one of their top-ten warmest springs on record. And there was a large spread in the precipitation rankings from the Mountains, where several sites had one of their top five driest springs on record, to the coast, where Hatteras had its third-wettest spring in the past 122 years.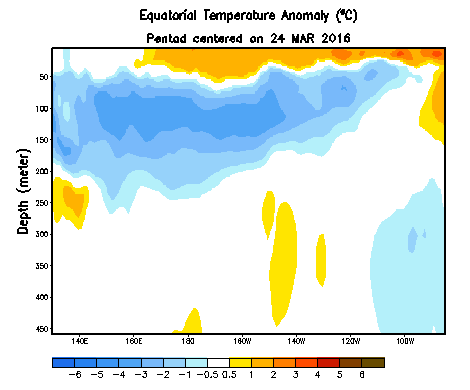 Some of our month-to-month variability was due to the influence of El Niño, or the lack thereof. As cool water in the Pacific Ocean eroded the lingering warm pool near the equator, the El Niño event from the winter rapidly faded away, leaving us with neutral ENSO conditions as we head into the summer.
Those neutral conditions may not last for long, though. Forecasts show about a three-out-of-four chance of a La Niña event, characterized by cooler-than-normal Pacific sea surface temperatures, emerging by this fall.
We will have more on what this forecast could mean for us in our summer and tropical outlook blog post, coming next week. Also, stay tuned to the blog as we pay our respects to the recently departed El Niño in another post coming soon.