This year's Winter Outlook series concludes with the official outlook from our office.
Over the past two weeks, we've laid out the puzzle pieces for this year's Winter Outlook. Now we're ready to put them together and outline our predictions for the coming winter. First, let's review the background from our Outlook posts so far:
A Strong El Niño in Place
The current El Niño event is on track to be the second-strongest since 1950. The warm sea surface temperatures in the central equatorial Pacific should reach their peak strength by mid-winter. The atmospheric connections of this oceanic event should bring winter-long impacts — namely, an enhanced and active storm track over the Gulf of Mexico and Atlantic coast.
Warm water off the west coast of North America — characteristic of a positive-phase Pacific Decadal Oscillation — should help enhance the effects of El Niño. In addition, this should support ridging over the Western US and troughing in the East, which would help funnel colder air down the east coast.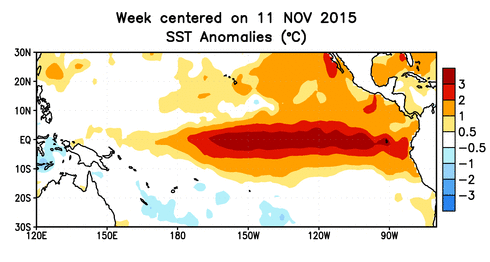 Polar Patterns Set for Mid-Winter Awakening
Cold air can also become available when the polar vortex weakens, the polar jet stream relaxes, and patterns such as the Arctic Oscillation (AO) and North Atlantic Oscillation (NAO) enter a favorable configuration for Arctic air to surge southward.
These patterns can change quickly and are often tough to predict far in advance, but researchers have found three key atmospheric precursors of a weakening wintertime polar vortex.
Two of those three ingredients are in place this fall. The strong El Niño should help build a persistent North Pacific low, and above-normal Siberian snowfall in October should help establish an Eastern European high. Both features can help weaken the polar vortex, which can eventually force it into a weaker, wavier configuration that favors that cold air diving south.
The key word there is eventually. These features don't always have an immediate impact, so even in years with favorable patterns, December is rarely cold and wintry in North Carolina. For that reason, we're expecting that our major wintry weather chances may not begin until January.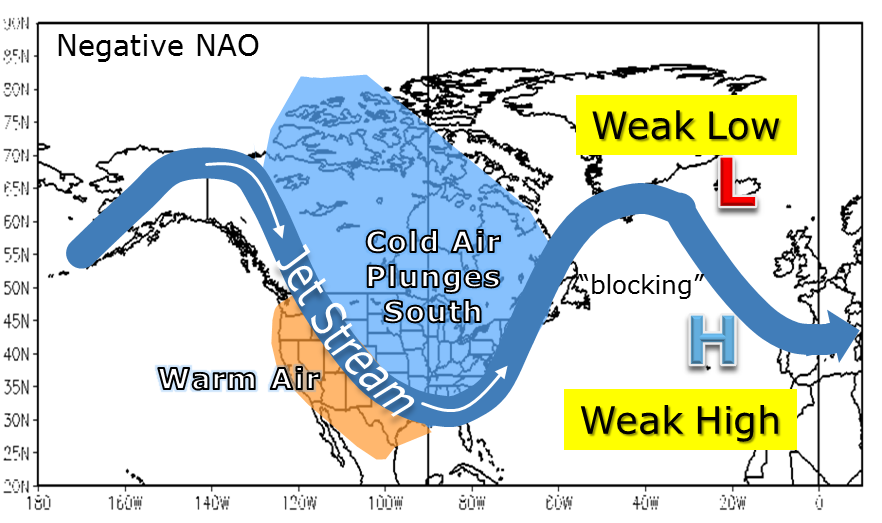 Analog Years Were Generally Wet and Snowy
To see the possibilities for this winter, we identified five past years with moderate to strong El Niño events and varying polar conditions. Several common themes emerged from these years.
Four of the five had a warm December followed by a cool January and February. Four of them also had near- to above-normal precipitation.
Each winter had at least two major accumulating snow events somewhere in the state. Not every year was snowier than normal — the 1997-98 winter had little snow outside the mountains — but on average, they produced above-normal snowfall across the state.
More than 70% of the wintry events in these years came from late December to late January, further suggesting that's the time to watch for wintry weather chances to emerge this year.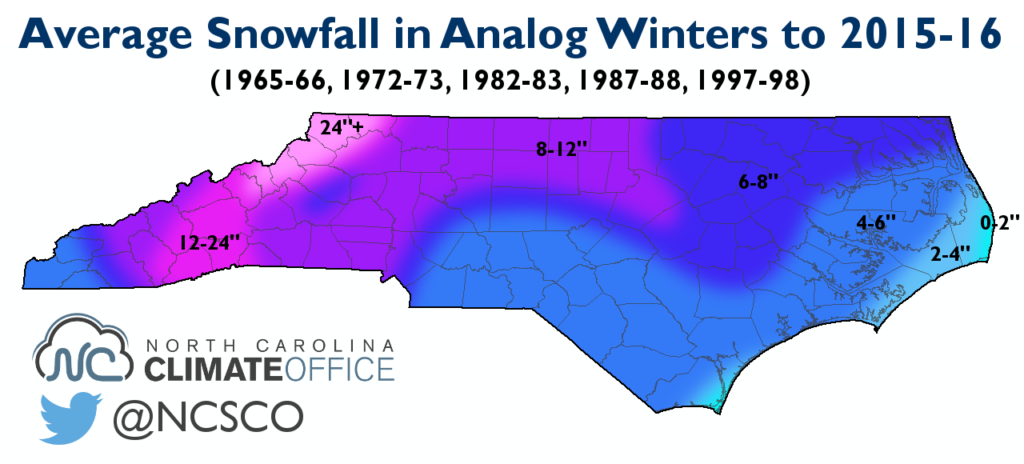 Our Outlook
Even though meteorological winter begins December 1st, don't expect an immediate shift to a wintry pattern then. We expect near- to above-normal temperatures this December with few to no wintry events, thanks in part to a strong polar vortex and more northerly storm track for most of the month.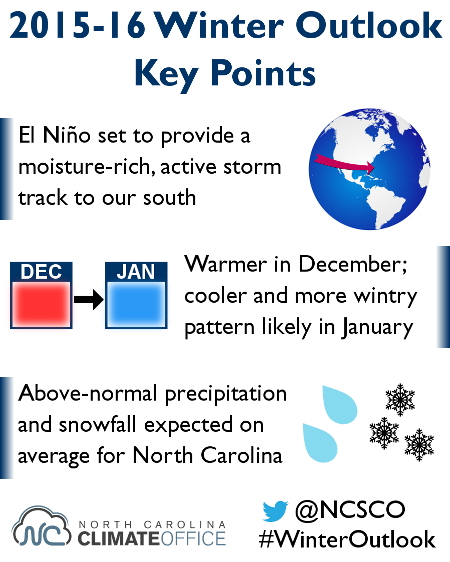 Several indicators suggest that January will see a transition to a colder and more wintry pattern. As the atmospheric impacts of El Niño and Siberian snow accumulations kick in, polar conditions should become more favorable to supplying cold air across the Southeast US.
We anticipate the favorable wintry regime will continue into February, with ongoing potential for cold air to interact with moisture-laden coastal storms.
As the current El Niño event weakens heading into March, the active storm track and cold air availability is also expected to wane, likely signaling an end to wintry potential. This could happen as early as mid-to-late February or possibly early March.
The Bottom Line
We have high confidence in seeing a wet winter with numerous precipitation events — both liquid and frozen — thanks to the El Niño-strengthened southerly storm track. Our confidence in this wet forecast for the Mountains is slightly lower since El Niño's impacts are often lessened along and west of the Appalachians.

Even one or two significant wintry events would likely bring above-normal snowfall, which we expect will be the case for North Carolina, on average. Of course, mixed precipitation — sleet or freezing rain — could hinder local snow totals like we saw last winter.

While the coolest temperatures relative to normal should also come during January and February, we have lower confidence in an overall winter temperature forecast. We expect equal chances of winter average temperatures being above or below normal, matching the mixed guidance provided by the closest analog years.
Keep following the Climate Blog this winter for updates on the weather and global patterns. To receive the latest updates, subscribe to the blog or follow us on Twitter @NCSCO.