More rain in November continued this fall's wet pattern.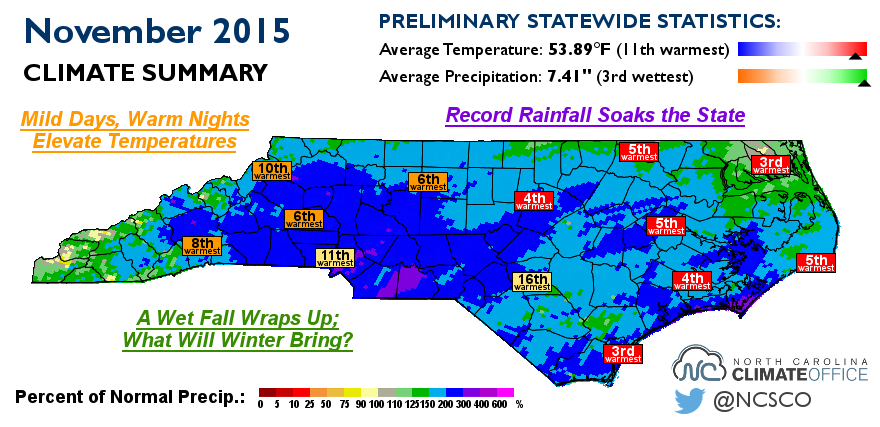 Mild Days, Warm Nights Elevate Temperatures
While the waning daylight hours and fallen leaves made it look like the end of fall or beginning of winter, it certainly didn't feel that way for most of the month. The statewide average temperature of 53.89°F ranks as the 11th-warmest November in the past 121 years. Raleigh, Wilmington, Greenville, and Hatteras all had one of their top five warmest Novembers on record.
A persistent feed of warm, moist air off the Gulf of Mexico and the Atlantic resulted in mild high temperatures mainly in the 60s and 70s, along with cloudy nights that kept low temperatures up as well. Most locations had mean temperatures 3 to 5°F above normal.
Although cold nights were scarce last month — even Asheville had just eight days with lows at or below freezing — a few nights with widespread cold temperatures brought the first fall freeze to the entire state outside of the Outer Banks. That ended the growing season, which began with an emerging drought in the spring and ended with abundant rains this fall.
Record Rainfall Soaks the State
Several heavy rain events last month gave a statewide average precipitation of 7.41 inches, making it the 3rd-wettest November on record in North Carolina.
At least 10 sites across the state recorded their wettest November on record. That includes Brevard (13.32 inches) and Asheville (7.82 inches) in the Mountains, Charlotte (10.04 inches) and Hickory (7.95 inches) in the Piedmont, and Morehead City (12.30 inches) and Kinston (10.05 inches) in the Coastal Plain.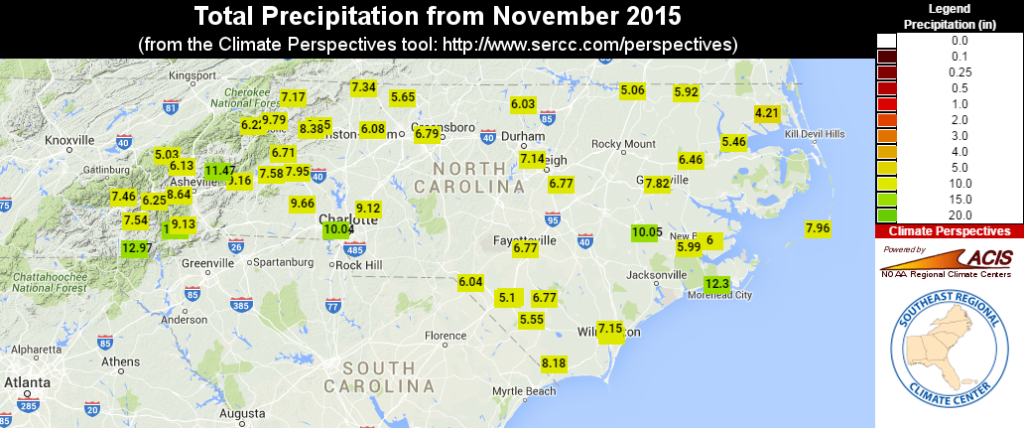 Most other locations had one of their top five wettest Novembers on record. Stations with more than 100 years of observations in Mount Airy (7.34 inches; 2nd-wettest), Highlands (12.97 inches; 4th-wettest), and Marion (9.16 inches; 4th-wettest) all had near-record November rains.
Growers and agricultural extension agents across the state reported a delayed harvest of cotton, peanuts, soybeans, and sweet potatoes due to wet fields. Planting of winter wheat has also been delayed, and poor growing conditions are reported due to the saturated soils.
A Wet Fall Wraps Up; What Will Winter Bring?
Although our summer was on the dry side, by mid September, the pattern changed to a much wetter one. Torrential rains occurred across the Carolinas through early October, and regular precipitation since then continued a rainy regime, which washed away all signs of dryness from the summer.
From September through November, the statewide average precipitation of 20.30 inches made it the wettest fall on record for North Carolina. During the same period, the average temperature of 61.20°F ranked as the 23rd-warmest fall on record.
The record rainfall came without any contribution from tropical systems passing over the state, which makes the totals all the more impressive. Among the top 10 wettest falls on record, seven had at least one tropical storm affecting North Carolina, and several — such as 1999 with Dennis and Floyd — had multiple storms passing through.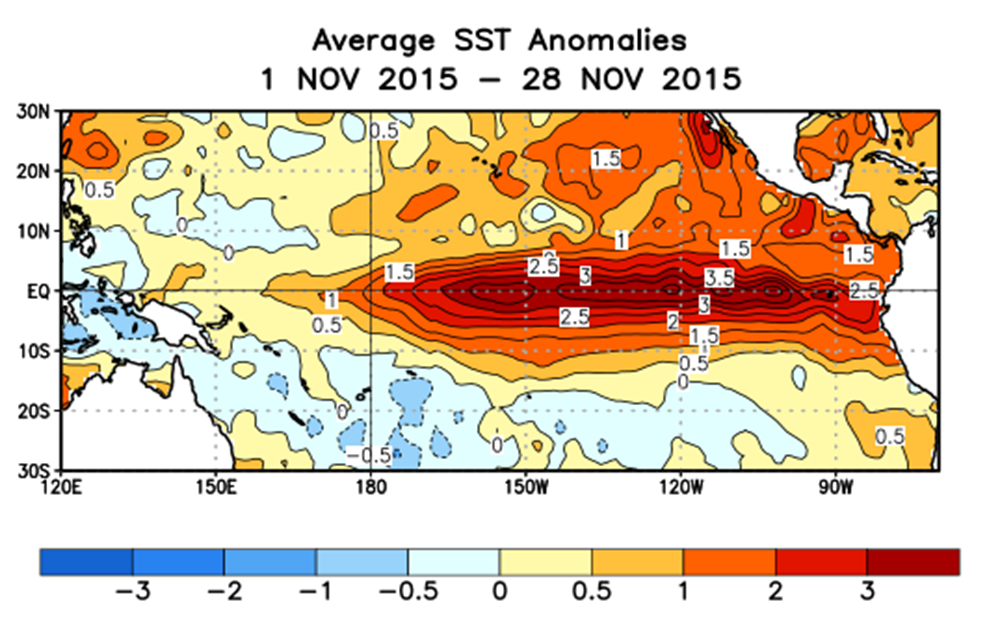 Our wet pattern could be a sign of the early effects of this year's near-record strength El Niño event. In the Southeast US, our primary impact from El Niño is a moisture-rich southern storm track, and that's exactly what we've seen over the past few months.
We expect similar conditions this winter, with potential for colder air to be in place for parts of January and February that could enhance our chances of seeing frozen precipitation. If you missed it, our recent Winter Outlook detailed the factors likely to affect our weather this winter and our predictions for this season.