A small area of North Carolina is in Severe Drought, according to this week's release of the US Drought Monitor. Today's post summarizes why this area is in drought, whether it will end soon, and what you can do to prepare for emerging impacts.
Deteriorating Conditions
Below-normal precipitation combined with warmer-than-normal temperatures have continued over the southwestern Piedmont of North Carolina since a Moderate Drought was first indicated in this region about a month ago. This has led to continued declines in streamflows and groundwater levels, and on-the-ground impacts are becoming more noticeable, especially to agriculture.

Condition monitoring reports from CoCoRaHS observers have made note of yellowing lawns, the need to water garden plants, and even some trees starting to drop their leaves early in response to moisture and heat stress in the drought-affected region of the state. Agricultural reports indicate crops are starting to suffer in response to the dry, hot conditions. Based on these reports and the status of drought indicators such as the Standardized Precipitation Index, Cleveland, Gaston, and Lincoln counties have been designated as being in a Severe Drought (D2) in this week's US Drought Monitor map.
The last time NC saw Severe Drought conditions was January 15th, 2013, when portions of Mecklenburg, Union, and Cabarrus counties were in severe drought, with many more counties in the Piedmont in moderate drought. That year, drought conditions emerged in the fall and worsened during a dry winter, but were gone by the following summer. The last time NC saw a drought reach Severe Drought status in the summer was in 2011 in eastern NC.
Looking at drought conditions over the last 15 years, it's clear that the state experiences abnormally dry to moderate drought conditions with some regularity, while the more serious categories — Severe, Extreme, and Exceptional Drought — all occur with less frequency. The US Drought Monitor website has a tool where you can view the historical percentage of your county (or state, as shown below) that's been covered by drought; we've grabbed the time series for Cleveland, Gaston, and Lincoln counties.

What Forecasts Suggest
Unfortunately, we still don't know exactly when the drought conditions will end. Summer is a difficult time to forecast over longer periods because there aren't many large-scale patterns that drive our weather to offer guidance. Both the 1-month and 3-month outlooks from NOAA's Climate Prediction Center are calling for above average temperatures in the eastern two-thirds of North Carolina with equal chances for above, below, or normal temperatures to the west. The 1-month and 3-month precipitation outlooks have even less guidance: equal chances for above, below, or normal precipitation across the state.
Forecasts for the next couple of days are calling for a slight chance of showers and thunderstorms nearly every day across the state in a somewhat typical summertime pattern. Southeastern NC is forecasted to see over an inch of precipitation over the next 7 days, but drought-affected areas likely won't be as fortunate. Slightly beyond this time period, outlooks also suggest below-normal precipitation is slightly more likely in the southwestern part of the state, combined with above-normal temperatures across the state. This suggests drought conditions in the western part of the state may persist or even worsen over the next few weeks.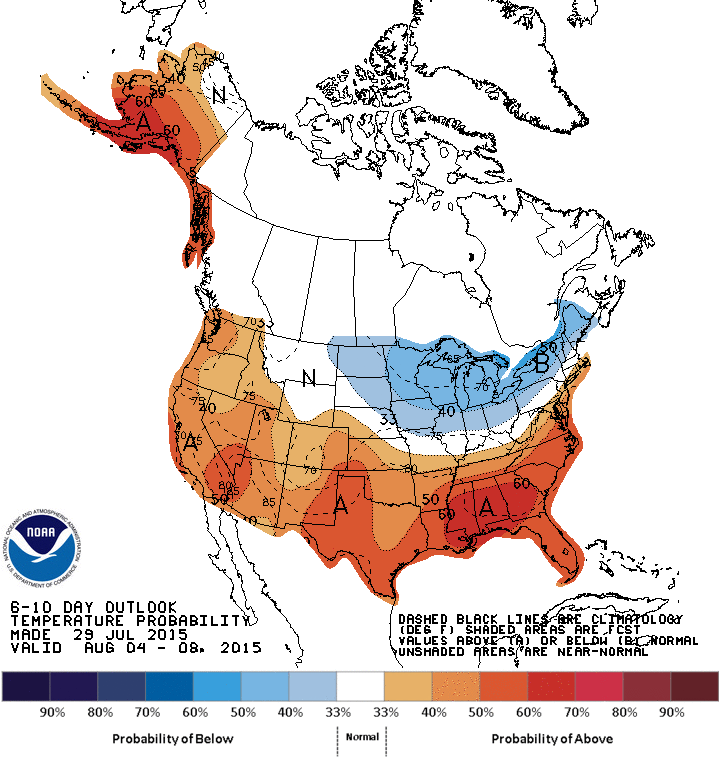 El Niño conditions continue to strengthen in the Pacific and we're seeing impacts in the form of increased wind shear of the tropical Atlantic Ocean, making it hard for tropical storms to develop. We generally receive beneficial rains from these systems every year, whether as a direct landfall or as the remnants of a system moving up to the coast or across the Southeast. With lower potential for storms to develop, we might not see relief from these types of systems in the fall. The good news is that El Niño does tend to bring more precipitation and cooler temperatures to North Carolina — and much of the Southeast — during the winter. So, if we're still seeing impacts by the time winter rolls around, El Niño may lead to more precipitation to recharge our soils, reservoirs, and groundwater.
What You Can Do
We'll likely continue to see impacts to agriculture in the drought-affected parts of the state, whether or not we see alleviating rains in the next couple of weeks. Voluntary, and even some mandatory, water use restrictions are in place in parts of Mecklenburg and Gaston counties due to the drought. The NC Department of Environment and Natural Resources keeps an updated listing of current water conservation level statuses across the state that you can easily view. Whether or not you live in an area that's currently affected by drought, it's never a bad time to conserve water.
If you're unsure where to begin, North Carolina's SaveWaterNC page is a great place to start. If you'd like to report on conditions in your own backyard or area, consider submitting information to the National Drought Mitigation Center's Drought Impact Reporter or join CoCoRaHS and submit a drought report.