December was a fairly quiet month weather-wise, with temperatures running a few degrees above normal, especially in the west, and precipitation late in the month for eastern North Carolina.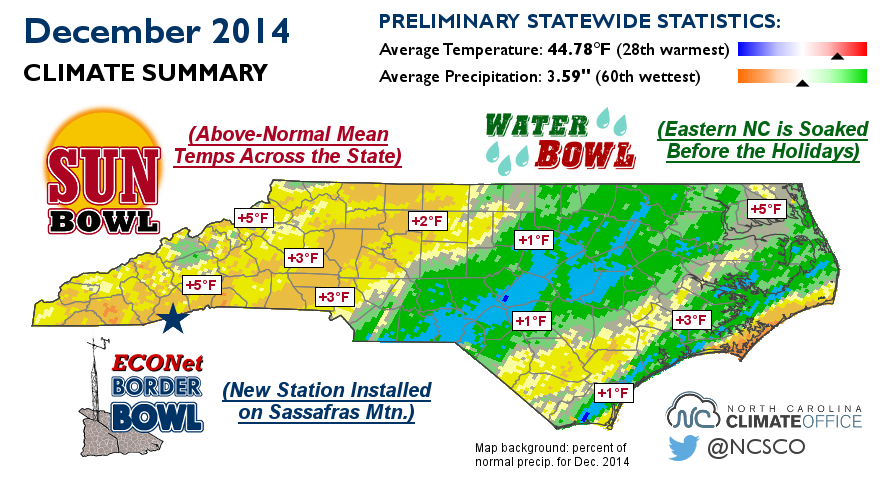 Sun Bowl: Above-Normal Mean Temps Across the State
On the heels of one of our coldest Novembers on record, December finished as the 28th-warmest since 1895. Interestingly, both months had a nearly identical statewide average temperature of around 44.8°F.
So what drove our above-normal mean temperatures last month?
Our high temperatures weren't exceedingly warm; in fact, several cold air damming events occasionally kept highs in the 30s or 40s across most of the state. However, low temperatures were on the warm side, as a number of stations reported one of their top-ten warmest Decembers based on the daily minimums. Several high-elevation sites had lows averaging up to 8 degrees above normal. Mount Mitchell never dropped below 10°F all month, which is only the third time that's happened there in the past 35 years, joining December 2011 and 1994.
Despite the overall warm ranking, it was actually our coolest December since 2010, when we had our 3rd-coolest December on record. More recently, 2011 was the 14th-warmest, 2012 was the 9th-warmest, and 2013 had the 25th-warmest December on record for North Carolina.

Water Bowl: Eastern NC is Soaked Before the Holidays
Regular rainfall meant that we finished December with near-normal precipitation. The most substantial rain event came from December 22nd through 24th. Moisture from the Gulf of Mexico moved in ahead of a cold front, bringing several inches of rain across parts of eastern NC. Raleigh received 3.11 inches, Fayetteville got 4.11 inches, and Wilmington received 4.38 inches of rain during that event.
That late-month rainfall meant a reduction in Abnormally Dry conditions according to the US Drought Monitor, although persistent dryness remains across the northwest Piedmont and the central Coastal Plain. The mountains were also on the dry side during December, and many ski resorts saw an inch or less of snow all month. That has meant that most are producing their own snow to keep the slopes ready for skiers.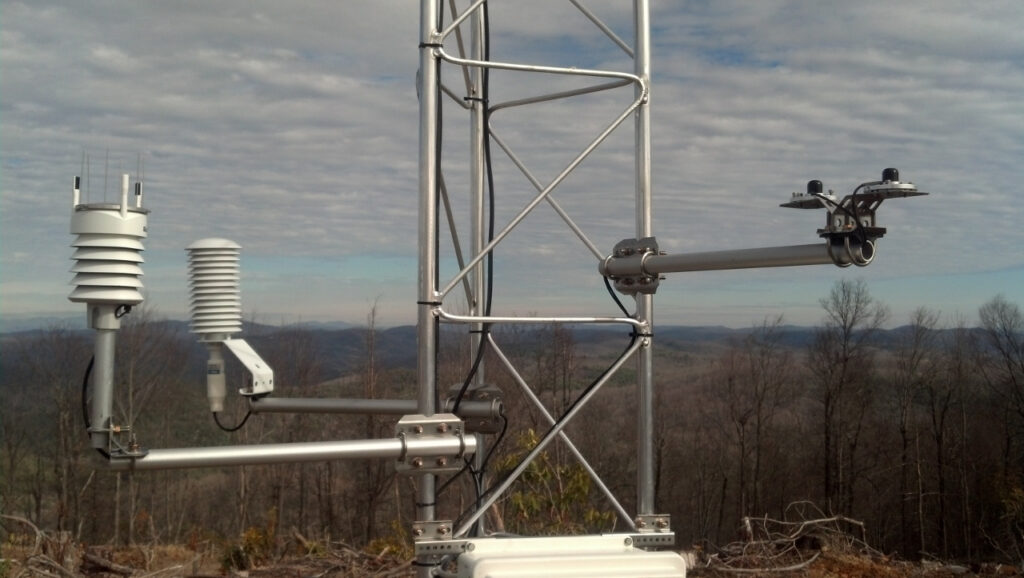 ECONet Border Bowl: New Station Installed on Sassafras Mountain
For the first time, the NC ECONet — the set of 39 weather stations we operate around the state — has expanded beyond North Carolina. Thanks to a partnership with the South Carolina Department of Natural Resources and their state climatologist Dr. Hope Mizzell, we installed an ECONet station on South Carolina soil last month.
The new site is on Sassafras Mountain, about 37 miles southwest of Asheville on the NC/SC border. It's the highest point in South Carolina, and our tower is at an elevation of 3,525 feet above sea level.
Thanks to a busy week of work by two of our scientists, the Sassafras station is now online and regularly reporting data. For more information about how we install our weather stations, check out our blog post about the Isothermal Community College installation from last August.