October saw several signs of fall across the state.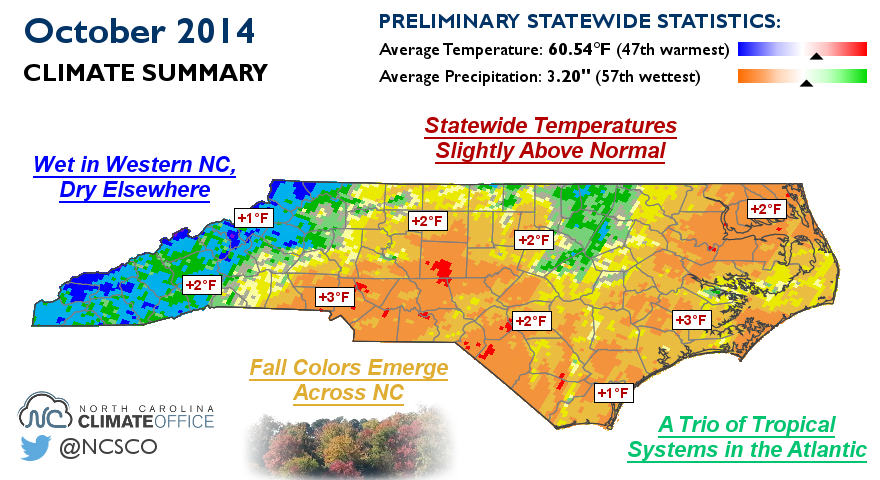 Statewide Temperatures Slightly Above Normal
Our October saw a mix of warm days with highs in the 80s and milder stretches of fall-like weather. Those averaged out to give a warmer-than-normal month, ranking as the 47th-warmest October in 120 years of record. Most locations had average mean temperatures one to three degrees above normal.
High temperatures were also on the warm side, and Raleigh, Charlotte, and Wilmington each had one of their top-10 warmest Octobers based on maximum temperatures. We generally avoided cold low temperatures, but a cool morning on October 5th brought the first frost and freeze to parts of the Mountains and Foothills.
Is our October weather a sign of things to come? Probably not. Historically, there is essentially no correlation between our October mean temperatures and November mean temperatures. Likewise, we see almost no relationship between October temperatures and temperatures in the following winter.
Wet in Western NC, Dry Elsewhere
An overall calm weather pattern meant less than three inches of rain fell across most of the state, making it the 57th-wettest (or 64th-driest) October on record. Weather stations in Elizabeth City and Plymouth recorded one of their top-10 driest Octobers on record, and many Piedmont and Coastal stations saw 7 or fewer days with measurable rainfall all month. As a result, most of the Piedmont is now classified under Abnormally Dry conditions by the U.S. Drought Monitor.
October's precipitation was largely dominated by a single event: a cold frontal passage on the 14th and 15th. Showers and storms along the front brought more than four inches of rain to parts of the Mountains and even spawned a tornado in McDowell County. The rest of the state received between half and inch and two inches of rain during that event but little other rain during the month.
Fall Colors Emerge Across NC
Leaf colors began to emerge across the state in October, beginning in the Mountains and slowly sweeping eastward. Higher elevations have passed the peak and dropped many of their leaves, but the best is yet to come for the rest of the state. Red maple trees are currently quite vibrant, and those colors should be accented by more yellows and coppers as oak and hickory trees change color.
Continuing dryness in and around the Triad that dates back to the early summer may have dulled some colors across that region, but our warm October seems to have limited an early leaf drop. Just keep the rakes handy, because the leaves will keep falling this month!
A Trio of Tropical Systems in the Atlantic
Following several weeks of inactivity, the tropical Atlantic suddenly saw two systems form around the same time in early October. Hurricane Fay skirted Bermuda as it curved through the central Atlantic, and Hurricane Gonzalo followed, making landfall in Bermuda less than one week later. Near the end of the month, a tropical disturbance meandering across Central America briefly became Tropical Storm Hanna before coming ashore near the Nicaragua-Honduras border.
The eight named storms through the end of October is tied for the third-fewest in the past 25 years. That doesn't mean we're done with tropical storms for the year, though: Fourteen of the past 25 years have seen tropical storms form after November 1st.