Monthly statistics for June 2013:
Statewide Average Precipitation: 8.86 inches (2nd wettest since 1895)
Statewide Average Temperature: 73.8 (59th coolest since 1895)
* Values generated from preliminary numbers
Temperatures Mostly Normal Across the State
Temperatures across the state in June 2013 were very different from those observed at the same time last year. While much of North Carolina was dealing with record-breaking temperatures in late June and into early July back in 2012, this year's temperatures were much more tame, as the statewide mean temperature for June 2013 fell in the middle of the pack. While most stations observed very normal temperatures last month, mean temperatures from a few stations ranked June 2013 in the top 10 warmest on record for the month. Locations that ranked in the top 10 warmest and had more than 50 years of observations were in Fletcher, Morehead City, and Cape Hatteras.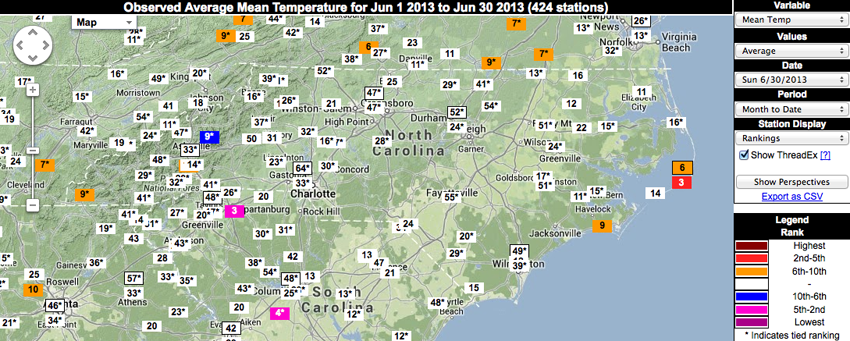 Ample Precipitation Brings NC Out of Drought
Tropical Storm Andrea passed through North Carolina on June 7th, effectively eliminating the abnormally dry conditions in the eastern part of the state. This marked the first time since April 2010 where no part of NC was experiencing drought. However, the wet pattern continued even after Andrea was long gone. Last month was marred with several storms that brought substantial rainfall all across the state, ultimately ranking June 2013 as the 2nd wettest June on record since 1895! Most stations ranked the month as one of their top 10 wettest on record, with precipitation for all stations across the state ranking in the top 25 wettest. Perhaps most notable are the stations for which total precipitation for June 2013 either broke records, or ranked 2nd. Those stations with a relatively long period of record — 50+ years of observations — are listed below (*indicates a broken record):
Asheboro (310286): 9.73 inches
Concord (311975): 14.48 inches*
Laurinburg (314860): 12.04 inches*
Lincolnton (314996): 7.72 inches
Raleigh (317069): 10.08 inches
Whiteville (319357): 13.47 inches*
Williamston (319440): 14.43 inches
Wilmington (319467): 15.86 inches*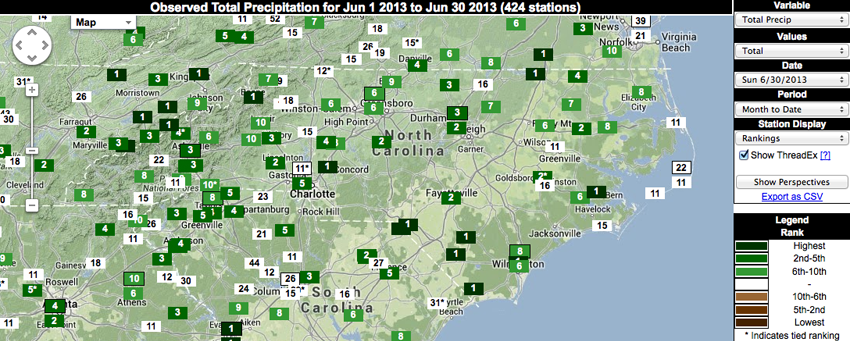 Storms Lead to Flooding, Damage Across NC
As previously mentioned, several storms moved across NC last month. These storms brought ample precipitation to the state — often leading to massive amounts of flooding — as well as hail, high winds, and in some cases, tornadoes and funnel clouds. A total of 360 reports of storm damage came in last month as a result of the heavy rains and high winds. These damage reports mostly consisted of downed trees and power lines, with a few reports of minor structural damage. Power outages were widespread after a line of strong storms moved across the state on June 13th, and storms on June 30th brought substantial flooding to parts of the central Piedmont.

Impacts to Agriculture and Water Resources
While the agricultural community would not fair well without rainfall, the high amounts observed in June 2013 posed quite a problem for most farmers across the state. Field work was next to impossible at times, and fertilizers often leached out due to the increased precipitation. The ample rains also made it difficult for the harvesting of wheat and the planting of other crops such as soybeans.
Streamflow values across the state remained well above normal throughout the month, with almost all NC sites reporting values in the 70th percentile or higher. Most groundwater wells showed substantially recovery as well, reporting either normal or above normal values for this time of year.