September's precipitation was dominated by Hurricane Ian, while fall-like temperatures accompanied the official season change. That has set us up for a timely leaf color transition this year.
Ian Stamps Out Re-Emerging Drought
A stretch of dry weather through most of September abruptly ended with a tropical torrent on the last day of the month. According to the National Centers for Environmental Information (NCEI), the statewide average precipitation of 3.84 inches ranks as our 60th-driest September since 1895. Note that some of Ian's rain fell after midnight on October 1, so it will count toward the October total.
The biggest rain event early in the month was in the southern Mountains on September 4-6. A stationary front parked across the region dropped more than 6 inches of rain in some areas, with the highest amounts in Transylvania County. A CoCoRaHS observer east of Brevard recorded a four-day total of 10.34 inches over Labor Day weekend.
After that, the middle of the month was especially dry thanks to a high-pressure pattern over the Carolinas. By September 21, Elizabeth City had received only 0.17 inches of rain all month, and the northeastern corner of the state fell back into Moderate Drought (D1) as those rainfall deficits and impacts to stream levels and crop conditions degraded.
Heading into the final day of September, parts of the state had seen less than an inch of rain all month, including just 0.78 inches in Raleigh following an August that was almost equally dry.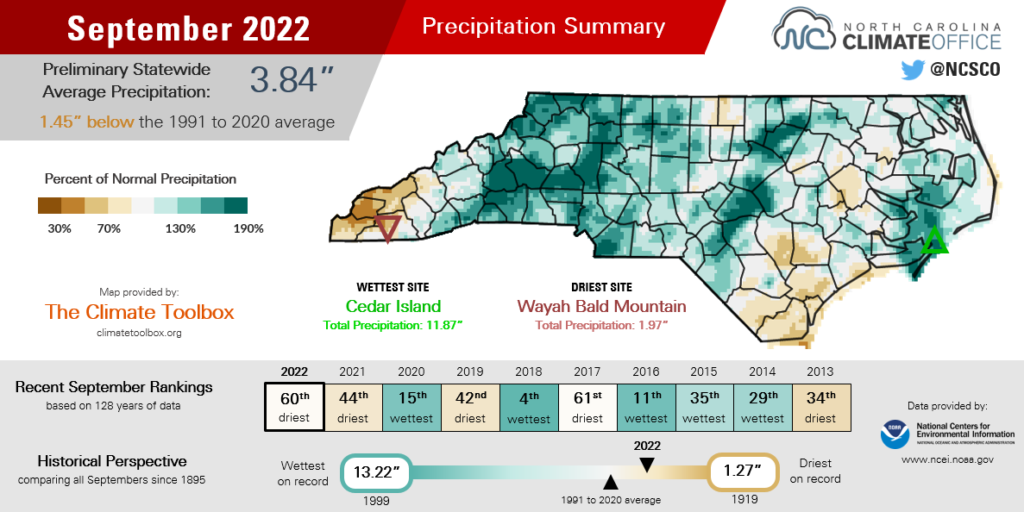 But on September 30, Hurricane Ian roared ashore in South Carolina and brought the month to a wet, windy end across North Carolina. Storm totals through the morning of October 1 exceeded six inches across parts of the Coastal Plain.
The 5.92 inches at Hatteras on September 30 was more rain than that site had received in the previous ten weeks combined. That was also the wettest single day there since May 30, 2016, when Tropical Storm Bonnie passed just offshore.
Elizabeth City also rebounded thanks to Ian and finished the month with 4.49 inches, on par with the normal September rainfall of 4.52 inches.
At some coastal sites, Ian alone wasn't enough to completely recover from the dry start to the month. Wilmington had 5.15 inches total compared to a monthly normal of 8.69 inches, and Greenville finished 2.75 inches below normal, despite the 3.4-inch total from Ian on September 30.
However, Ian certainly helped us avert an even drier September fate, and it washed away all drought across eastern North Carolina. After the storm, streamflows surged and soil moisture levels were at or above normal except in parts of the Great Smoky Mountains. Those far western areas received little rain from Ian and have seen an introduction of Abnormally Dry (D0) conditions on the US Drought Monitor.

Ongoing Heat Gets an Autumn Adjustment
A summer-like start to September was balanced by a fall-like final week. For the month as a whole, NCEI reports a statewide average temperature of 70.5°F, or our 57th-warmest September in the past 128 years.
Early on, the heat showed no signs of going away, and September picked up where August left off. Charlotte had eight days in a nine-day period hit 90°F or higher between August 26 and September 3.
Wilmington had eight days all month with temperatures in the 90s, which has only happened three other times in September in the past 30 years – in 1993, 2010, and 2019.
The heat peaked on September 22, hitting 98°F in Raleigh, 96°F in Charlotte and Lumberton, and 94°F in Wilmington, each of which set or tied the daily record high.
Late that night, our temperatures came crashing down with a cold front that coincided with the equinox; more on that below. Our first fall air mass of the year meant high temperatures mostly in the 70s and dew points in the 30s and 40s for the last week of September.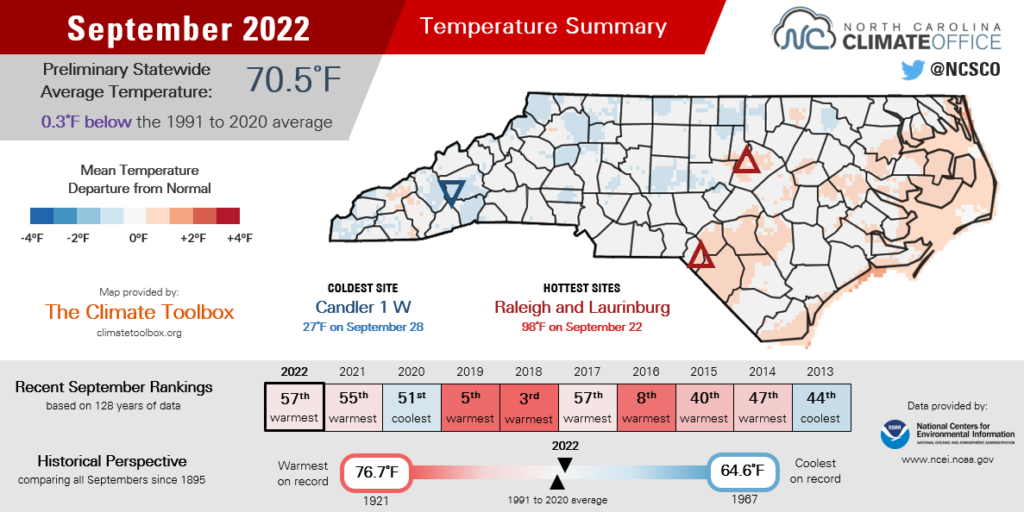 The end of the month even brought a wintry chill in some areas. As Canadian high pressure built in from the northwest on September 28, a few western sites saw temperatures at or below freezing.
Interestingly, it wasn't our mountaintop sites that saw the coldest temperatures, since a nose of warmer air beginning around half a mile above sea level kept sites like Bearwallow Mountain and Grandfather Mountain in the mid to upper 30s.
The coolest air sank in the surrounding valleys, and sites like Candler hit 27°F, Celo dipped down to 29°F, and Waynesville reached 30°F – its first below-freezing night of season, nearly two weeks before the average first fall freeze date of October 10.
That was also a big difference from where the month started. After its 4th-warmest summer on record based on the average low temperatures, Waynesville had a string of eight consecutive nights with temperatures in the 60s from September 4 through 11, well above the average September low temperature of 52.9°F.
That made fall's arrival feel even more abrupt – and welcome – across the state.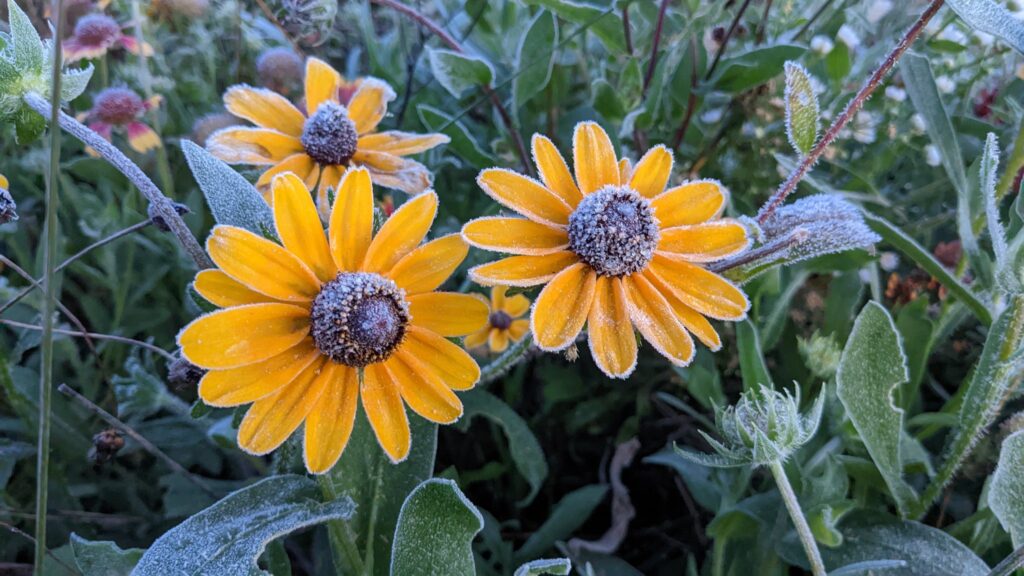 Fall Sends the Leaves into Action
We usually discuss seasons by their meteorological definition, grouped by calendar months for the sake of year-to-year consistency and climatological similarity. However, we couldn't help but notice that this year, the astronomical first day of fall – the equinox, when the sun crosses directly over the equator – was a much better match for our transition to fall-like weather.
On the afternoon of September 22, just before the equinox at 9:03 pm, temperatures climbed well into the 90s, beyond even our normal summertime levels. After that night's cold frontal passage, temperatures the next day were comfortably and seasonably in the 70s.
In Raleigh, the 23-degree difference between daily high temperatures of 98°F and 75°F was the greatest on either side of the fall equinox since 1995, when the high hit 87°F on September 22 and just 62°F the following day.
With the heat disappearing and yet to return, our fall-like weather has been a cue for leaves to begin their annual adjustment to shades of red, orange, and yellow.
As we've previously described with help from Appalachian State biology professor Dr. Howard Neufeld, green chlorophyll pigments in leaves begin eroding as days get shorter, temperatures get cooler, and enzymatic processes slow down.
That makes way for those other colors that either build up beginning in the spring or – as in red maples – start forming in the fall to prevent leaves from absorbing too much solar radiation.
This year, those natural cues have arrived right on schedule, and the leaves are already responding.
"We had nice, cool weather the last 7 to 10 days [of September]," said Neufeld, who noted an on-time arrival of peak color in the Boone area — around 3,000 feet in elevation — this week in mid-October.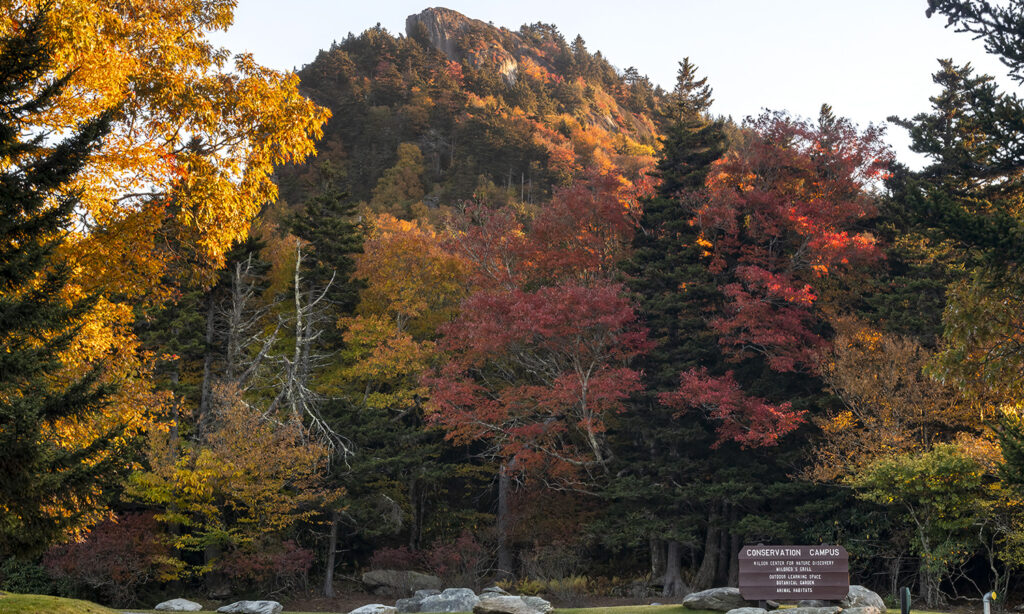 One wildcard with this year's weather was Ian's winds. Neufeld said that impact was felt mainly at high elevations, where leaves were already nearing their peak when the storm hit. That's because the color change process includes a breakdown of cell walls and leaves eventually being cut off from their trees as nutrients and water stop flowing back and forth.
"So if it gets rainy and windy near peak color, you can get a lot of leaf drop," he added.
Elsewhere, Ian had less of an impact, which gives even more hope for a vibrant show this fall.
"When leaves are green, they are still firmly held on the tree, and blustery winds and rain won't take down too many of them," said Neufeld. "Some, but not all."
For recently dry and drought-stricken areas, including parts of the eastern Piedmont and northern Coastal Plain, Neufeld said the rain should help prevent an early leaf drop from trees such as tulip poplars that are sensitive to dry conditions.
Barring a heat wave later this month, Neufeld expects a nearly on-time arrival of fall colors across the state. He'll be tracking conditions throughout the season in his Fall Color Report and Fall Color Guy Facebook page.
As those first shades of foliage show up this month, we can think back to that one September cold front on the first day of astronomical fall that got the ball rolling, and the leaves changing.