August ended with near-normal temperatures and precipitation across the state, on average, but all eyes are on Hurricane Dorian as it threatens the coast this week.
From Summer Heat to Fall-Like Temperatures
The hot weather that plagued our July backed off as the calendar turned to August, giving us more moderate weather over the past month. The preliminary average statewide temperature of 75.9°F ranked as our 56th-warmest (or 70th-coolest) August since 1895.
The Bermuda high pressure system spent much of the month close to its namesake island, which helped offered a break from the heat across North Carolina. On average, mean temperatures were generally within 2 degrees of normal, and most of the state never flirted with the hundred-degree heat we saw as recently as July 31.
We even received our first taste of fall late in the month, with high temperatures in the 70s from August 24-26 and lows dipping into the 50s on the morning of August 30. The former period was during our first cold air damming — or Appalachian wedge event — of the season.
High pressure to our north funneled cool air southward, which was anchored in place by the Appalachians. That produced several days of cloudy and often wet weather.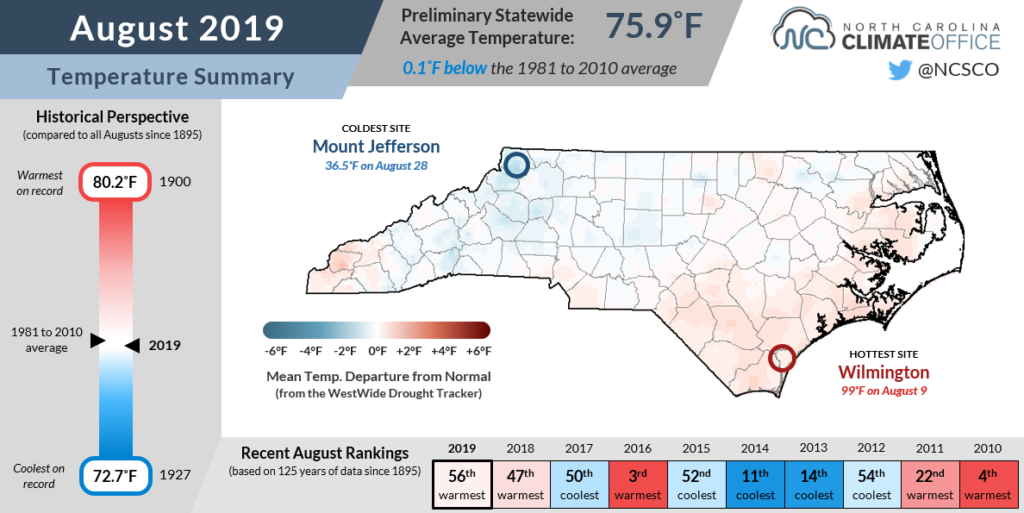 We also had some foggy weather, but if you're inclined to link that to potential snow this winter, take note: our analysis a few years ago found essentially no correlation between August fog and winter snow.
As we close in on the winter, we can at least expect temperatures to continue cooling off over the next month. In fact, our average temperatures drop by almost 10 degrees during September! That means highs going from the low to mid 80s to the low to mid 70s, and lows routinely hitting the mid-50s by the end of the month.
The current one-month outlook from the Climate Prediction Center does show slightly elevated chances of above-normal temperatures across North Carolina in September, but even if temperatures run a few degrees above normal, it shouldn't be as sweltering as the heat we felt earlier in the summer.
Hit-or-Miss Rain Patterns
Scattered rainfall throughout much of August left a few wet spots, a few dry spots, but near-normal precipitation overall. The preliminary statewide average precipitation of 4.85 inches was a quarter-inch below normal, ranking as our 57th-driest August out of the past 125 years.
Some parts of the state saw several heavy rain events as showers and thunderstorms moved through, putting them well above normal for the month. That includes Charlotte, which recorded 8.19 inches of rain and its 16th-wettest August out of the past 141 years.
Much of Pamlico County picked up nearly a foot of rain, including Reelsboro (11.88 inches) and Bayboro (11.58 inches), which had its 7th-wettest August based on records since 1969.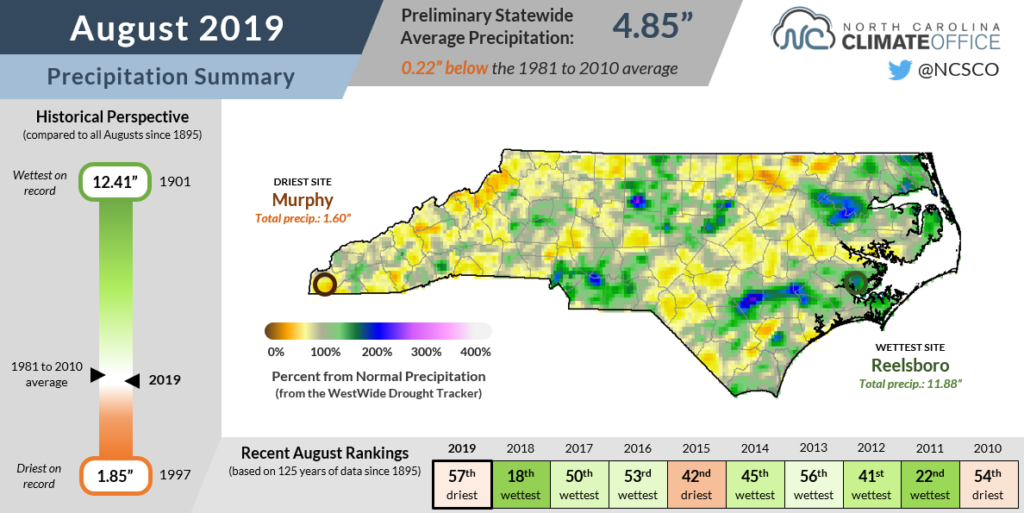 On the other hand, several areas missed much of that rain and finished August on the dry side. After a wet early summer, the Mountains have been drier recently. Murphy received only 1.60 inches of rain last month, ranking as its 5th-driest August in the past 51 years. Farther north, Banner Elk had 1.84 inches and its 9th-driest August dating back to 1908.
One month of dry weather isn't creating too many impacts in western North Carolina, but parts of the southern Coastal Plain remain Abnormally Dry or in Moderate Drought amid a dry pattern that began in some areas almost a year ago after Hurricane Florence hit.
The good news is that conditions have generally improved after a widespread 5 or more inches of rain fell last month. Recently planted crops such as soybeans benefitted from the rain, but it came too late for the early-summer corn crop, especially in drought-affected parts of Onslow, Pender, and Columbus counties.

Dorian Closing In
As August came to a close, Hurricane Dorian roared to rare strength in the eastern Atlantic. With maximum sustained winds of up to 184 mph, it became tied for the second-strongest Atlantic hurricane based on wind speed, joining four storms including 2005's Wilma to reach that intensity and trailing only Hurricane Allen from 1980.
As of this post's publication on September 3, Dorian was lingering off the Florida coast as a strong Category-4 storm. However, it is expected to turn northward and approach the North Carolina coast later this week.
Even if Dorian doesn't make landfall in the state, it is still likely to have widespread impacts.
Along with being battered by the storm's high winds and rain, the Outer Banks can expect an ocean-side surge ahead of the storm and a sound-side surge behind it, which increases the chances for overwash and erosion.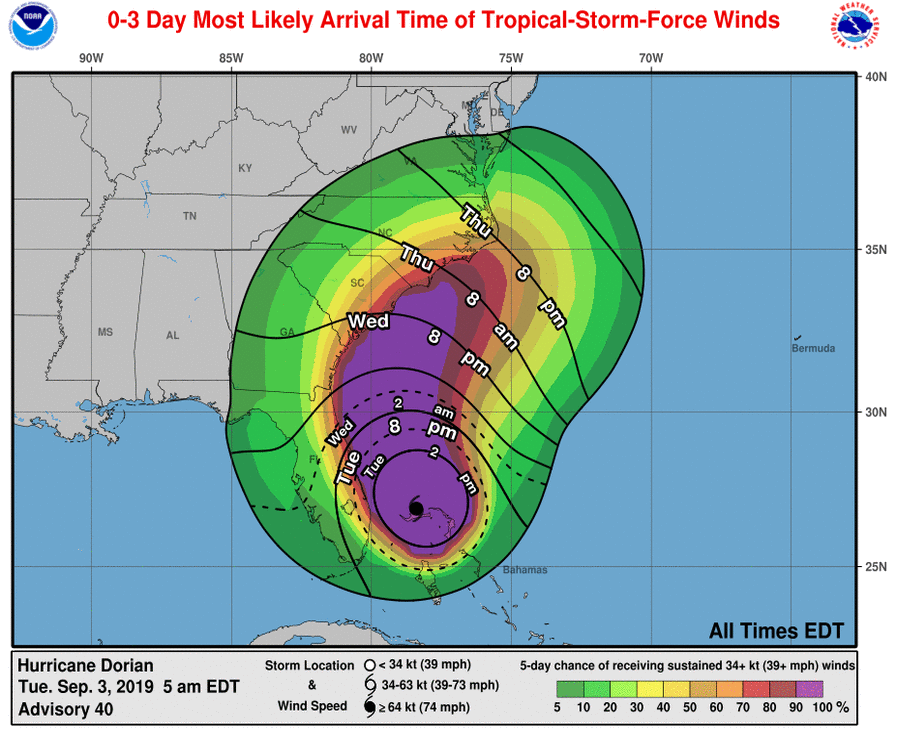 More than six inches of rain are possible along the coast, and while that could offer some drought relief, that much rain falling in just 24 to 48 hours could also cause localized flooding.
Gusty winds are possible even well inland from the storm, and especially with wet ground, falling trees and power outages are always possible.
Even areas well outside the cone of uncertainty — the predicted path of the storm's center with a diameter based on historical forecast errors — can have big impacts like we saw during Florence. In that event, the northern and central Piedmont were not included in the cone, but wet and windy weather still extended that far north.
Unlike Florence, Dorian will fortunately be a much faster-moving storm by the time it reaches North Carolina, so the worst impacts should be confined to a shorter window from late Wednesday night through early Friday afternoon.
For more information on how to prepare before the storm arrives and evacuation orders as they're posted, visit ReadyNC.org.
For more details about the storm's track as it moves up the coast, follow the National Hurricane Center, and for local forecasts, warnings, and impact information, consult your local National Weather Service office. The Raleigh, Wilmington, Morehead City, and Wakefield offices will all be tracking the storm as it approaches and affects North Carolina.