Last month saw a temperature roller coaster as well as near- to slightly below-normal rainfall across most of the state.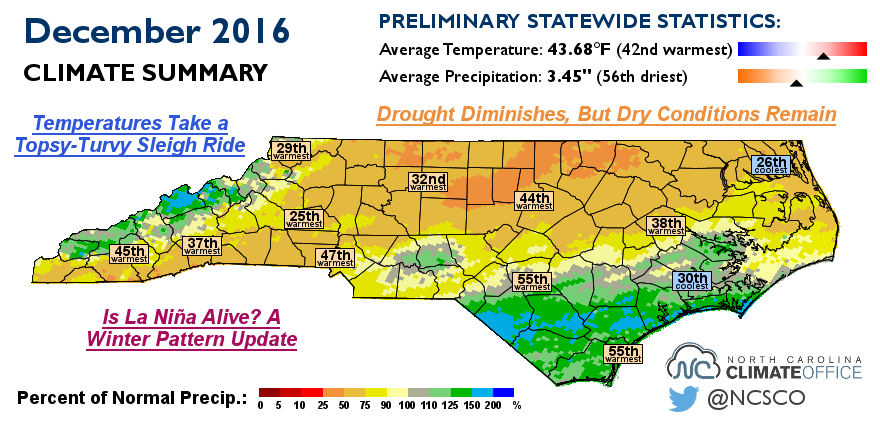 Temperatures Take a Topsy-Turvy Sleigh Ride
Unlike last December, which had record-setting warm weather throughout the month, last month had a mix of warm and cooler days that averaged out to be slightly warmer than normal. The statewide average temperature of 43.68°F ranks as the 42nd-warmest December out of the past 122 years.
Temperatures were up and down all month, often with big swings from day to day. High temperatures changed by 15 degrees or more from one day to the next a total of 6 times in Raleigh, 7 times in Greensboro, and 8 times in Wilmington (below).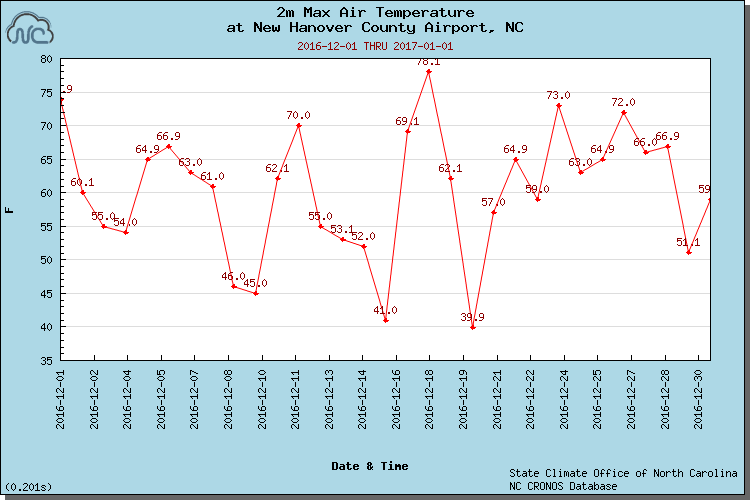 The greatest swing came in the middle of the month. Low temperatures bottomed out on the morning of December 16, dropping into the teens across the state. Just two days later, temperatures reached their monthly peak, hitting the upper 60s in the Mountains, the mid-70s across the Piedmont, and as high as 81°F along the coast in New Bern to set a new daily record high on the 18th.
Despite one or two flirtations with temperatures in the teens, last month's low temperatures were generally on the mild side. Most sites across the Piedmont had a dozen or fewer days with temperatures below freezing; most sites average 15 to 20 such days in December.
Drought Diminishes, But Dry Conditions Remain
After a particularly dry November, regular rainfall returned in December. However, mostly light rainfall intensities meant that conditions were still slightly drier than normal. The statewide average rainfall of 3.45 inches ranks as the 56th-driest — or 67th-wettest — December since 1895.
A handful of locations, mainly along the southern coast, did see above-normal rainfall during the month. With 5.36 inches of rain, Wilmington had its 20th-wettest December on record.
In the far western part of the state, near-normal rainfall resulted in improvements to the lingering drought. Cullowhee reported 4.48 inches of rainfall — right at its long-term average for December — and the Exceptional Drought (D4) conditions were reduced to Extreme Drought (D3) by the US Drought Monitor. In addition, Asheville and other parts of the southern Mountains that were in Extreme Drought just a month ago are now in Severe Drought (D2).

While one part of the state saw drought improvement, Abnormally Dry (D0) conditions expanded eastward to the I-95 corridor in the northern Piedmont and Coastal Plain. Just 1.5 inches of rain fell across that region, which led to increasing impacts as this CoCoRaHS Condition Monitoring report from Nash County suggests:
The creek near my house is starting to show signs of drying out. It's low from the bank and some areas in the middle are drying out from lack of rainfall. The soil is moist from recent light rain. The Tar River reservoir is lower than normal due to the lack of rain and the city draining it out for repairs. Several other creeks and ponds are starting to dry out.

From December 27
Is La Niña Alive? A Winter Pattern Update
The predominantly warm, dry weather in December matches with La Niña's typical impacts, but there may be more than meets the eye to the recent conditions. Although the Ohio Valley was wetter than normal last month, which we expect in La Niña winters, parts of the southern US from Texas across the Gulf Coast were even wetter, indicating at least a somewhat active storm track across that region. Only some of that precipitation reached North Carolina, but that still suggests that La Niña was far from the only factor influencing our weather last month.
As we start 2017, the La Niña remains quite weak with only a few bubbles of below-normal sea surface temperatures present. Model forecasts suggest that La Niña will further weaken over the next few months, which might make its impacts on our weather even more limited through the rest of this winter.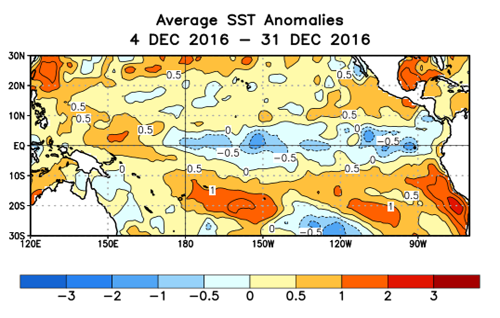 That means our weather could be more subject to the day-to-day whims of the upper atmosphere, including the polar vortex. Just like our mid-December warm-up was driven by a suddenly strengthening polar vortex, as is seen on this graph of the Arctic Oscillation Index, a weakening vortex — which is expected later this week — could bring colder, more wintry conditions.
Given that variability in the upper atmospheric patterns, we may continue to see more variable weather as well. So don't put that winter coat — or those short sleeves — back into storage quite yet. You may need them both in the coming weeks.