While the entire state of North Carolina continued to see above-normal temperatures last month, there was a big difference in precipitation from east to west.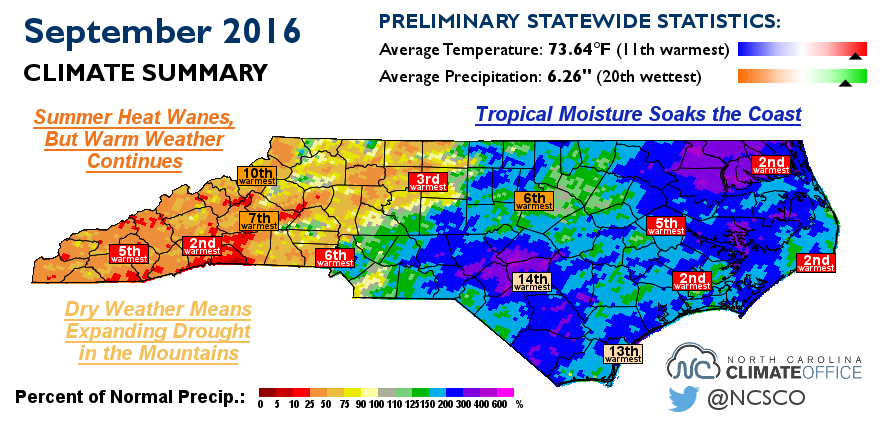 Summer Heat Wanes, But Warm Weather Continues
Last month, we transitioned from the summer to the fall, but our temperatures haven't exactly been in a hurry to respond to the changing seasons. The statewide average temperature was 73.64°F, which ranks as our 11th-warmest September on record since 1895. It was also our warmest September since 1933.
While our average high temperatures did finally fall out of the 90s, highs remained in the mid-80s through most of September. In the Mountains and Piedmont, the average highs were 3 to 8 degrees above normal. For reference, as we head into October, our normal high temperatures are in the low to mid 70s.
September's above-normal temperatures were exacerbated by the lingering humidity. The average relative humidity values last month in Greensboro (76.3%), Raleigh (76.7%), and Wilmington (82.6%) were the highest of any month so far this year. While the humidity generally drops as we head into the fall, the combination of Atlantic moisture moving inland and the new season's delayed arrival left us with a sticky September this year.
So will fall-like weather finally settle in during October? Not right away, at least according to NOAA's Climate Prediction Center and most climate forecast models. They show an upper-level ridge over the eastern US persisting through the middle of the month, which would allow more warm air to move in from our southwest. Because of that, the current outlook shows above-normal temperatures continuing into October.
Tropical Moisture Soaks the Coast
Precipitation was quite variable across North Carolina last month, with wet weather in the eastern half of the state and dry conditions in the west. However, the monthly average precipitation of 6.56 inches does rank on the wet side of normal, becoming our 20th-wettest September in the past 122 years.
The reported precipitation totals (below) show that some sites across the Coastal Plain received more than 10 inches of rain. Fayetteville experienced its 6th-wettest September since 1899, Greenville had its 4th-wettest September out of the past 84 years, and with 16.3 inches of rain observed, Williamston had its 3rd-wettest September since 1953.
That puts last month in good company with other soggy Septembers along the coast, each with impacts from tropical systems. Those include the remnants of Tropical Storm Nicole in 2010, Dennis and Floyd in 1999, Hugo in 1989, David in 1979, and Ione in 1955.
Tropical moisture certainly played a part in last month's rainfall. On September 2 and 3, Tropical Storm Hermine skirted the coast, delivering 8 or more inches of rain in some spots. Later, from September 18 through 23, the remnants of Tropical Storm Julia brought more rain to eastern North Carolina.
In the final few days of the month, an upper-level low parked over the Ohio Valley brought in plenty of moisture from the Atlantic, which fueled even more precipitation, particularly in the Sandhills. CoCoRaHS observers near Fayetteville reported up to 10.50 inches of rain in a single day on September 29. That heavy rainfall triggered flash floods and numerous road closures.
Dry Weather Means Expanding Drought in the Mountains
While some areas dealt with a surplus of precipitation, the recent dry pattern continued for the Mountains. Most reporting sites received less than two inches of rain all month, and some stations reported even less than that. Asheville received just 0.58 inches of rain, which was their 7th-driest September on record out of the past 124 years. Tryon reported only 0.13 inches of rain, making it the 3rd-driest September at that site in the past 95 years.

Those dry conditions meant that the central Mountains slipped back into Moderate Drought (D1) classification on the US Drought Monitor, with Abnormally Dry conditions now extending northeastward into the Triad. Severe Drought (D2) conditions remain in far western Cherokee and Clay counties, with pockets of Extreme Drought (D3) not far from there in northern Georgia.
The outlook for the next month shows elevated chances of below-normal precipitation for the interior Southeast including western North Carolina. Although the evaporative demand from crops and reservoirs is decreasing as high temperatures (slowly) decline, without the aid of a tropical system or another big rainmaker, drought may be a mainstay in the Mountains this fall.