The second juncture of the Carolinas Climate Resilience Conference (CCRC) will be held September 12-14, 2016, at Charlotte University Place in Charlotte, NC. The conference is being held by the Carolinas Integrated Sciences and Assessments, or CISA, a National Oceanic and Atmospheric Administration (NOAA) RISA group that conducts applied research in North and South Carolina by incorporating climate information into water, health, coastal management, and decision making. In fact, the NC State Climate Office has partnered with CISA on numerous funded projects and they support some of the work that we're doing.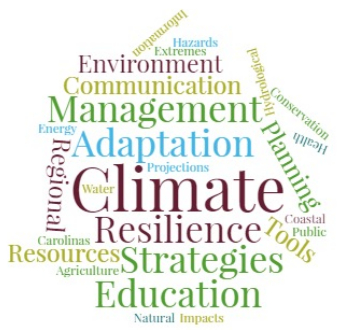 More than 300 people are expected to attend from a variety of sectors from across North and South Carolina to share experiences, strategies, and resources for building climate resilience Several scientists from our office will be there to present some of our latest web tools and research. If this sounds interesting to you, check out the full details of the conference below and register to attend.
Note: This post refers to a past event, so registration has since been closed.
Sessions
The three day conference agenda features 32 sessions with over 120 interactive presentations, designed to facilitate networking and collaboration among all participants. Prominent themes at this year's conference include climate communications, impacts to various sectors, and tools to address local needs.
Among the many discussions are several Ask the Climatologists sessions that will be held Monday afternoon to give participants an opportunity to interact with local and regional climatologists. Submit your questions to climatologists beforehand by emailing geogcisa@mailbox.sc.edu or by tweeting @CarolinasRISA using the hashtag #CCRC16.
Pre-Conference Workshops
CISA and expert facilitators will host three Pre-Conference Workshops as in-depth learning opportunities from 9:00 to 11:30 am on Monday, September 12, before the start of the full conference. The three workshops, held concurrently, will focus on climate fundamentals, inclusive adaptation and resilience, and effective climate communication. Registration is $25 each and limited to the first 25 registrants.
Keynote Speakers
An engaging set of speakers from the Carolinas will kick off the conference on Monday, September 12. Linda Rimer, liaison for Climate Resilience for U.S. EPA Region 4, and Rob Phocas, the City of Charlotte Energy and Sustainability Manager, will contribute opening remarks. Deke Arndt, Chief of the Climate Monitoring Branch at the NOAA National Centers for Environmental Information (NCEI), will provide an overview of Climate in the Carolinas. The Keynote Address will be given by Bob Inglis, former House Representative from South Carolina's 4th Congressional district.
Plenary Panel Discussions
The conference will showcase two plenary panel discussions: Water Resources and Climate Resilience, and Climate Communications in the Carolinas. The Water Resources and Climate Resilience panel discussion will be held Tuesday morning and will feature speakers representing agriculture, business, energy, and local government. The closing plenary on Climate Communications in the Carolinas will feature Chief Meteorologists Greg Fishel and Jim Gandy, Susan Joy Hassol of Climate Communication, and David Salvesen of UNC Chapel Hill's Institute for the Environment.
NC State Climate Office Involvement
As we mentioned earlier, a few scientists from the NC SCO will be giving presentations about our work. These start with the Climate Fundamentals pre-conference workshop on Monday morning, where Rebecca Ward will be sharing NC SCO tools and resources for obtaining climate information.
Tuesday afternoon is a busy day for our scientists, beginning with a presentation by Geneva Gray on climate uncertainty for coastal and estuarine environments, followed by Heather Aldridge who will be discussing a climate-based decision support portal for professional foresters. Later that day, both Rebecca Ward and Heather Aldridge will be giving live tool demonstrations for climate-based resources from our office. This will happen concurrently with a talk by Corey Davis about the NC SCO's blog.
Wednesday, the final day of the conference, starts out with interactive presentations by Heather Aldridge on best practices for accessing and interpreting climate projections at local scales, and Corey Davis on gridded fire danger estimates for fire risk monitoring. A session on drought follows this, where Rebecca Ward will be leading two presentations on how the NC Drought Management Advisory Council determines the weekly drought severity and extent in North Carolina, and how audience members can access more drought information.