The third widespread wintry event in less than two weeks painted a familiar picture across the state: Snow falling to the north and west, rain to the southeast, and a narrow band of mixed precipitation in between.
The low pressure system responsible for this event began taking shape earlier in the week, when an upper-level disturbance over the southwestern U.S. and an associated surface low began moving east. On Wednesday, February 25, the low moved over the Gulf of Mexico and began to pull in moisture from the south. That fueled precipitation that fell as snow, sleet, freezing rain, and rain over northern Mississippi, Alabama, and Georgia.
Precipitation began in southwestern North Carolina on Wednesday afternoon as rain or snow. As Wednesday night's atmospheric sounding from Greensboro shows, surface temperatures were initially in the upper 30s or lower 40s. However, precipitation falling into dry air near the ground evaporated and cooled surface temperatures to the wet bulb temperature, which was near freezing. That put the lowest two miles of the atmosphere saturated and nearly isothermal — at the same temperature throughout.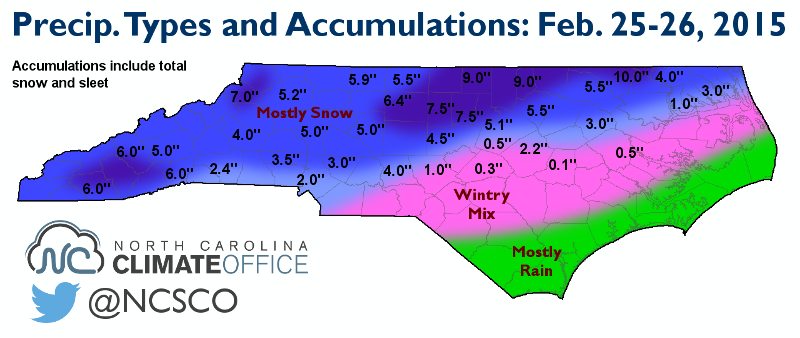 In the northern and western counties, surface temperatures stayed at or below freezing so precipitation remained in the form of snow, generally totaling 3 to 6 inches. Greensboro and Burlington each received between 0.6 and 0.7 inches of liquid, almost entirely as snow, which amounted to six to eight inches. Roxboro and Henderson also saw all snow, with totals of about nine inches, and a CoCoRaHS observer in Northampton County reported 10 inches of snow.
That heavy, wet snow falling from the Triad through the Triangle also piled up on tree branches and power lines, resulting in 194,000 power outages.
Not far to the south of the heaviest snow totals — in some cases, just 20 or 30 miles away — came the transition zone, where slight warming a few thousand feet above the ground meant precipitation switched from snow to sleet to freezing rain throughout the event.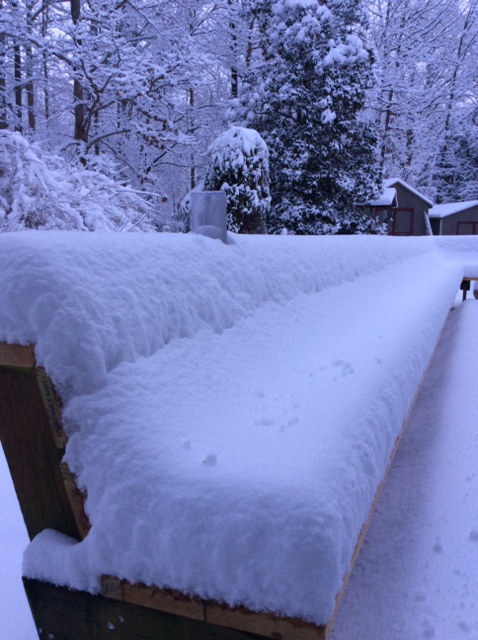 The Raleigh-Durham Airport was on the northern edge of this zone, with mixed precipitation reported all night. Despite receiving 1.08 inches of liquid, they only reported an accumulation of 5.1 inches of snow and sleet. In southern Wake County, many spots saw little snow and mostly sleet or rain, with accumulations of less than an inch.
That narrow transition zone ran from Charlotte through Sanford and central Raleigh. In that zone and to the south and east, a mix of snow, sleet, and freezing rain fell. Along the coast, surface temperatures were too warm for frozen precipitation, so rain fell in Wilmington, Jacksonville, Morehead City, and Cape Hatteras.
The map below shows statewide precipitation type reports from the mPING app, which the National Severe Storms Laboratory created to allow citizens to report what's falling at their location. These reports help forecasters know what's falling where and may allow the National Weather Service to improve their forecasting techniques, especially for tricky events like this one where precipitation transitions over a narrow region. The mPING app is free for Apple and Android devices, and it's an easy way to help meteorologists monitor the weather in your area.